They were the longest shot in the tournament. The 16th seed in a 16-team draw. As a candidate for an at-large berth, the Mercyhurst Lakers wouldn't have made the Top 25.
They got into the nationals in completely legitimate fashion, by winning the Atlantic Hockey tournament, but their season was supposed to end in the East Regional at the hands of Boston College. And not with a bang, but a whimper. Mercyhurst was supposed to be synonymous for mincemeat going against the top-seeded Eagles.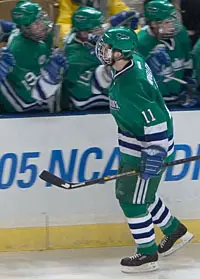 It was David vs. Goliath. Team USA, circa 1980, against the Russians. The Joe Namath Jets facing the Baltimore Colts in Super Bowl III.
Fortunately for Mercyhurst, somebody forgot to tell the Lakers that they didn't have a snowball's chance in you-know-where. They scored just 27 seconds into the game, the third-fastest goal in East Regional history. Seven minutes later, they answered a BC tally to regain the lead, 2-1. Every time their highly-respected opponent rallied, the underdogs fought back.
Ultimately, despite a heart-and-soul effort, they fell to the more talented Eagles, 5-4. In scoring four goals against BC, Mercyhurst accomplished what only one team, Massachusetts-Lowell, had done all year. Over the last 14 minutes of regulation, the Lakers generated seven golden opportunities to tie it, including three breakaways and a Jamie Hunt shot from the doorstep with 22 seconds remaining.
"We clearly had a tiger by the tail for a good part of that game," Mercyhurst coach Rick Gotkin said. "It was a great game. We're obviously disappointed that our season has come to an end. We knew we were out with the big boys here in this tournament, but I'm really so proud of our team. It was my honor and privilege to be here tonight."
It reminded many of Mercyhurst's near-upset of overall number-one seed Michigan in 2001 as the first NCAA representative of Atlantic Hockey's predecessor, the Metro Atlantic Athletic Conference. Again cast in the "snowball's chance" role, the Lakers led 3-2 with 11 minutes left in regulation only to fall to the powerhouse Wolverines, 4-3.
"It was the same kind of game," Gotkin said. "We scored early, had some momentum and started feeling good. We knew that the longer it went on and it didn't get blown open, we knew we had a chance."
Whether Mercyhurst had a chance or not had been a question in the early going even in the mind of a Laker or two.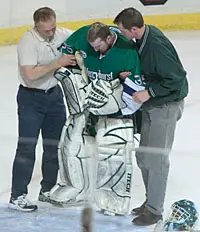 Gotkin said, "One of our players said, 'Coach, that number 10 — [6-foot-7 first-round NHL draft pick Brian Boyle] — is really big and really fast. I'm really nervous.' I told him, 'Now is no time. Get his autograph after the game.'"
With the confidence of a couple early leads, the Lakers forgot about high draft picks, number-one seedings and BC's on-paper advantage. They gave the Eagles a run for their money down to the final second.
"I'm disappointed that we didn't pull off the miracle, but it's going to happen," Gotkin said. "Atlantic Hockey teams are getting better and better every year. The cat is out of the bag. I think it's only a matter of time before one of our teams knocks off one of these big teams in a major tournament like this."
So much for a snowball's chance in you-know-where. So much for the top seed turning Mercyhurst into mincemeat. So much for "not with a bang, but a whimper."
The Mercyhurst Lakers did not go gentle into that good night.
The NCAA tournament hasn't seen the last of them.