There wasn't much doubt that at least one of them would be going to Columbus, Ohio. The only questions were how many and which ones?
Several Hockey East coaches expressed the hope that the four league teams selected to the NCAA tournament — Boston College, New Hampshire, Boston University and Maine — would be placed in different regions so they'd all have a chance to advance to the Frozen Four.
As it turned out, they almost got their wish. Only BC and BU were placed in the same bracket, setting up a possible repeat of 1999 when three Hockey East teams made the Frozen Four in Anaheim with the championship game featuring Maine and New Hampshire.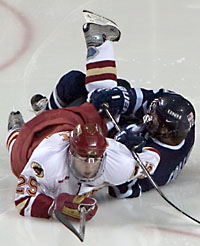 The end result as the regionals unfolded, however, was that not three nor two nor one league school would advance. Every last Hockey East team was eliminated. For the first time since 1992, the league would have no representative in the Frozen Four.
Perhaps fittingly, the tournament exodus began with a shutout, BU at the hands of North Dakota, 4-0. The game was far closer than the score would indicate but a loss is a loss is a loss. Next came another blanking, this time with Maine falling to host Minnesota, 1-0, in overtime.
Which still left number-one overall seed Boston College and New Hampshire, both of whom had survived first-round scares. BC had had a surprisingly difficult time putting away 16th-seeded Mercyhurst, 5-4, while UNH vs. Harvard proved as tight a battle as had been expected with the Wildcats winning in overtime, 3-2.
On Saturday, North Dakota toppled Boston College, eliminating Hockey East's one "sure thing," according to some observers. The Eagles' exceptional team defense, as consistent as a Swiss watch all season, deserted them at the worst possible time, resulting in a mystifying 6-3 loss.
All of which left it up to New Hampshire to defend Hockey East's honor. UNH faced a tough challenge, going against the defending national champion Denver Pioneers, who were fresh off a WCHA championship. But the Wildcats, looking for their third Frozen Four in the last four years, were no slouches themselves.
Hockey East's last stand began in inauspicious fashion. By the 14-minute mark, New Hampshire trailed 1-0 and had been outshot 17-2. It looked like lights out for the league until Jacob Micflikier's 20th goal allowed UNH to go into the dressing room with a count-your-blessings tie.
The Wildcats owned the second period, putting 17 shots on the Denver net. They took the lead on Daniel Winnik's penalty-shot goal, but, in a mirror image of the first period, the outgunned Pioneers evened the game on a Gabe Gauthier power-play goal.
New Hampshire's season, and by extension Hockey East's, ended when Ryan Dingle scored the game-winner with less than four minutes remaining and Gauthier added an empty-netter.
The league's string of advancing not only to the Frozen Four but to the national championship game in 11 of the last 12 years was over. During that time, 13 Hockey East teams had competed in the title tilt compared to seven and four from the WCHA and CCHA, respectively. This season, however, would be a goose egg.
In stunning contrast to Hockey East's 0-for-4 exit, the WCHA was now sending three teams to Columbus and hours later would add a fourth in Minnesota to make an unprecedented matchup of all teams from a single conference.
It reminded Hockey East fans of the 1999 Frozen Four involving three of the league's teams and a Maine vs. New Hampshire title game. Now, however, the shoe was on the other foot.
The King is dead. Long live the King.
"The WCHA this year has shown itself to be the dominant league," Denver coach George Gwozdecky said, "not only through the regular season, but also the PairWise Rankings and the national polls and then the play in the national tournament.
"But as we all know, everything is cyclical. I remember a few years ago when the CCHA was dominant and the WCHA struggled. There were a few years when Hockey East was so dominant. I don't think you can say that from here on out the WCHA will be the best league forever. You have to look at it year by year."
Even so, it's tough to accept a new pecking order when you've been the top dog — or at worst 1-A vs. 1-B — over the last decade only to be supplanted in unambiguous fashion.
"We're obviously disappointed because we'd gotten spoiled here," Hockey East Commissioner Joe Bertagna said. "We're used to not only having teams in the Frozen Four, but challenging that last day."
While Hockey East coaches had expressed confidence going into the tournament that the league would continue to hold the upper hand and that one of the four teams would be neck-and-neck for an NCAA title, Bertagna wasn't as surprised by the WCHA's dominance.
"I felt that this year maybe their top teams had an edge," Bertagna said. He hastened to add, "But I don't think you want to read too much into it. It just means that on this particular year their top three or four maybe had a step on our top three or four.
"If you find this two years in a row or three years in a row, then you've got a different story on your hands. I choose not to overreact to it and tip my hat to them."
Bertagna also noted that a league's strength can be measured in different ways.
"People like to reduce things to soundbites about what is the best league," he said. "Is your strength based on how strong your top two or three teams are or is it based on the depth of your league?
"One of the arguments that we've always made is that the depth of our league probably distinguishes us more than the strength of the top two or three teams. Every year that I've been in the league, our eighth- or ninth-place team has gotten points against our first- and second-place teams quite regularly. Looking at it that way, I don't think we take a back seat to anybody.
"But that's like the three blind men describing the elephant. That's only one way to describe your league. The other one, which counts more this time of year, is whose top two or three best teams are better than anyone else's best teams. I guess you'd have to tip your hat to the WCHA this year that they'd be able to win that argument."
Hockey East 2004-2005, R.I.P.