Two seasons ago, North Dakota's goaltending was the butt of jokes throughout the college hockey world. No more.
Heading into the Frozen Four in Columbus, Ohio, Fighting Sioux sophomore Jordan Parise is one of the hottest goalies in the country. He's 8-0-2 since he took over the starting job Feb. 26 against Wisconsin. During that stretch, he has a 1.50 goals against average and a .946 save percentage. Parise has been so good lately that his teammates say it's rare to get the puck past him in practice.
"Whether it's a game or practice, he's such a competitor," said UND associate head coach Brad Berry. "He takes pride in keeping the puck out of the net, and it's the same in practice. He's the ultimate competitor."
Behind Parise are two goalies who would be starters on most teams. As a freshman, Philippe Lamoureux rotated goaltending duties with Parise for most of the season. The tandem of Parise and Lamoureux played well enough that senior goalie Jake Brandt started only one game this season, despite a .702 career win percentage at the season's start.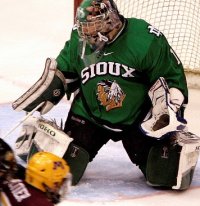 Parise gives his coaches and teammates more credit for UND's late-season success than he gives himself.
"I really, truly believe that the system we're playing right now is helping everybody out," he said. "We've been talking about it since the beginning of the year. It was just a matter of people changing the style that they've been playing for the last three or four years.
"Last year, it was everybody going to get the puck. Usually what happened is that we'd get caught with three men deep and the other team would turn around with an odd-man rush. This year, the team's buying into a more secure system than what we had last year."
"I agree that getting to know the system a little bit better has a lot to do with it," Berry said. But he also noted that Parise, who's been known to cause anxious moments by wandering far out of the net to play the puck, has changed for the better.
"He's keeping his game simple. Early on in the year he was trying to help everyone out. Right now, he's just focusing on his role, focusing on every shot, and every penalty kill, just keeping things simple," he said.
"I think I'm playing a lot more focused and I'm not trying to do any more than what my job is, which is stopping the puck," Parise said.
That translates into making better choices about when to come out of the net and better decisions about where to put the puck when he plays it.
"He's a student of the game and knowing each player and their tendencies," Berry said. "Attention to detail is something that he's really good at. When we go into our penalty kill meetings, we show him tendencies and where players like to shoot from. There's a direct correlation between that and our success on the penalty kill because Jordan knows what's going to happen."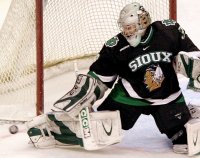 With UND's aggressive defensive style, killing penalties is one aspect of the game at which Parise and the Sioux have learned to excel. Boston College and Boston University went 0-18 on the power play against UND during the NCAA East Region playoffs.
"I don't worry if we're 5-on-3 or 5-on-4 or if we're on the power play," Parise said. "If there's a shot that's coming, I need to do my best to stop that shot. It doesn't matter if it's a 4-on-1 coming down. I have it in the back of my mind that I have to do whatever it takes to stop that shot. I don't let stuff like that bother me. I can't control who's going to get a penalty. I don't even bother with it."
From a goaltender's perspective, it also helps that the Sioux have raised their goals per game average from 2.75 at the end of the regular season to 4.57 in seven playoff games. Lamoureux has been on the losing end of four games in which UND scored one or no goals, including the WCHA Final Five game against Denver. UND lost 2-1 in overtime, despite 30 saves by the Grand Forks native.
"It's so much easier to play with the lead," Lamoureux said. "At the beginning of the year, it was really difficult when we were scoring only one or two goals a game and we were losing games. As a goaltender, it's frustrating when you're playing well and you're not getting the wins. You're trying to do everything you can, but things aren't falling into place."
The Sioux reversed that trend just in time for the playoffs.
"Right now, with the way the team's scoring, it feels really good," Lamoureux said. "As a goalie, you know that if you play a good solid game, you're going to come out with the win.
"I think we're the scariest team in the nation right now. We've got goaltending, we're scoring goals and our power play is going. We've got everything, from the net out. We're a very confident team going into the Frozen Four," he said.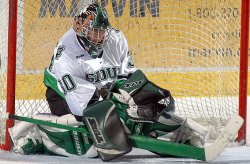 For Brandt, who last year was instrumental in UND capturing its 13th WCHA regular season title, it's been a season of frustration. In addition to seeing very little playing time, he broke his collar bone in a snowmobile accident last December, an injury that took longer than expected to heal. But he knows that he still has role to play on the team.
"I'm just trying to be positive on the bench, reminding guys of things they need to do, chattering on the bench and keeping everyone up and going," he says.
"Jake is probably the biggest supporter of the team right now," Berry said.
Brandt is also there to support Parise and Lamoureux if they need it.
"Not really many people understand us as well as goalies understand each other," he said. "Sometimes a goalie just needs another goalie to talk to."
While Parise currently has the hot hand and has established himself as the starter, Berry credits all three Sioux goalies with helping the team succeed.
"It's very fortunate to have what we have," Berry said of Parise, Lamoureux and Brandt. "They all have respect for each other. They haven't put themselves ahead of the team or each other. All three of these guys have been putting the team first."