Mark Stuart went to the penalty box for high sticking. Michigan 1, Colorado College 0.
The CC captain went to the box for tripping. Michigan 2, Colorado College 0.
Colorado College dug itself a big hole in the Midwest Regional final against Michigan, and its leader was in the worst position he could think of.
"After that second penalty and that second goal, it was kind of like, 'Wow, what's going on right now?'" Stuart said. "It was the worst feeling in the world skating back to the bench after that. But I felt determined. I needed to make some things happen because of that.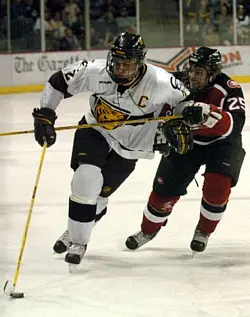 "It was not only me realizing I was in the box for those two goals and I needed to do some stuff, but I think everybody realized that we gave up two goals in the first and we needed to change some things around. We got some big plays out of some guys."
Count Stuart among them, as usual.
The Tigers actually fell behind 3-0 before rallying for a 4-3 victory that sent them to the Frozen Four. Stuart made up for his first-period purgatory by being what he has been all season: the Tigers' leader.
He had one assist, but that wasn't what got it done. His contribution was not going over the top in trying to compensate for his earlier mistakes. He just returned to the form that has made him one of college hockey's best defensemen.
"He even picked up his play a little bit and adjusted to everything and continued to provide the real good leadership, both in the locker room and on the ice," Colorado College coach Scott Owens said.
Stuart has a reputation for being a successful leader. Last season, he was the captain of the United States team that for the first time won the World Junior Championship. Now, he has the Tigers in the national semifinals, where they'll face rival Denver on Thursday.
The 20-year-old often comes off much older because of his demeanor and his poise, on and off the ice.
"He's naturally mature anyway, then you throw in wearing the 'C' on a lot of teams and a lot of situations and playing in a lot of big games, I think he plays like a 24-year-old," Owens said. "His timing is outstanding for his leadership. His ability to make timely comments and to have insight and to produce on the ice backs up what people think of him and the respect they have for him. He's been in a lot of pressure situations and he's delivered a lot of the times."
The biggest thing for Stuart is that he's enjoyed the run.
For a while last offseason, he considered playing this season in the professional ranks. A first-round pick of Boston in the 2003 NHL entry draft, Stuart talked it over with his family and the Bruins before deciding to return to CC for his junior season.
With the Tigers in the Frozen Four, it appears that was a wise move.
"This has been so much fun this year," Stuart said. "With everything that's going on with the NHL and all that, I feel extremely lucky to be able to play college hockey this year, and to be on a team such as this. The guys are great and it's so much fun. It's nice to have a shot now at winning the national championship. With how much is up in the air in the NHL right now, I don't think I would be as happy playing pro as I am college right now. It's just such a thrill right now."
Stuart gets his success from grit instead of glitz. He's not a big scorer from the blue line — he has five goals (three on the power play) and 18 points this season, and just 12 goals in his collegiate career — but isn't afraid to dish out a well-placed check.
And he's the leader of a defensive corps that can get lost among the big names on the Tigers' roster. Forwards Marty Sertich and Brett Sterling both are Hobey Baker Award finalists, while goaltender Curtis McElhinney was a first-team all-WCHA selection.
Yet the Tigers have held their own on defense this season, ranking ninth nationally. The CC defensemen may go unnoticed, but that doesn't worry them.
"I think we've had a good defense because each guy does their job," Stuart said. "The partners that are paired up work very well together. I think Curtis should be getting a lot of attention because he's a great goaltender and the reason our defense is good is partly because of him. It's nice as a defenseman to have a good goalie behind you because you have that confidence boost and that helps you play better."
Stuart wasn't even a first-team all-league selection, falling to the second team behind high-scoring Denver blueliners Matt Carle and Brett Skinner. But he took home the league's defensive player of the year award, a distinction that is voted upon only by the league's 10 coaches.
That kind of recognition gives a view of how Stuart is perceived around the WCHA.
"That was such a thrill for me, and I was a little bit surprised actually," Stuart said. "When you're voted on by other coaches in your league, it's very flattering. I was extremely thankful that they voted for me. It was such an honor to receive that award. I think there's a lot of defensemen in the league that could have gotten it because there's a lot of great defensemen in this league. I'm just honored that the coaches felt that highly about me."