There's an intriguing backstory accompanying each of the teams in this season's historic Frozen Four.
One team certainly wasn't expected to get here. North Dakota, a team coming off extensive losses on offense, had to fight its way past Boston University and top overall seed Boston College in games played just a couple of hours from both school's campuses. Not only did the Sioux make it, they may have put up the most impressive performance of any school in the field of 16, beating opponents by four and three goals to advance to Columbus.
A second team was conceded a spot in the Frozen Four by most observers back in December, then watched the odds rise as it suffered through a disappointing second half before turning the jets back on just in time. Of course, "jets" is a relative term for Minnesota, which battled defensive powerhouses in Maine and Cornell to standstills before winning both games in overtime, earning a shot at its third national championship in four seasons. The Gophers play UND in the late semifinal Thursday for a berth in the NCAA title game.
Another squad erased a lot of history by getting over the hump to its first Frozen Four since 1997. Colorado College rallied to beat Michigan in the Midwest Regional final, avenging a 2003 loss to those same Wolverines that kept the Tigers out of the national semifinals in their last NCAA tournament appearance. CC will get a chance to reverse even more recent history against its semifinal opponent, none other than ….
Defending national champion Denver, which beat CC in the WCHA tournament championship less than two weeks ago, needs two more wins this season to repeat its title-winning feat of 2004. That would make the Pioneers the second repeat champion this decade, after more than 30 years had elapsed since that feat was last accomplished.
One thing is for sure — with an unprecedented four teams from the same conference matching up at Value City Arena, the opponents are well-acquainted.
Colorado College vs. Denver
2 p.m. ET Thursday, Value City Arena, Columbus, Ohio
Denver Pioneers
Record: 30-9-2, 19-7-2 WCHA (t-first)
Seed: No. 2 overall, No. 1 Northeast
Road to Frozen Four: Defeated Bemidji State, 4-3 (ot); defeated New Hampshire, 4-2
2004 NCAA tournament: NCAA champion
Denver captain Matt Laatsch dotted his commentary about the Pioneers' balanced scoring attack with names of the people who get it done. The depth tells the story.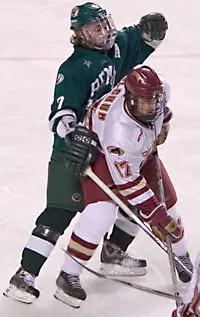 "We've got four lines that can play, and the nice thing about being consistent is you play all four of those lines," said Laatsch, a defenseman. "Sometimes last year we had to rely on one, maybe two lines to dig you out of holes. This year, all four lines have gotten to play, all four lines have done a great job. They all serve a different purpose on the ice but they've got guys on those lines that can put the puck away, and that's a scary thing for teams that go against us. It's not like you can concentrate on Gauthier and shut down our team."
That's Gabe Gauthier, he of a team-leading 23 goals and 52 points, a hat trick in the regional final against New Hampshire and the winning goal in last season's national championship game.
"You've got Stastny, Fulghum, Dingle," Laatsch continued.
WCHA rookie of the year Paul Stastny trails only Gauthier with 42 points. Luke Fulghum has added 21 goals. Ryan Dingle has only six goals on the season but broke a 2-2 tie late in the third period against UNH to send Denver to the Frozen Four.
"So there's a variety of guys you've got to concentrate on," Laatsch said. "Ulanski, Drummond."
Kevin Ulanski returned from a four-game injury absence to score two goals, including the overtime winner, against Bemidji State in the NCAA first round. Jeff Drummond has improved his scoring production even over a successful junior season.
"You focus your game on shutting down our forwards and then we've got two 35-point-plus defensemen in Carle and Skinner that can create offense as well as any forward on our team," Laatsch said.
Matt Carle has 40 points from the blue line, while Brett Skinner has 35, including a team-high 31 assists.
If you wanted one reason — or eight, actually — to give for the Pioneers' success this season, those would be it. The balanced scoring Denver has enjoyed has allowed the team to be multifaceted, winning games in a variety of ways because it has a variety of players who can make it happen.
"That has been a mark of our team throughout the season and has been one of our great strengths, that balance that we've been able to receive, that depth that we've had with the offensive part of our game," Denver coach George Gwozdecky said.
The Pioneers have eight players in double digits in goals — the most of the four teams still playing. Gauthier is often the focal point, especially at this point in the season.
In six NCAA tournament games, Gauthier has four goals and eight points. Add to that a strong WCHA playoffs that included an overtime winner in the semifinals against North Dakota and the Pioneers have a dependable late-season player.
"He loves playoff hockey," Gwozdecky said. "I've always felt that when people analyze the playoffs at any level, they always talk about the great players being able to elevate their game, and I think that's a big misnomer. I've never, ever seen a player so-called elevate his game. In my mind, what happens a lot of times is great players are able to continue to play the way they always do and not get distracted by the moment, the intensity, the emotion.
"I think many players struggle with that. And I think that's why you see perhaps at times the average player may not be as good during these playoffs as he is during the regular season, because of anxiety, pressure, stress — you name it. Whereas the guys who are the performers are the guys who aren't affected by it and just go on and keep playing their game."
The Pioneers appear set to keep playing the same game with their goaltender rotation. For most of the season, sophomore Glenn Fisher and freshman Peter Mannino have alternated starts, with Fisher typically getting the call in the first game.
Gwozdecky said last week he and his coaching staff are looking at the situation as they always do but added that he sees no reason to make a change, meaning Fisher likely will start against Colorado College in the national semifinals on Thursday.
Fisher, however, is 0-2 this season against the Tigers. Mannino is 3-0 and has shut out CC in the last two games he has played against it.
"Throughout the season, we've taken those types of factors into consideration every time we make the decision," Gwozdecky said. "But there's something to be said for, if it's not broke, why try to fix it?"
The Pioneers are 3-2 against their in-state rival this season, but they're able to go into the Frozen Four knowing they've been through it before.
"I think the confidence comes from having experience at this tournament last year, and more importantly in big games," Laatsch said. "I'd say there's a confidence about us. I'd like to say there's a little bit of a swagger about us, but I wouldn't say we're overconfident. We've got to play a team that's had just as good a season as we've had in CC.
"The one thing that really helps this team a ton is the fact that it has a lot of returners from last year that went through those experiences of playing in different types of big games. You go back to that Duluth game last year [in the national semifinals], we're down 3-1 going into the third and we find a way to win it. Then two nights later we score early and we make that one-goal lead stand. So those guys have the experience and know how to win in different types of games, which is really important this time of year."
Colorado College Tigers
Record: 31-8-3, 19-7-2 WCHA (t-first)
Seed: No. 3 overall, No. 1 Midwest
Road to Frozen Four: defeated Colgate, 6-5; defeated Michigan 4-3
2004 NCAA tournament: none
No matter how good a team Colorado College had in recent seasons, there was one hurdle it could reach but never get over.
Three times in the previous four seasons, the Tigers reached the regional finals, just one victory away from the Frozen Four, only to lose and end their season just short of the national semifinals. In 2001, it was to North Dakota. In 2002, it was to Minnesota. And in 2003, it was a heartbreaker to Michigan.
Not this time. Not even a 3-0 deficit to Michigan in this season's regional final could prevent CC from getting to this Frozen Four, making it seem like its appearance in a semifinal against Denver was in the cards.
"If you look at our team in the past five, 10 years, we've had great teams," Tigers captain Mark Stuart said. "They made it to the Frozen Four in 1997, but we've had great teams since then and made it to the NCAA tournament many times. And [we've] made it to that game to go to the Frozen Four and haven't been able to get past it.
"This year, getting past that game and getting to the Frozen Four is huge. It's very big for the program. We've had a lot of great players come through here in the past couple of years and a lot of good teams. My freshman year [2003], we had a great shot at making the Frozen Four. We had a great team. We just couldn't get past that game. We're really happy that we did it this year but we don't want to stop there. We want to win two more games this season."
Their reward for getting past the regionals this season was another shot at intrastate rival Denver in the semifinals Thursday. The teams have already played five times this season, with the Pioneers holding a 3-2 advantage.
That has raised the hype surrounding the Tigers. So has having two of three finalists for the Hobey Baker Memorial Award in Marty Sertich and Brett Sterling.
Those facts provide a certain flashback to the 2003 season, when the Tigers were the nation's No. 1 team until running into host Michigan in the regional finals. There's one big difference, though: CC is still playing this time around.
"I think there are a lot of similarities, too," Stuart said. "They're both skilled teams. We had some big players in Pete Sejna and Noah Clarke and Tom Preissing. The same goaltender [Curtis McElhinney] played extremely well that year just like he has this year. We also have some guys that are doing those same things, Marty Sertich and Brett Sterling are doing the same thing that Pete did."
Sertich and Sterling have been offensive stars for the Tigers this season, giving them a shot at earning their second Hobey in three seasons. Sertich leads the nation with 64 points; Sterling is second with 63.
To get to those totals, you have to be consistent, and that's the case with both.
"That's the thing that I think has been as amazing as anything, just the consistency right from the start of the season to the end of the season," Tigers coach Scott Owens said. "That's with teams covering them with forward lines and defensive pairs and just the rigors of the league, playing 42 games.
"I think it's extremely impressive. I think it speaks well to them, that they've been able to get up for big games, too, especially down the stretch. Fatigue's always a concern, but I think they've taken care of themselves and I'd like to think that we've been able to use them smartly and they've been able to persevere."
CC's offense may be dominated by two players, but it's not exactly a one-line team. In fact, if not for the line of John Brunkhorst, Trevor Frischmon and Joey Crabb, the Tigers may be sitting at home this weekend. That group was responsible for the final three goals of the 4-3 victory over Michigan in the Midwest Regional final.
Sterling and Sertich are responsible for 39 percent of the Tigers' goals, but there have been enough contributions elsewhere to keep the Tigers running even when the big scorers haven't been successful.
"We haven't got a lot of scoring but we've gotten some timely scoring from the other lines and we've been able to play solid defensively," Owens said. "It's not like for a lot of the games that we've had to score four goals every night. We ended up being in the top 10 defensively in the country and that took a little bit of the scoring burden off of them."
McElhinney, a senior, recovered after allowing five goals in the regional semifinal and three more early against Michigan to find his groove and make some big saves late.
That fits into one of the best traits of the Tigers: their resilience.
"Even in practice, we're a very competitive team," Stuart said. "Nobody likes to lose, and I think that's one of our best attributes. You could tell during that Michigan game that we didn't want to accept losing. That resilience came out and we came back. There's teams who will get down like that and just accept it and say, 'We didn't do our best and now we're down 3-0, so this game's pretty much over.' I think our team, we really hate to lose and that helps in situations like that."
In situations like a national semifinal against Denver, that helps, too. The Pioneers blanked the Tigers in the teams' last two games, allowing Denver to claim a share of the MacNaughton Cup in the first and the WCHA playoff title in the second. CC was humbled by its performance in a 1-0 loss to its rival in the WCHA title game, when it could manage only three shots on goal in the third period.
"I don't think we're going to make that same mistake twice," Stuart said. "Win or lose against Denver, we're going to leave it all on the ice. It's the Frozen Four, there's no other way to do it."
Minnesota vs. North Dakota
7 p.m. ET Thursday, Value City Arena, Columbus, Ohio
Minnesota Golden Gophers
Record: 26-14-1, 17-10-1 WCHA (t-third)
Seed: No. 4 overall, No. 1 West
Road to Frozen Four: Defeated Maine 1-0 (ot), defeated Cornell 2-1 (ot)
2004 NCAA tournament: Lost in regional final
Minnesota is in the Frozen Four for the third time in the last four years, with a third set of expectations.
In 2002, the Gophers had a veteran group and figured to be in the title mix in front of thousands of maroon-and-gold fans at the Xcel Energy Center.
A year later in Buffalo, they had a young team and lesser expectations, but still claimed a second straight national championship thanks to a dynamic performance by phenom Thomas Vanek.
Now, the Gophers are back, with a team that's something of a hybrid but maybe closer to that 2003 team. They're young, but not too young that they're being blinded by the bright lights of the situation. They've shown signs all season that they'd be able to get to this point, but they've also shown weaknesses.
"I think when the year began not many people would have predicted that we would get there this year," Minnesota coach Don Lucia said. "We're not the favorite. Out of the four teams, we're probably the fourth. North Dakota's played great, and then you've got the marquee matchup with CC-Denver. Those two teams are probably the favorites going in.
"We're just sitting back. We're going to show up and give it our best swing. We're going to enjoy this trip there. The best team doesn't have to win, it's just whoever plays the best this weekend."
Minnesota has legitimate reason to think it could be that team, in part because of the way it got to the Frozen Four. In the West Regional at Mariucci Arena, the Gophers allowed only one goal in two games, both of which went to overtime.
It was another way to get things done, and Minnesota has had to find a lot of those this season. This one was with defense and goaltending — two elements that, if they stay at a high level, should help them in the Frozen Four.
After looking rusty in the third-place game of the WCHA Final Five, his first after a seven-game injury absence, goaltender Kellen Briggs got back to form in the regional, stopping 42 of 43 shots. That was an important step considering Gophers goaltenders allowed seven goals on 44 shots a week earlier in the Final Five.
The Gophers also got things done without their leading scorer, Tyler Hirsch, who sat out the regionals for personal reasons after a bizarre incident crashing the net after a Final Five semifinal loss to North Dakota, and without defenseman Alex Goligoski, who had an injured hand. There's a good chance both will be back for the national semifinal against the Sioux.
And they turned to a group of players not normally associated with the big time, as evidenced by the team's representatives on the all-regional team. Besides Briggs, it included forwards Garrett Smaagaard and Evan Kaufmann and defenseman Mike Vannelli. Kaufmann scored the overtime goal in a 1-0 victory over Maine, Smaagaard had a pair of assists on the weekend and Vannelli added a significant offensive presence from the blue line.
Considering a recent dip in production by the Gophers' top two goalscorers — Ryan Potulny and Danny Irmen, who each have 24 goals — those kinds of contributions are critical. Since scoring a hat trick on Jan. 14, Irmen has seven goals in his last 19 games. Potulny has just four goals in that span.
"That's our team, though," Lucia said. "There's no first- or second-team all-league players on our team. Danny and Ryan were third team and Alex [Goligoski] made the all-rookie team, and that was it. In years past, we had a bunch of all-league players and All-Americans and this team doesn't. So what we need is what happened this past weekend: Smaagaard made a play and Kaufmann scores in overtime and [Barry] Tallackson scores an overtime game winner [against Cornell]. We need that from our lineup. We can't rely on any one guy."
To captain Judd Stevens, that was a sign of the times.
"The greatest part about that is if you're going to win 1-0, 2-1, the whole team's got to play well," Stevens said. "You can't have anybody that has really even a bad shift to give up one goal all weekend. That was the case from top to bottom of our lineup, from our goaltender out, everybody stepped up their play and played well and was able to play pretty mistake-free."
That team concept may have helped the Gophers get through a hectic and sometimes scary set of ups and downs in the past few weeks. After a solid finish to the regular season, Minnesota hit a wall in the Final Five. Although Lucia said his team played well for most of the tournament, it left with a pair of losses and big concerns about Hirsch.
As rumors swirled about Hirsch, the rest of the Gophers simply got back to business.
"We have dealt with a lot of adversity over the past two weeks," Stevens said. "It's been great how the team's responded. We've really focused on the task at hand, and that's going out and having a good work week of practice and then being able to go out on the weekends and perform. We didn't play the best in the Final Five, and we knew that. We knew what we needed to improve upon and we were able to do that."
North Dakota Fighting Sioux
Record: 22-14-5, 13-12-3 WCHA (fifth)
Seed: No. 7 overall, No. 2 East
Road to Frozen Four: Defeated Boston University, 3-0; defeated Boston College, 6-3
2004 NCAA tournament: Lost in regional final
In the buildup to this season, three significant losses may have made one think twice about picking North Dakota to get to the Frozen Four.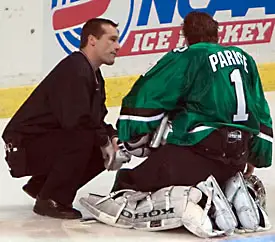 Their names are Zach Parise, Brandon Bochenski and Dean Blais. Parise and Bochenski, a highly productive scoring tandem, left school early to sign pro contracts. Blais, who won five WCHA titles and two national championships in 10 years as head coach of the Sioux, left for a job in the NHL.
That left North Dakota with potential, but midway through the season, that wasn't being reached. In a five-game stretch of WCHA games in January and February, the Sioux were 0-5 and scored a total of eight goals.
Sound familiar? Denver won the national championship last season after going through a midseason WCHA slump and going to the Frozen Four as the underdog.
In North Dakota's case, first-year coach Dave Hakstol and his staff have gotten the Sioux on the same page down the stretch while getting a number of big performances.
"With our team and with our guys, it comes back to a base of hard work," Hakstol said. "That's the one thing that has been constant all year, that our guys have worked extremely hard. Some of the momentum that we've been able to build, there's a lot of different small factors involved. But right now, we're happy with the way we're playing. We want to stay mentally and physically sharp and carry momentum and the way we've been playing into [the Frozen Four]."
That sharpness is one of the main reasons the Sioux have gone 8-1-2 in their last 11 games. Goaltender Jordan Parise is 8-0-2 in that stretch and has been the No. 1 goaltender the Sioux have been waiting for.
But if offense was a question when Parise and Bochenski left school, North Dakota has found some answers recently. Leading scorer Colby Genoway and a pair of freshmen — Travis Zajac and Rastislav Spirko — have done their share in getting the Sioux enough offense to get by.
Genoway had 37 points in his first two years of college play — he had to sit out the 2001-02 season — but has 44 this season, including a team-high 31 assists. He hasn't gone more than two games without a point this season.
"He's been real important for us," Hakstol said. "He's been heading in that direction over four years. He had to sit out a year, he comes back after not playing for a year and has a very so-so sophomore year, a good junior year last year with not the kind of finish that he wanted to have. I just really think his senior year he's built on all of that. Like our team, that comes back to hard work. And some things are going his way right now."
Zajac, who has 17 goals, and Spirko, with 16, have offered the Sioux more than just consistent scoring.
"They're both doing a lot of the little things very well," Hakstol said. "They're making good decisions with the puck. They're doing a pretty good job protecting the puck in critical areas. Those are some little things that even if they're not scoring — they're not going to score every night — they're still contributing. And sometimes that can be tough to do as a freshman."
Those three forwards may be the spark for an offensive rejuvenation in the last part of the season, but the reason the Sioux have been able to keep up their good play in a tough stretch has been the leadership, Hakstol said.
"Our leadership in the locker room has been very good and more importantly, the leadership has carried onto the ice," he said. "Guys have gone out and found a way to get the job done. It hasn't been the same way every night. We've had some low-scoring games that we've had to get through, and like [against Boston College in the regional finals] we were able to get off to a great start and were fortunate enough to get a three-goal lead and we were able to carry that through the next 50 minutes of the game. We've done it in different ways."
They've done it in different ways from last season, too. The Sioux were the No. 1 overall seed in the NCAA tournament but lost to Denver in the regional final a year ago. Many thought the 2004 North Dakota team would make the Frozen Four, but this group was the one to do it thanks to a determined effort that may have started just as a drive to earn a spot in the NCAA tournament.
North Dakota hovered around the cutoff point in the PairWise Rankings in the second half of the season before cementing its place in the field.
"Last year we had a real special team. We accomplished a lot of our goals but we never made it here," Sioux captain Matt Greene said. "This year, maybe we weren't supposed to make it and now we're here. I don't think it's really set in yet. I don't think it will until we get to Columbus. Just the thrill of being one of the last four teams to still have their season going is really something special."
Now it's a matter of taking the next step, which Hakstol said isn't something that can be done in practice. It's got to happen on the ice in Columbus when the Sioux take on Minnesota in the national semifinals.
"We've played some really good teams over the last couple of weeks and we've been getting the wins we needed to get ourselves to this point and even to make it to the tournament before this," Greene said. "We're happy with the way we're playing, but it's just a matter of keeping it up."