As a hockey coach, you hope to rely on what is expected: that your top scorers will create offense, and that your goaltender can play steady, if not pace your club's defense.
Thursday night, North Dakota got those things in beating Minnesota, 4-2, to advance to the national championship game. The Sioux got solid goaltending from Jordan Parise and two goals from highly-touted rookie Travis Zajac, who buried two goals on the night.
But most coaches will tell you that the expected can only take you so far. There's almost a need to expect the unexpected.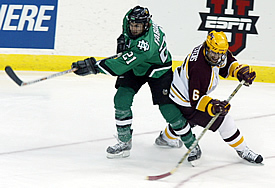 North Dakota's rookie head coach Dave Hakstol did exactly that. Before the game, he spoke to a trio of players, letting them know that their contributions would be the difference in the game.
Who knew that he was such a prophet?
The Sioux fourth line of Erik Fabian, Brian Canady and James Massen played a game that went beyond the typical role of checking forwards. The trio accounted for the first two goals of the game, Fabian collecting both. They were Fabian's third and fourth goals since the postseason began after scoring just one throughout the regular season.
"I just thought that I did what I needed to do tonight," said Fabian, who joked that he feels like he's just hitting his midseason stride after missing much of the first half of the year with two different shoulder separations and a hip pointer. "Coach Hakstol took [our line] aside tonight and said, 'We need you guys to come up big tonight for us.'
"I took that to heart and played the style of game that they want me to play — big, physical, work the corners and, you know, when I get a chance, walk out and take a few shots."
Shoot Fabian did. He took only four shots. Two of them went in.
He surprised Minnesota netminder Kellen Briggs in the first period, picking the pocket of Gophers captain Judd Stevens and firing an instant shot that slid past Briggs before the sophomore had a chance to react.
In the second, his hard work and grit showed, pressing hard to the net and firing a shot amongst traffic that beat Briggs, who was distracted by the plethora of Sioux jerseys crashing the net.
It was exactly the way that Fabian wanted to play. It was exactly the result that Hakstol hoped for.
"Not only Erik, but the fourth line has been a catalyst for us over the last two months," said Hakstol. "We had them together on and off for a few games about six or seven weeks ago, but due to injuries, we had to split them up a couple of times. Now in the last five weeks we've had them together consistently.
"As a unit, they're either drawing penalties, scoring key goals or building momentum for us.
"In games like tonight, you need people to step forward. That's what we've had over the last month. Erik and his linemates stepped forward tonight. They were key to get the first two goals and at this time of year it's always important."
It's no surprise that the roleplaying that Hakstol references in the last couple of months happens to coincide with his club's turnaround. Not two months ago, the Sioux not only weren't in position to play for a national championship, they weren't even necessarily going to make the tournament.
What came next has been nothing short of a remarkable turnaround for the Sioux, and at this point their championship opponent, Denver, has to be fearful playing the nation's hottest team. That, despite the fact the Pioneers have won all three previous meetings with North Dakota this season.
At this point, though, that doesn't seem to matter for the Sioux. The players know it: opponents don't matter. What matters is what happened Thursday. This team is at its peak because everyone on the club is playing, no matter what their roles.
"It doesn't matter who we play," said Parise. "We have a job to do and like I've said, even if we were playing the [Detroit] Red Wings or the [Colorado] Avalanche, we have one thing in mind and that's to win. Everyone in the locker room is going to do whatever it takes to accomplish that."
Those aren't clichés at this point. That's fact.
It may seem like the Sioux are a team of destiny. It may just seem that they're on a roll.
Two months ago, a chance at the national championship wasn't in the thoughts of the Sioux. It was unexpected.
Now, though, the players and coaches can begin to think of the national championship dream. It's time that they begin to expect the unexpected.