A Freshman Will Lead Them
Travis Zajac's goal gave him five in the NCAA tournament, and 20 on the season. His 20 goals led the Sioux this season, which is the fewest that a leading goal-scorer has had since Landon Wilson had 18 to lead the Sioux in 1993-94.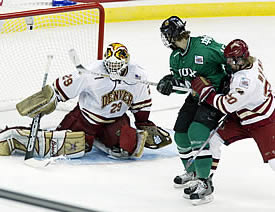 For Denver, Paul Stastny, the USCHO.com Rookie of the Year, scored twice, his first points in five games for the Pioneers. He now has 17 goals this season and a total of 44 points on the season.
Double Time
After 30 years without back-to-back champions in the NCAA tournament, there are now two consecutive teams that have done it in a span of four years. Since Boston University did it in 1971-72, the only teams to have done it since are now Minnesota (2002-03) and Denver the past two years.
Eight Straight
Denver becomes the second team to win eight straight games in the NCAA Tournament. The feat was first done by Minnesota, which won three games in 2002, four games in 2003 and an opening-round game in 2004.
Two teams had seven-game winning streaks: Michigan from 1950-1953 (a third-place win and then three straight championships) and Michigan State from 1986-1987. One other team was unbeaten in seven straight: Wisconsin, which did it from 1981-82 with a 6-0-1 record.
18 Years
Saturday's referee was Steve Piotrowski, his fifth championship game as a referee and sixth overall as an official. The last time he was on the ice for a championship game involving North Dakota, in particular, was 18 years ago — his first assignment as an assistant referee. The Sioux beat Michigan State that year.
The Hex
Denver is now 3-1 against North Dakota in championship games. The only game in which the scoring margin was less than three goals was the 1963 game, which the Sioux won, 6-5.
The "O" Factor
Perhaps the key to Denver's two championships is junior Ted O'Leary. Last season O'Leary was a scratch for the semifinal game against Minnesota-Duluth, and was inserted into the Pioneer lineup when Lukas Dora was suspended for the championship game.
This year, O'Leary was put into the lineup for the championship after sitting out the semifinal against Colorado College. He replaced Tom May.
Red Is Good
With Denver's win, a team with red as its primary color now has won 28 of 58 NCAA championships. Blue is next with 14, and green third with 10.
If you want to break it down further, a team with Maroon/Crimson has won a total of 15 titles.
Quotable
"We wanted to help them [the seniors] here and send them off great in their final game." — Mannino.
"They were out there having fun. That's what we do — have fun." — Stastny.
"I think the two best teams in the country did play tonight." — North Dakota's Andy Schneider.
Columbus Checklist
Some of the highlights and lowlights of Columbus:
The Good:
• The town embraced the event, from great smiles to helpful locals.
• Value City Arena was a great place to watch a game: not a bad seat in the house and those working were always helpful.
• A great venue for Frozen Friday. Nationwide Arena looked great during the festivities. A town should be lucky to have two great arenas for any events that want to come to Columbus.
• Moy's Restaurant on North High Street. 'Nuff said.
The Bad:
• Things were too spread out for the fans. Hotels were dispersed throughout the city and there weren't enough central points for all to gather.
• Local coverage of the event was a mix. Local papers and television picked up coverage of the games, but, for instance, there wasn't one mention of the merits of the Humanitarian Award seen in the print media.
• Shuttle buses were too small and perhaps did not run often enough. When the buses fill up on stop number two of a six-stop run towards the Schottenstein Center, you have trouble.
All-Tournament Team
F Gabe Gauthier, Denver
F Paul Stastny, Denver
F Travis Zajac, North Dakota
D Matt Carle, Denver
D Brett Skinner, Denver
G Peter Mannino, Denver
MOP: Mannino