The 80 goals of production lost will be hard to replace. So will the experience of the four departed defensemen out of the regular lineup.
But the way the Denver Pioneers have taken care of things in the last two seasons, those might turn out to be merely minor inconveniences.
En route to back-to-back NCAA titles, every challenge thrown at the Pioneers has been met and cast aside. Two years ago it was done in a frantic sort of way; last year it was in a more controlled manner.
Given that track record, Denver has to be considered to have a great chance at becoming the first team in more than 50 years to three-peat, no matter which way the Pioneers go about doing it.
"It was a much different approach and a much different plan that the team used to their success last year from the year before," Pioneers coach George Gwozdecky said. "I'm sure this season's team will be even different from that. Every year you have new challenges and new question marks and we've got that this year again."
They'll have to overcome a young defense and an offense that will have its depth challenged. But there's a good chunk of the core of the twin title teams back to steer things, still using the lessons of the 2003-04 season as their guide.
Gwozdecky makes no secret of the fact that season was his most difficult — and possibly most draining — as a coach, despite that it ended with the Pioneers parading an NCAA trophy.
"We did not do things efficiently," Gwozdecky said. "We did not do things with great maturity or great efficiency. We didn't have a lot of discipline. I think we really got to the point where we had so little margin for error and I think that's when the character and the understanding started to develop in some of our core guys."
The lasting messages from that team allowed last season's Pioneers to go through most of the season seemingly in cruise control, at least in relation to the tumultuous year that preceded it. And with players like senior forward Gabe Gauthier and junior defenseman Matt Carle having gone through both of those experiences, this year's Denver leadership corps has a solid foundation.
The Pioneers lost defenseman Brett Skinner to a pro contract, but keeping Gauthier and Carle around provided a sigh of relief.
Gauthier scored 26 goals and ranked third in the WCHA with 57 points in earning All-American honors last season, and if he can continue his career progression — he had 16 points as a freshman and 43 as a sophomore — he'll be a surefire Hobey Baker Memorial Award candidate.
Carle was strong as a freshman but only furthered that reputation a year ago, when he was named an All-American and to the all-WCHA first team.
"There's no doubt in my mind they are two of the top players in the country," Gwozdecky said.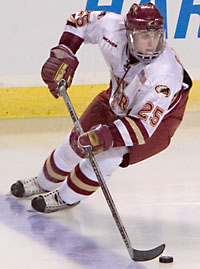 Will the rest of the Pioneers fill in around them? The Pioneers lost 45 percent of their scoring from a year ago through the graduation of seven players and Skinner leaving for the pros, and will need players like juniors J.D. Corbin, Adrian Veideman and Michael Handza and sophomore Tom May to pick up the slack.
Paul Stastny made a name for himself in his rookie season after a slow start, scoring twice in the national championship game against North Dakota.
Defense is a greater concern for the Pioneers. Only Carle and sophomore Andrew Thomas are back from last year's regular cast of characters on the blue line.
The likely scenario is Carle and Thomas will get plenty of minutes while juniors Jon James, who appeared in two games last season, and Zach Blom (six games) and a freshman class that includes Chris Butler and T.J. Fast gets up to speed.
A year ago, the kinds of questions that currently surround the Pioneers' defensemen were heaped upon Denver's goaltenders. But Peter Mannino and Glenn Fisher responded well — so much so that Mannino, who was a freshman, took home the most outstanding player award from the Frozen Four. That was a far cry from his start to the season — Boston College scored three first-period goals on him en route to a 6-2 victory.
The Denver defense could follow a similar path this season as the team looks to become the first to win three straight NCAA hockey titles since Michigan in 1951, 1952 and 1953.
"With work and teaching and patience, both those young [goalies] came along and really developed," Gwozdecky said. "I think the question mark this year is our blue line, and we're going to have to take the same approach. Fortunately, they can take some direction from our All-American in Matt Carle and a real steady sophomore in Andy Thomas. But I think that's going to be a work in progress, especially the first half of the season."