Balance is the defining trait of the 2005-06 Preseason All-USCHO teams, released today. While last season's teams were dominated by WCHA players, Minnesota in particular, this year's three teams were split more uniformly across the conferences and top contenders.

Preseason No. 1 St. Lawrence, No. 4 Minnesota-Duluth, and No. 5 Mercyhurst led the way with three selections total, while No. 6 New Hampshire was the only program with two players on the First Team. The other No. 1 Wisconsin was also one of five schools with two selections. Across conferences, the WCHA, ECACHL, and Hockey East are each represented by five players. Reflecting the growing impact of youth this season, four sophomores are on the three All-USCHO teams, up from one a year ago.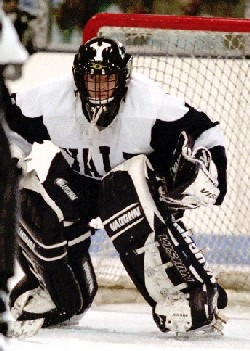 The Preseason All-USCHO Rookie Team, also released today, features three players from the WCHA, two from the ECACHL, and one from Hockey East. Two-time defending NCAA champion No. 3 Minnesota is reloading with two All-Rookie selections.
Sara Bauer, Wisconsin's leading scorer the last two seasons, leads off the All-USCHO First Team. UNH's top scorer Nicole Hekle and St. Lawrence's top returning goal scorer Emilie Berlinguette join her on the forward line. Mercyhurst junior Ashley Pendleton, who helped anchor the nation's No. 1 defense, is joined on the blue line by former All-ECAC defenseman Amy McLaughlin, who transferred from Brown to New Hampshire in the offseason. Sarah Love, who ranked fifth nationally in save percentage as a sophomore, is the All-USCHO First Team goalie.
The complete All-USCHO teams and the All-USCHO Rookie Team are listed below.
All-USCHO First Team
F Sara Bauer, Jr., Wisconsin
F Emilie Berlinguette, Sr., St. Lawrence
F Nicole Hekle, Jr., New Hampshire
D Amy McLaughlin, Sr., New Hampshire
D Ashley Pendleton, Jr., Mercyhurst
G Sarah Love, Sr., Yale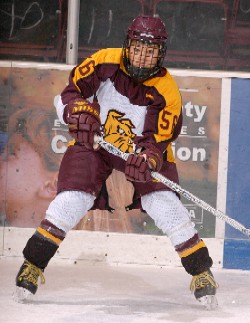 All-USCHO Second Team
F Tiffany Hagge, Sr., Dartmouth
F Jessica Koizumi, Jr., Minnesota-Duluth
F Karen Thatcher, Sr., Providence
D Natalie Vibert, Jr., UConn
D Kerri Wallace, So., St. Lawrence
G Riitta Schaublin, Jr., Minnesota-Duluth
All-USCHO Third Team
F Noemie Marin, Jr., Minnesota-Duluth
F Samantha Shirley, Sr., Mercyhurst
F Deborah Spillane, So., Boston College
D Annie Guay, So., St. Lawrence
D Bobbi Jo-Slusar, Jr., Wisconsin
G Laura Hosier, So., Mercyhurst
All-USCHO Rookie Team
F Alison Domenico, St. Lawrence
F Michaela Lanzl, Minnesota-Duluth
F Becky Zavisza, Boston College
D Melanie Gagnon, Minnesota
D Alycia Matthews, Wisconsin
G Brittony Chartier, Minnesota