It takes three facts to make a truth. — Eugene Manlove Rhodes.
One. The Northern Michigan Wildcats return one of the toughest defenses in college hockey.
Two. The Wildcats were collectively born under a star lucky enough to award Andrew Contois, their 2004-05 leading goal scorer, a fifth year of NCAA eligibility.
Three. NMU's cluster and schedule this season can help propel the Wildcats into the top spot in the league. (See "Two" above regarding luck.)
"Our strength will be our experience," says head coach Walt Kyle. "I think we have a real good group of defensemen returning; all six guys who started for us on a regular basis last year are back, and they are all juniors and seniors."
Those guys include senior captain Nathan Oystrick, one of the best blueliners in the country, and Oystrick's classmate and alternate captain, Geoff Waugh. Both of these defensemen are "very solid," says Kyle, "very physical players," whom the Wildcats "look to to be leaders not only as a defensive pair, but as leaders in our locker room."
Other household names among the NMU D-corps include senior Jamie Milam and junior Zack Tarkir.
In addition to returning the bulk of their solid defense, the Wildcats return a number of talented forwards, including Contois, who was feared gone after using up what appeared to be the last of his NCAA eligibility in 2004-05. Contois, who began his career as a Laker in 2001-2002, transferred to NMU and played the following three seasons.
At the end of 2004-05, the Wildcats were surprised to find out that their leading scorer had run out of eligibility, so they appealed — and won.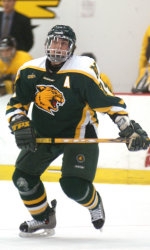 "A lot of work and detail was done by people in the NMU athletic department to make this happen," said Kyle when the Wildcats won their appeal. "We were hopeful and confident that the appeal would be granted. This will allow him to compete and graduate."
And, coincidentally, score more goals for an already experienced NMU offense.
"Up front, we have a number of guys who we hope will take steps, and have turned to guys who can be night-in and night-out offensive players," says Kyle. "We are led by Darin Olver, who is our returning leading scorer, Andy Contois and Mike Santorelli, two guys that led our team in goals last year, along with Dirk Southern, who was a junior forward who was injured for a good part of the year but is certainly a guy we look to have an impact, who we believe can lead us on a night-in, night-out basis."
Add to the consistency of both the offense and defense a schedule that lends great opportunity, and you have the recipe for contention. The Wildcats are perennially partnered with Upper Peninsula rival Lake Superior State, and this year NMU draws Ferris State and Western Michigan as its two other clustermates. The Lakers, Bulldogs, and Broncos are expected to fight for the league's bottom three positions.
NMU also has Michigan and Ohio State, the two teams expected to vie for the top spot in the CCHA standings, at home.
"We're real excited in Marquette for the season to begin," says Kyle.
The one fly in the ointment: goaltending. Last year saw the steady and stellar netminding of Tuomas Tarkki. "He's certainly a guy we'll have difficulty replacing," says Kyle.
Those auditioning for Tarkki's former spot include the capable sophomore Bill Zaniboni, who put up good numbers in limited play last season, and newcomer Derek Janzen of the Chilliwack Chiefs.
With so much experience in front of the net, however, and so much of the league looking at new goaltending, this may be a non-issue for NMU this season.
"I think that we feel that we had a good run the last half of last year," says Kyle, "and really made strides in becoming the type of team that we want to become."