Nothing capable of being memorized is history. — R.G. Collingwood
If there is one thing to learn from Bowling Green's 2004-05 season it's this: humility.
"I didn't want to keep on saying it was the 'flu." That's the simple explanation that Jordan Sigalet, BGSU's senior goaltender last season, gave for making public his struggle with multiple sclerosis.
He had been diagnosed the season before, actually, but the only player on the team who knew was his younger brother, Jonathan. In fact, Sigalet played the Falcons' first-round CCHA playoff series at the end of 2003-04 one week after having undergone a spinal tap.
In his senior season, playing not only with MS but with the knowledge that everyone knew about him, Sigalet had the season of his career and displayed the kinds of intangible leadership skills that never show up on stats sheets: courage, determination, poise.
The Falcons rallied around the outgoing, good-natured senior, playing every game as much for him as anything else. The entire team handled the collective concern about their teammate and friend and the added attention from the press with an easiness not often found among men so young.
Sigalet's struggle gave Bowling Green an immediate purpose and focus. Now Sigalet is gone. So is his younger brother, having opted out for professional hockey. So who are the Falcons now?
Even head coach Scott Paluch can see the issue for what it is.
"When we talk about our team, the first thing that comes up is our goalie situation, the fact that Jordan Sigalet has graduated and moved onto the professional ranks," says Paluch. "Jordan has meant a lot to our team, on the ice, off the ice but we are certainly capable in goal."
Oh yeah. In addition to providing a team identity, Sigalet was a goaltender. "Jon Horrell played some great games for us down the stretch," says Paluch. "Jimmy Spratt is going to come on and do a fine job. We have a good goaltending battle.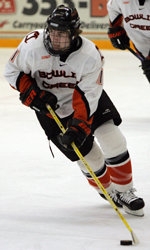 "I think the important thing our goalies realize is that we are not asking anyone to be Jordan or do anything that Jordan did but to give us the opportunity to be in games and to win games."
If the Falcons are to improve upon or even equal last year's fifth-place finish, in addition to finding a reliable starter in net, the Falcons will have to get deeper offensively and improve in front of their own net.
BGSU relied heavily — some would say, almost exclusively — on the line of Jonathan Matsumoto, Alex Foster, and Brett Pilkington last year. Matsumoto has household-name potential; he and Foster became the first Falcon rookie duo to score 20 points each since the 1985-86 season, and the line was the first with three 30-point scorers in seven years for BGSU.
"I think for the first time in a while, we return a lot of productive players," says Paluch, "guys who have proven themselves scoring in this league. We have 84 percent of our production returning this year.
"We also have our two leading scoring offensive defensemen back, Michael Hodgson and Don Morrison."
Offensive defensemen are fine, but the Falcons need defenders to defend, period. Another season of team defense in the lower third of the NCAA isn't going to improve BGSU's prospects, not even in a league where parity may be created — and not necessarily in a good way — by a lack of experienced goaltenders.