The reigning Hobey Baker Memorial Award winner, Marty Sertich of Colorado College, heads up the honorees among the preseason All-USCHO teams, announced Friday.
Sertich led the nation in scoring in 2004-05 with 64 points (27-37), edging teammate Brett Sterling by one point (34-29). Sterling, who was a Hobey Hat Trick finalist last season, joins Sertich and Michigan's T.J. Hensick (23-32–55) as the forwards on the All-USCHO First Team.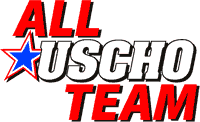 David McKee of Cornell (27-5-3, 0.947 save percentage, 1.24 GAA), the third Hobey Hat Trick finalist for 2004-05, is the First Team netminder, accompanied by Andy Greene of Miami (7-27–34) and Denver's Matt Carle (13-31–44) as the First Team defensemen.
The Second Team consists of forwards Gabe Gauthier of Denver (26-31–57); Cornell's Matt Moulson (22-20–42); and Nebraska-Omaha's Scott Parse (19-30–49). At defense are Brian Yandle of New Hampshire (13-22–35) and Quinnipiac's Reid Cashman (13-32–45). In goal is Ohio State 'keeper David Caruso (25-9-4, 0.917, 2.14) .
The Third Team includes Elias Godoy of Massachusetts-Lowell (12-27–39), Ryan Potulny of Minnesota (24-17–41) and St. Lawrence's T.J. Trevelyan (25-20–45) in the forward slots. The blueliners are Grant Lewis of Dartmouth (5-17–22) and Alabama-Huntsville's Jeremy Schreiber (2-21–23), and in goal is Boston College's Cory Schneider (13-1-4, 0.916, 1.90).
The highly-touted freshman classes at Minnesota and North Dakota took two slots apiece on the Rookie Team. For the Gophers, forward Phil Kessel and goaltender Jeff Frazee appear, along with UND forward Jonathan Toews and defenseman Brian Lee. Also at forward are Brock Bradford of Boston College and Wisconsin's Jack Skille, and at defense is Michigan's Jack Johnson.
The All-USCHO teams are voted on by the USCHO staff. Complete All-USCHO teams and the All-USCHO Rookie Team appear below.
All-USCHO First Team
F T.J. Hensick, Jr., Michigan
F Marty Sertich, Sr., Colorado College
F Brett Sterling, Sr., Colorado College
D Matt Carle, Jr., Denver
D Andy Greene, Sr., Miami
G David McKee, Jr., Cornell
All-USCHO Second Team
F Gabe Gauthier, Sr., Denver
F Matt Moulson, Sr., Cornell
F Scott Parse, Jr., Nebraska-Omaha
D Reid Cashman, Jr., Quinnipiac
D Brian Yandle, Sr., New Hampshire
G David Caruso, Sr., Ohio State
All-USCHO Third Team
F Elias Godoy, Sr., Massachusetts-Lowell
F Ryan Potulny, Jr., Minnesota
F T.J. Trevelyan, Sr., St. Lawrence
D Grant Lewis, Jr., Dartmouth
D Jeremy Schreiber, Sr., Alabama-Huntsville
G Cory Schneider, So., Boston College
Honorable Mention
Scott Champagne, Jr., Mercyhurst
Robbie Earl, Jr., Wisconsin
Danny Irmen, Jr., Minnesota
Rod Pelley, Sr., Ohio State
Jon Smyth, Sr., Colgate
Brent Walton, Sr., Western Michigan
Lars Helminen, Jr., Michigan Tech
Matt Hunwick, Jr., Michigan
Cleve Kinley, Jr., Massachusetts-Lowell
Bryan Schmidt, Sr., Merrimack
John [nl]Curry, Jr., Boston University
Matt Climie, So., Bemidji State
All-USCHO Rookie Team
F Brock Bradford, Boston College
F Phil Kessel, Minnesota
F Jack Skille, Wisconsin
F Jonathan Toews, North Dakota
D Jack Johnson, Michigan
D Brian Lee, North Dakota
G Jeff Frazee, Minnesota