You must always know the past, for there is no real Was, there is only Is. — William Faulkner
You're only as good as your last game. Every coach, every player knows this.
To end last season, the Ferris State took Ohio State to three games in first-round CCHA playoff action in Columbus, shutting out the mighty Buckeye offense 1-0 in the second game of that series before losing the deciding game 5-4 in overtime, a game the Bulldogs led 4-2 midway through the third.
"I guess I never really thought we had it," said head coach Bob Daniels after the loss. "I remember saying to one of the assistants on the way out of the ice to the third, 'Boy, we've got a lot of hockey ahead of us here.'"
It was a bitter end to a tough season. Just two seasons removed from their one, shining moment — the 2002-2003 regular-season CCHA championship — the Bulldogs had come this close to knocking off one of the two teams that represented the league in the NCAA tournament last year.
And it didn't matter that they had also beaten that other NCAA-bound team earlier in the season when they shut out Michigan, 1-0, at home. Once a team has tasted the kind of success FSU did in 2002-03, it ever thirsts for more.
This year, however, only the half-dozen Bulldog seniors can look back at their own history and see anything but mediocrity. Or maybe it can be said that only six players can live in the past.
"We turn over an awful lot of players from a year ago," says Daniels, "and I think more important than the sheer number of players is the sheer quality of players. Derek Nesbitt, Jeff Legue, Matt York, and Mike Brown for a number of years, even going back a couple of years to our championship run, these players were real core elements of our team, and they gobbled up a lot of primary ice time — power play, five-on-three, penalty killing — and they really saw a lot of action.
"In some ways, you always hate to see that kind of quality, that type of quality elite, leave the program and graduate, but the positive I think is that it is time for a little different identity, a little newer identity."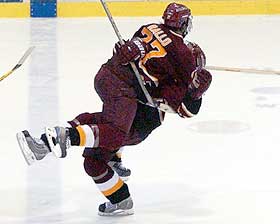 If last year's Bulldog identity was one of inconsistency, to change FSU will have to improve in every category, starting with offense.
"We have some good players that I think … given the ice time that our departing seniors had a year ago, will prove to be some name players in the league," says Daniels. "That includes up front Matt Stefanishion … whom I think could have a breakout-type year."
Also looking to break out is junior Mark Bomersback, who has yet to live up to his offensive promise.
Defensively, the Bulldogs return Jeremy Scherlinck, who missed most of the 2004-05 season with an injury. He joins a blue line that is certainly capable but one which will be tested in front of an uncertain FSU net. Gone is Mike Brown, and the returning Derek MacIntyre will be challenged by rookie Mitch O'Keefe, "who we are really excited about having," says Daniels.
If the Bulldogs are to improve, they'll need more than breakout seasons from several players. In fact, they'll need more than mere breaking out from even those players who are expected to perform; they will need discipline and the composure to play in the here and now.