In history, there are no real beginnings. — Warren Sylvester Smith
Out with the old, in with the new. Or should we say that everything old is new again?
Not to imply that Jeff Jackson is old, by any means.
There's a certain symmetry to Notre Dame hiring Jackson after firing Dave Poulin. Jackson is a coach hired to resurrect a program that once hired Poulin for resurrection purposes.
Perhaps the Irish should change their name to reflect what they strive to become — the phoenix of college hockey.
Jackson inherits not only the 2004-05 last-place CCHA team, but one of the worst teams in the country last season. The Irish team offense was dead-last in NCAA play last year — in the whole NCAA, mind you, worse than Army, worse than Air Force, worse than Robert Morris — just one year after Notre Dame received an invitation to the NCAA tournament.
The defense didn't fare much better, and in nearly every statistical category, the Irish were where no big-name school wants to be. Not one Notre Dame player scored as many as 10 goals in 38 games last year. But Jackson came into the season not wanting to point the finger of blame.
"I told the players I am going in with a clean state," says Jackson. "I made an extreme effort not to evaluate them. Last year, it was difficult to say what happened or who was responsible."
Jackson says he made an effort not to know his players until official practices began, to give each individual on the team a chance to start fresh. The result is interesting. The captain for this season is junior T.J. Jindra, hardly a familiar name in the CCHA, a winger with four goals and five assists last year.
Fans may know more about alternate captain Mike Walsh, but everyone will have to learn a little more about the other two alternates, Jason Paige and Chris Tuck.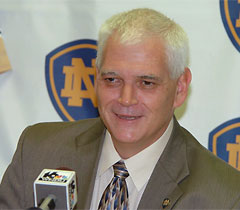 "I am hoping we can do two things," says Jackson, "show extreme discipline throughout the season and make an effort to outwork an opponent. If we can do those two things, regardless of who are players are, I am sure a number of them will step forward and prove to be a much more worthy opponent than we were last year."
That wouldn't take much. It would be nice to see some players return to form. Take Walsh, for example. As a sophomore, he was a 12-goal scorer; last year he posted just two. As a rookie, Michael Bartlett had six goals; last year, two.
While the Irish have questions at every position, nothing troubles them more right now than goal. With the departure of the steadfast and true Morgan Cey and given Jackson's clean-slate approach, all three Notre Dame goalies may see time in net in the early going. Expect senior Rory Walsh, junior David Brown — who showed such promise his freshman year, posting a .925 save percentage in 26 games — and rookie Jordan Pearce to battle for time.
Things can only improve for Notre Dame, which is a nice place for Jackson to start. Jackson, like many others, sees Notre Dame as a potential future CCHA powerhouse.
"I have always looked at Notre Dame as a sleeping giant as far as the hockey program goes," says Jackson, "and I am hoping to be part of the wake-up call. It has such a great tradition, both as a university and an athletic department, so now it's time for the hockey program to take the next step forward."