History is the great propagator of doubt. — A.J.P. Taylor
Miami deserves a better fate than that of sixth in the CCHA preseason coaches' poll, seventh in the media poll.
Yes, the RedHawks struggled last season — to put a team on the ice. Once they got there, however, they really knew how to play. In the second half of the 2004-05 regular season, Miami went 8-6-2. That may not seem like much about which to crow, but given how sick and injured Miami was at midseason, it makes a fan wonder what would have happened if a healthy Miami team had, say, five more weeks of play.
In early December of last season, Miami head coach Enrico Blasi bemoaned that the second half of the season couldn't come soon enough for him. He threatened — jokingly — to skip practice altogether and go straight to games, since most of Miami's injuries came during practice. At one point, there were three RedHawk blueliners playing offense.
Add to the injury and illness bug an ailment better diagnosed in hindsight: Brandon Crawford-West-ism. The junior goaltender missed several games during the season — was benched, really — because of an attitude that led him straight to an early departure.
Certain healthy RedHawks showed flashes of brilliance last season, though, especially down the stretch. This Miami team is loaded with talent, with one of the most potentially explosive offenses in the league and one of the CCHA's tightest defenses. What remains to be seen is who will man the cage.
"We are led by our captain Andy Greene, an All-American," says Blasi. Greene, arguably one of the best defensemen in the country, is joined by the dynamic two-way sophomore, Mitch Ganzak, sophomore Brad Robbins, and senior Matt Davis.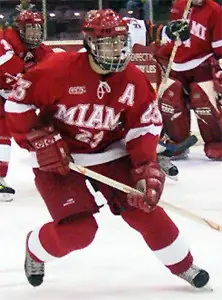 "Up front, we are led by Matt Christie, Marty Guerin, and Nathan Davis, who had good seasons a year ago. They had injuries they had to deal with a year ago and we are looking forward to hopefully having them in the lineup for an entire season.
"I think our question mark is in goal. We have two young men that will battle for that position — Charlie Effinger played some games for us last year down the stretch and Jeff Zatkoff."
Effinger went 4-2-0 last year, with a two-game sweep against Ferris State in Big Rapids in February. Zatkoff posted a 2.55 goals-against average and .914 save percentage with the USHL's Sioux City Musketeers last season.
This year, the RedHawks play in the only completely non-Michigan cluster in the CCHA, one that includes permanent "rival" partner Ohio State, plus Bowling Green and Notre Dame. Blasi is well aware that scheduling may have a good deal to do with how his team ends its season.
"It's a tough league. We are in a tough cluster. Every night is a battle." Okay, so he's watched Bull Durham too many times, but Blasi has a point; the RedHawks, Falcons, and Buckeyes tend to beat up on each other nearly every season, without regard of individual standings, and the Fighting Irish under Jeff Jackson's tutelage are an unknown quantity.
The RedHawks have the offense and defense necessary to finish in top three in the league, but they've always — always — been inconsistent in net. Given the turnover between the pipes league-wide and Miami's depth at every other position, goaltending may be the least of the RedHawks' concerns.