History isn't really about the past, settling old scores. It's about defining the present and who we are. — Ken Burns
Three summers ago, the Nebraska-Omaha Mavericks were rocked by a number of departures. Both players and coaches left unexpectedly, some just before the beginning of the new season.
Last year, after spending the 2003-04 season looking up from last place, the Mavericks finished fourth and returned to Detroit for the CCHA Super Six, just deserts for a young team that had to learn under pressure the season before.
Fast forward to the summer of 2005, and UNO and head coach Mike Kemp deserve nothing more than the chance to build on that remarkable season, unfettered by any sudden, unexpected redesigns.
"Like so many other teams," says Kemp, "the question mark for our team will be in goal where Chris Holt left us in late August to pursue a career with the New York Rangers."
Ouch.
One major difference between 2003 and 2005 is the experience and maturity the Mavericks bring to the locker room and the ice. This year's squad is a mix of underclassmen and time-tested juniors and seniors; those juniors are the ones that Kemp often said had to grow up in a hurry two years ago.
"I think the keys to our team's success will rest with our forwards," says Kemp. The Mavericks return some of the most talented and creative veterans in the league, players who can skate and pull offense out of nothingness.
"We have tremendous depth at the forward position, led by first team all-conference returnee Scott Parse, who will be a junior this year with our program, and last season's rookie of the year and national freshman scoring leader, Bill Thomas."
Two other junior forwards who come immediately to mind are Kaleb Betts and Alex Nikiforuk, while other experienced forwards include seniors Mike Lefley and Micah Sanford, as well as sophomore Brandon Scero.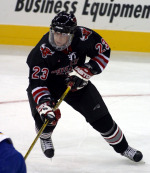 Kemp says that the defense returns "virtually intact" after graduating just one senior and returning eight guys who have seen plenty of action, several of whom were baptized two seasons ago, including Bobby Henderson and Dan Knapp.
Compared to an offense that was among the top 10 in the country, the defense needs tightening. While Holt was fairly consistent in net last season, he wasn't stellar, so maybe his departure will serve two purposes: force the D to play better in front of a less experienced goaltender, and ultimately provide better goaltending in a new player for UNO.
Kemp says that three guys — sophomore Eric Aarnio, freshmen Greg Barnett and Jerad Kaufmann — will be "battling for ice time."
In six games last season, Aarnio put up unimpressive numbers (5.97 GAA), but both Barnett and Kaufmann bring extensive junior experience to the position. Barnett backstopped the Sioux Falls Stampede (USHL) while Kaufmann was the starter for the Fairbanks Ice Dogs (NAHL).
"We are excited about the upcoming season," says Kemp, and why not? In front of the net, this is a Maverick team that is poised and experienced, one that has already been through one trial by fire and one with enough firepower to push the established top-tier teams.