The 2005-2006 CCHA: Tiers or Tears?
"Those who cannot learn from history are doomed to repeat it." So said Spanish-born American philosopher George Santayana, a Pulitzer Prize nominee whose early-20th century output rivaled only Emerson in volume and insight.
"On paper, I think our league is really going to be improved." So said Canadian-born American head coach Red Berenson, who enters his 22nd season at Michigan, where he has twice helped the Wolverines to national championships and brought in nine regular-season and seven postseason CCHA titles.
Who are you going to believe? The guy who wrote A Hermit of Carmel, and Other Poems, or the guy who can seemingly pull nationally contending teams out of his, er, roster?
October is an optimistic time for all of college hockey, when everything exists in the potential, but this year it feels like October has come too soon on the heels of a seriously disappointing postseason for the Central Collegiate Hockey Association, when March saw just two teams invited to the NCAA tournament, and neither of those teams advancing to the Frozen Four.
Again.
Sure, the Wolverines made those three straight Frozen Four appearances (2001-2003) and Michigan State showed up in 2001, but in the last decade, only three teams from the CCHA — all of them Big Ten schools — have made it to the Frozen Four, with Michigan being the league's most outstanding representative, having won the national championship in 1996 and 1998.
Last year, the Wolverines watched a three-goal lead over Colorado College slip away in the Midwest Regional Final, while Ohio State — that third Big Ten team — threw everything it had at Cornell's David McKee in a 3-2 West Regional Semifinal loss.
Two seasons ago, the CCHA placed a league-high five teams in the NCAA tournament, and had no wins to show for it in April.
One theory surrounding the CCHA's relative lack of strength compared to that of other leagues is the way in which the CCHA embraces rules changes with gusto. Last year, the CCHA and league commissioner Tom Anastos spearheaded the new rules enforcement, which arguably made games much more exciting within the league — played closer to the game's original intent — but may have put the league at a disadvantage among the general college hockey population.
It took the league — referees, coaches, and players — nearly half the 2004-05 season to adjust to the zealously enforced rules, which produced equal parts frustration and mighty fine special-teams play.
At media day, Berenson sang the praises of the effects of the recent rules enforcements and suggested that the National Hockey League take a closer look at college hockey's progress in rules enforcement. "The hockey is much improved at the college level. Overall, we have a better product than we had two years ago. Last year, we stood up here and talked about what it should be like, but Tom [Anastos] and his staff have really stuck to it."
Alternative theories about the league's seeming lack of greater-scheme luster include the teams' allegedly stubborn adherence to outdated systems, the sheer size of the league, the cluster system, and a serious misalignment of planetary energy.
At the end of the day, however, it may just be the cycle of things. The CCHA has been rebuilding relative to other leagues, and the October optimism — at least among the coaches — belies history.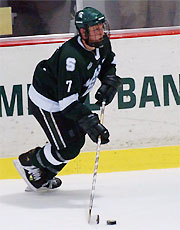 "The CCHA is a young league, and with those players returning this could easily be one of the best leagues in the country," Northern Michigan head coach Walt Kyle said at this year's media day.
Kyle may be absolutely right. While his own Wildcats are plenty experienced, half the Michigan roster is new, the Alaska-Fairbanks Nanooks welcome 10 newcomers, the Bowling Green Falcons are freshman-heavy, the Western Michigan Broncos have a lot of new blood, and a full half of the teams in the league bid their 2004-05 starting goaltenders adieu before this campaign began.
"I think one of the things that the CCHA has always been known for is the quality of goaltending," said Ferris State head coach Bob Daniels. "Teams such as Ohio State [and] Michigan State have a leg up on everyone. The story is which team is going to realize good goaltending first."
Berenson is concerned about his own nets, left to the less experienced after Al Montoya opted for professional hockey rather than a senior season.
"How many times have you seen great freshman goalie performances? It's always been a league of good goalkeeping, but it's going to be important right from the start, and we have some question marks there."
Experience in net — or incredibly good young talent — may separate the CCHA haves from the have-nots. The league has always been a two-tier affair, with Michigan dominating the upper echelon for nearly as long as many of the league's players have been alive. The Spartans kept the Wolverines company for quite a while, and now the Buckeyes are trying to create a little tradition of their own near the top of the league.
And Berenson is eager to have company consistently at the top. "On paper, I think our league is really going to be improved. I think it's good that Ohio State is becoming a perennial power in the league. I'm sure Jeff Jackson will get Notre Dame going."
All big schools with big budgets. Somehow, that is both encouraging — everyone wants to raise the profile of college hockey, after all — and deeply disappointing.
Something's got to give in this league. Let us not prove correct the mutterings of George Bernard Shaw, who warned, "We learn from history that we learn nothing from history."
What did he know, anyway? Party poop.
Here's a look at each team's impending season, in order of predicted finish.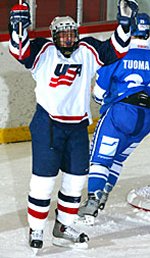 1. Michigan
Head coach: Red Berenson, 22nd season
2004-05 record: 31-8-3, 23-3-2 CCHA
2004-05 CCHA finish: first
Predicted ceiling/basement: first/fifth
The here and now: This is one young hockey team, with 11 freshmen on the roster. Still, the Wolverines haven't finished lower than second place in CCHA play since the Reagan administration, and this isn't the first big freshman class Michigan has seen in that span. "The Michigan team will have a different look to it this year with so many different faces," said Berenson. New look, but will the outcome be any different?
2. Ohio State
Head coach: John Markell, 12th season
2004-05 record: 27-11-4, 21-5-2 CCHA
2004-05 CCHA finish: second
Predicted ceiling/basement: first/fourth
The here and now: The Buckeyes return all but two key players this season, and are arguably one of the deepest, most balanced teams in the country. Last season, with 13 freshmen on the roster, OSU produced consistently but ultimately did nothing, said Markell. "We had a good year, and we didn't win anything. We didn't win our tournament, we didn't win the league championship, we didn't win the league playoffs, we didn't win anything. Status quo isn't good enough."
Head coach: Walt Kyle, fourth season
2004-05 record: 22-11-7, 17-7-4 CCHA
2004-05 CCHA finish: third
Predicted ceiling/basement: first/fifth
The here and now: The Wildcats are an interesting combination this season: one of the most experienced teams in the country but with untested goaltending. NMU's strength lies in its depth and its nearly impenetrable defense — but how impenetrable that D will be without Tuomas Tarkki in net remains to be seen. Said Kyle, "I think that we feel that we had a good run the last half of last year, and really made some strides in becoming the type of team that we want to become."
Head coach: Rick Comley, fourth season
2004-05 record: 20-17-4, 12-13-3 CCHA
2004-05 CCHA finish: sixth
Predicted ceiling/basement: third/sixth
The here and now: To say that the Spartans have been rebuilding is unfair; transitioning is the more accurate term. With an offense that didn't wake up until midseason last year, MSU struggled to find consistency in its game. Will this be the season that the Spartans finally buy into Comley's game, wholesale? "I feel good about our hockey team," said Comley. "The thing I like most about our hockey team is our balance."
Head coach: Mike Kemp, ninth season
2004-05 record: 19-16-4, 13-11-4 CCHA
2004-05 CCHA finish: fourth
Predicted ceiling/basement: third/sixth
The here and now: After a couple of dismal, long years, the Mavericks pulled a great season together, earning Kemp CCHA Coach of the Year honors, and returning UNO to Joe Louis Arena. Another of the league's more experienced teams with an explosive offense, the question for the Mavs is between the pipes. "I think the keys to our team's success will rest with our forwards," said Kemp. "We have tremendous depth at forward."
6. Miami
Head coach: Enrico Blasi, seventh season
2004-05 record: 15-18-5, 11-13-4 CCHA
2004-05 CCHA finish: seventh
Predicted ceiling/basement: second/sixth
The here and now: Last year, the RedHawks were so injured and ill that there were weeks when Blasi couldn't field a full roster. If everyone stays healthy, Miami will be able to send off Goggin Arena in style, with a fast, exciting offense and a tough blue line. But what about the net? "I think our question mark is in goal. We have two young men that will battle for that position," the coach said.
Head coach: Tavis MacMillan, second season
2004-05 record: 17-16-4, 11-14-3 CCHA
2004-05 CCHA finish: eighth
Predicted ceiling/basement: fifth/eighth
The here and now: Last year, with 11 rookies on the roster, the Nanooks saw success at home but struggled on the road. By the end of the season, those seasoned newcomers were playing more consistently, but UAF turned over another large senior class and is young, again, this year. "We have a good mix of youth and older players," said MacMillan, "and I think it is obviously a challenge for us, this season with the expectations that we have and others have for us to come back and have a successful season."
Head coach: Scott Paluch, fourth season
2004-05 record: 16-16-4, 13-12-3 CCHA
2004-05 CCHA finish: fifth
Predicted ceiling/basement: fifth/eighth
The here and now: The undisputed big story of the 2004-05 Falcon season was goaltender Jordan Sigalet, whose struggle with multiple sclerosis during his senior year inspired and motivated his entire team. With Sigalet gone, the Falcons may have difficulty finding an identity. "I think the important thing our goalies realize is that we are not asking anyone to be Jordan or do anything that Jordan did, but to give us the opportunity to be in games and to win games."
9. Notre Dame
Head coach: Jeff Jackson, first season
2004-05 record: 5-27-6, 3-20-5 CCHA
2004-05 CCHA finish: 12th
Predicted ceiling/basement: eighth/12th
The here and now: The longtime enigma of the CCHA, the Fighting Irish are starting fresh with a new coach, and things can only get better. Jackson returns to college hockey with no preconceived notions about how the Irish found three league wins for last place last season, but you can bet he's done his homework. "I told the players I am going in with a clean slate. I have made an extreme effort not to evaluate them. Last year it was difficult to say what happened or who was responsible."
Head coach: Jim Roque, first season
2004-05 record: 9-22-7, 8-14-6 CCHA
2004-05 CCHA finish: ninth
Predicted ceiling/basement: ninth/12th
The here and now: Like the Irish, the Lakers welcome a new head coach, but one who is completely familiar with the LSSU team, having served as the Laker assistant. Everyone knows the Lakers can play defense, and LSSU is one of just a handful of teams to return a proven starter in net. "I think our biggest challenge is to score goals. We feel some guys throughout our lineup have that kind of ability. I think they just need to be given the opportunity to try and showcase their ability to score some goals."
11. Ferris State
Head coach: Bob Daniels, 14th season
2004-05 record: 13-22-4, 7-17-4 CCHA
2004-05 CCHA finish: tie 10th
Predicted ceiling/basement: ninth/12th
The here and now: Just three seasons ago, the Bulldogs were making their first-ever NCAA appearance after capturing their first-ever regular-season CCHA title. FSU turns over a number of players, many of whom were on that squad, but Daniels sees that as something that can become a positive. "We have some good players that I think … given the ice time that our departing seniors had a year ago, will prove to be some name players in the league."
12. Western Michigan
Head coach: Jim Culhane, eighth season
2004-05 record: 14-21-2, 8-18-2 CCHA
2004-05 CCHA finish: tie 10th
Predicted ceiling/basement: ninth/12th
The here and now: The Broncos have a creative offense that can find the net from almost anywhere, in nearly any given situation. On the other side of the blue line, however, is where things go astray for WMU, a team that could score three goals a night and give up four. Said Culhane, "We played in 16 one-goal games last year; eight we won and eight we lost. Obviously, we want to improve on that."