History is full of delightful reversals, where the opposite of what one predicts comes true. — Edmund Carpenter.
For the first time in the history of such things — preseason polls, Ohio State hockey — the Buckeyes are expected to finish first in the CCHA this season. All but one CCHA coach picked OSU to top the standings in preseason, and that's only because head coaches are prohibited from voting for their own teams.
The honor "hasn't been easy to come by," says John Markell. "Obviously, a lot of things had to fall in place, but it's only paper. We still have to go out there and prove it."
OSU is one model for what Notre Dame wants to become, a school with a rich athletic history — most notably a rich football history — that has become or is at least in the process of becoming a CCHA powerhouse.
Last year, the Buckeyes were one of two CCHA squads to receive NCAA tournament invitations, and OSU accomplished that with a large freshman class after graduating the first group of seniors to win the CCHA postseason championship since 1972. It was certainly a turning point in the Buckeye program, and one that may have even taken OSU itself by surprise.
"Last year, we weren't quite sure what we had, so fourth, fifth place was where we thought we should be [in preseason polls], too," says Markell.
This year, the Buckeyes know what they have: depth at every position, a ton of experience, and the ability to spend a lot of time in the penalty box.
"We are going to have to score by committee," says Markell, and what a committee it is. Sophomores Tom Fritsche and Domenic Maiani, juniors Matt Beaudoin — a killer on the power play — and Bryce Anderson, and seniors Rod Pelley and Dan Knapp, all well-known offensive threats.
"We have a tremendous amount of talent up front, players with the ability to put the puck in the net," says Markell.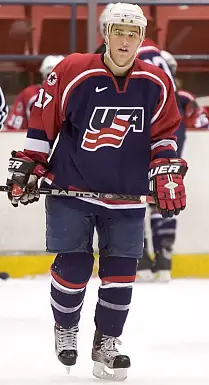 Defensively, the Buckeyes return their entire D-corps, including senior Nate Guenin and junior Sean Collins. Both are big, fast, and mostly smart defenders who saw much improvement in their two-way skills last year. The emergence of Collins as an offensive threat was a welcome bonus.
And in net, OSU returns senior Dave Caruso, the quirky, lightning-fast goaltender who is the CCHA's preseason pick for first-team honors. Backing him up is talented sophomore Ian Keserich.
"We are fortunate to have seniors at key positions, especially in net," says Markell, who added that Keserich "had a very good World Junior tryout."
What lingering skeptics want to see this season is the true barometer of a program's rise to power: the maintenance of a certain level of play. OSU lost only two players who saw ice time last season, captain JB Bittner and role player Lee Spector. While just one man, Bittner was the heart and soul of Buckeye hockey, often forcing something out of nothing, whether taking shot after shot with his body on the penalty kill or giving the Buckeyes the man advantage when most needed by drawing an opponent into a penalty.
But Markell wants to do more than maintain. After a crushing 3-2 loss to Cornell in NCAA West Regional Semifinal action to end last season, Markell says that OSU must do much more.
"We had a pretty good year, but the main question I asked our guys was, 'What did we win?' We had a good year, and we didn't win anything. We didn't win our tournament, we didn't win the league championship, we didn't win the league playoffs, we didn't win anything.
"That's left a bad taste in our mouth. We know how well we played against Cornell, and we didn't win. Status quo isn't good enough. Our guys have known that since that last hockey game. We played very well and we didn't win, so we have to play even better."
Oh yeah — and OSU needs to stay out of the penalty box. Seriously.