Seven months ago, Providence defeated Connecticut to earn Hockey East's first-ever NCAA Tournament berth. This weekend, the Friars and the Huskies meet again to open their 2005-06 conference slate. Both teams will sport something of a new look, having lost a combined 20 players from last season's rosters. Make no mistake, however. Hockey East has the makings of a new big-time rivalry in this Connecticut-Rhode Island border skirmish.
Game Time: Sat. 2 p.m. ET (Broadcast Links)
No. 9 Providence (0-0-0 overall, 0-0-0 Hockey East)
Top Scorers (2004-05): Karen Thatcher, Sr., F (25-33-58), Sonny Watrous, Jr., F (21-18-39), Kristin Gigliotti, Jr., D (6-17-23)
Top Goaltenders: Jana Bugden, Sr. (DNP); Lauren Florio, Jr., (1-1-0, 3.30, .861), Katie Scott, Fr.
Scoring Offense: 3.19 (9th)
Scoring Defense: 2.68 (16th)
Penalty Minutes: 14.2 (10th)
Power Play: 43 of 234, 18.4% (8th)
Penalty Kill: 210 of 241, 87.1% (9th)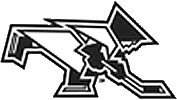 A season-ending flurry and a conference championship have become almost commonplace for the Providence Friars. What Coach Bob Deraney is hoping for in his seventh season is more consistency in his team's health translating to more consistent performance throughout the schedule. The irony is that the consistency may hinge in large part on two seniors who missed all of last year due to injury. Goaltender Jana Bugden reported to camp healthy and in great shape. Bugden recorded 33 wins, a 1.94 goals against average, and a .915 save percentage in two seasons as a starter. Center Ashley Payton returns to center the top line after averaging just under a point per contest over her last two years in uniform, though Deraney concedes the 5'11 forward may need more time to fully shake off the rust.
The good news is the team has some established components. Up front, reigning Hockey East Co-Player of the Year Karen Thatcher posted more points (58) than any returning player in the nation. 2004 Rookie of the Year Sonny Watrous improved all of her totals as a sophomore. On defense, sophomore Kathleen Smith returns after making the All-Hockey East Second Team as a rookie, and junior Kristin Gigliotti notched the biggest goal of the 2004-05 season for the Friars when she snapped a 1-1 tie with UConn late in the third period of the conference title game. One caveat, however: Thatcher remains on the radar for the U.S. National Team and Coach Deraney says he is preparing the team for the possibility its best player will have to exchange uniforms at some point before season's end.
Connecticut (0-1-0 overall, 0-0-0 Hockey East)
Top Scorers (2004-05): Jaclyn Hawkins, So., F (25-14-39), Natalie Vibert, Jr., D (8-11-19), Leslie Hurlbut, Jr., F (4-7-11)
Top Goaltender: Kaitlyn Shain, Sr. (12-8-4, 2.27, .924)
Scoring Offense: 2.64 (15th)
Scoring Defense: 2.44 (15th)
Penalty Minutes: 11.4 (25th)
Power Play: 40 of 234, 17.1% (12th)
Penalty Kill: 161 of 191, 84.3% (16th)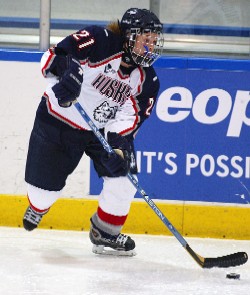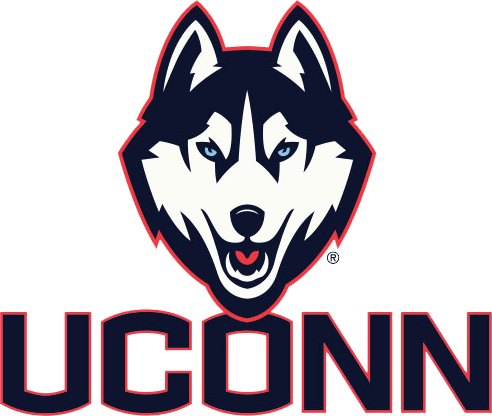 One game and one exhibition probably wasn't enough for Coach Heather Linstad to find out everything about a team trying to replace nine seniors but 40 saves against the defending national champions in their rink was probably enough to tell her and everyone else that Kaitlyn Shain has not cooled down much over the offseason. Linstad calls her defense the "glue of the team" and it's easy to see why with First Team All-Hockey East selection Natalie Vibert and captains Jennifer Houlden and Alicia Ramolla all back along the blueline. More questions lie up front where five of the top nine positions were held by seniors and where conference Rookie of the Year Jaclyn Hawkins needs some backup after having a hand in 41 percent of the team's offense a year ago. Linstad, however, is confident that players like Leslie Hurlbut, Katie Van Deveire, Britney Chandler, and Bridget King (among returnees), along with Nicole Tritter and Kristen Russell (among rookies) are poised to support Hawkins at the offensive end. Having Vibert's skating and playmaking skills along the backline should help the scoring cause as well.
The tricky part to figuring out life after the Class of 2005 is that the Huskies are looking to start this season more like last year's 10-3-4 ending than last year's 6-9-4 beginning. 21 of UConn's 36 contests a year ago were ties or one-goal decisions and there's little reason to expect the scores to open up much in Huskyland during a year when results across the country figure to be tighter than they have ever been. In close games, confidence can play a huge role especially for a young team. There aren't many better ways for Connecticut to build confidence than by beating the conference champions in its home opener.