George Gwozdecky gets it. So do his players.
The coach of the two-time defending Division I champions has once again ingrained the idea in his players that they are not looking to defend their title. Rather, they are out to win this year's Frozen Four.
Last season, all the players, to a man, told anyone who would listen that they had put their 2003-04 accomplishment, which culminated with a thrilling 1-0 win over Maine, out of their minds and set their sights on the 2004-05 season. That mantra came from the coach, who had been in that position before, both as a player, and later as the assistant coach for Michigan State's last national title, in 1986.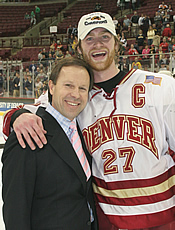 Denver started out slowly last season, getting thumped by Boston College and barely beating Northeastern early on. Then it slowly came together. While conference rivals Wisconsin, Colorado College, and Minnesota all came out of the gate well, Denver suffered slightly from a championship hangover.
The rest, as they say, is history. This season, the players have put last season away, and despite suffering a humbling sweep at the hands of Maine in Orono two weeks ago, and surviving a scare from Air Force last Friday, are now prepared to start their WCHA season on CSTV with a two-game set at North Dakota.
"There is no question that our team is unhappy with the way we played so far," said Gwozdecky as we chatted in the bowels of the Ralph Engelstad arena. "However, Saturday against Notre Dame, we saw some sense of life, some sense of urgency."
Two weeks ago was Black Friday for the WCHA. Denver lost at Maine, Alaska-Fairbanks beat Minnesota, Minnesota State lost at Bemidji State, Northern Michigan beat St. Cloud, and Ohio State topped Colorado College. Only North Dakota won, over Northeastern.
So much for WCHA dominance, right?
"This is the toughest conference to play in, and every time a media person asks me if we have a big league series this weekend, I laugh," said Gwozdecky. "Every building in our league is tough to win in, and winning at home against most of these teams is hard. Playing in this league is a big series every weekend."
Because of that, Denver has the right idea. Thoughts of a three-peat would distract the Pioneers from the next weekend. Thoughts of winning in April will get you clobbered in October.
Gwozdecky and his players will let you know that they have won back-to-back championships. They will also let you know — quickly — that while they have experience to draw on, and the taste of champagne on their lips from two glorious seasons, they are looking no further than what should be a wild and frenzied crowd at the Ralph, where NoDak awaits.
This is the same team that lost to Denver in the WCHA Final Five, and then again in the NCAA championship game.
Denver is solid, and has replaced departed players well. Out went the most successful senior class in school history, and in came a talented group of freshmen led by Patrick Mullen, Julian Marcuzzi, Chris Butler, and Brock Trotter.
The Pioneers are a great forechecking team, and their transition will catch most teams flatfooted. They quick-up the puck instead of moving it needlessly between defensemen while allowing other teams to set up a forecheck. They can go to the net well, and have great leadership in Gabe Gauthier and all-world defenseman Matt Carle.
"The line between success and failure is so fine in this conference. An injury, bad chemistry, a bad bounce are major factors in how a team will fare in this conference," said Gwozdecky.
Denver is well aware that it could equal Michigan's team of the early '50s by winning a third consecutive title. History in the making is hard to ignore. Their WCHA rivals will look at Denver as the team to beat. The Pioneers have been ranked No. 1 in the USCHO.com/CSTV poll at least once every year for the past five seasons.
However, Denver enters this season with the poise and experience of a champion, yet the enthusiasm and chutzpa of a team that feels it is the underdog. Only in the WCHA could that be the case. Reality says that there are four teams in the WCHA that can end the Denver run.
The Pioneers will be tested this weekend, and every weekend after that. Playing one at a time is crucial. They have the ingredients, from the head coach, through the assistants, down to the goaltending.
Ingredients can make a great cake, but the chef still has to make it so. Gwozdecky has the oven on, and the mixture has just started baking. How much it will rise depends on how much heat the Pioneers can absorb over a gruelling season.
Don't expect them to fall flat.