Perhaps it's taken longer than he expected, but Kurt Wright is finally a senior and on schedule to graduate in May.
Wright's travels have been well documented. He started with New Hampshire in 2001, but redshirted and left after that year to transfer to Findlay. The Oilers then folded amidst budget concerns, and Wright latched on with Robert Morris last season. He's a co-captain with the Colonials again this season (with sophomore Rob Cowan) and being a leader comes naturally for the 24-year-old from Barnstable, Mass.
"Rob and Kurt were excellent in leading the team this past season," said RMU head coach Derek Schooley. "The fact that they were near-unanimous picks to lead the team again this season is a testament to that. They both bring an excellent work ethic, a passion for Robert Morris hockey and a maturity that our young team respects."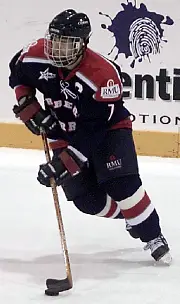 Wright wants to take every advantage presented to him this year. Last weekend, he set school records with four points and three power-play goals in Saturday's win over Bentley. All five of his goals this year have come on the power play. He was named the CHA's Offensive Player of the Week for his efforts.
Coincidentally, before the season began, Wright said that he wanted to increase his offensive output. He currently leads the nation in power-play goals.
"Last year, I scored six goals in the first half of the season before an injury slowed me down," Wright said, noting he finished with seven goals. "I want to increase my offensive numbers in order to help the team win games. Personally, my strength is my shooting and scoring ability. I'm a skill player that works hard and I believe my offensive ability and being able to be a triggerman on the power play are my strengths.
"As a team, I think our speed and quickness and how hard we work on the ice every night [are] our strength."
A year ago in the first year of the Robert Morris era, the Colonials went 8-21-4 overall. This year, though it's early, RMU is 2-2-0. The Colonials didn't earn their second win last year until a week later (Oct. 30), but then went winless in their next seven.
Wright wants the wins to become more commonplace, obviously, and has that optimistic tone in giving his outlook.
"I think we have a team that can go into the CHA tournament and advance to the NCAAs," said Wright. "The media and those on the outside may not think it, but we as a team believe that we can do exactly that."
Time will tell. But for Wright, his time will come in May when his college eligibility expires — and it'll have been a long time coming.
Niagara Continues Rivalry With Broncos
With a 3-2 win Saturday at home against Western Michigan, Niagara improved to 3-7-0 all-time versus the Broncos. Sean Bentivoglio's goal 10 seconds into the game was three seconds shy of the CHA record set by teammate Justin Cross on Jan. 31, 2003.
Freshman Les Reaney scored the game-winner midway through the third period.
"To start the third period, our top line had got us going and we were running through our four lines," said NU head coach Dave Burkholder. "That set the tone for the third period. Finally, our power play had some good puck movement. That was a huge goal that Les tipped in. When we played a single game like we did, that's a big test and we responded. That's two games in a row that we played really well in the third."
Senior goalie Jeff Van Nynatten also moved into second place on the NU wins list with 38. Greg Gardner is tops with 64.
Falcons Continue To Struggle Scoring Goals
Air Force is fast coming to the conclusion that scoring goals wins hockey games. Last weekend, the Falcons scored, but not enough, in losses to Denver and Colorado College.
"Until they find a different way to decide games, we need to start scoring goals," Air Force head coach Frank Serratore said. "The only thing DU did better than us was score."
On the weekend, the Falcons were 2-for-16 on the power play and were outshot, 63-39. Air Force ended an 0-for-36 drought on the power play with two goals Saturday against CC.
"We have proven that we can skate with anyone, but we have to become a better third-period team," added Serratore. "I really like our effort and attitude, but we have to better in the third period and we have to score."
WSU Freshman Brings Championship Experience
Jon Grabarek was a member of the Cedar Rapids RoughRiders last season and won a United States Hockey League title. It's experience like that that the Warriors are hoping Grabarek can duplicate at the college level.
A 21-year-old freshman, Grabarek is from Sterling Heights, Mich., in the metropolitan Detroit area. Grabarek said he knew early on what his hockey options were, and never thought WSU would be among them.
"Growing up, I pretty much knew and figured my options were either the Ontario Hockey League or going to college," said Grabarek. "I always figured I'd go to college because I figured it would work out better that way.
"Wayne State actually contacted me last year, but I wanted to see what other offers I'd get, and there were a couple, but Wayne State is close to home and that was part of the reason coming here. I just want to prove to everyone here I can play at this level."
Grabarek had three goals and four points in the team's two exhibition shutout wins over Oakland University's club team and the University of Guelph.