But Ann Arbor Is Miles from Punxsutawney
Does Harold Ramis get royalties every time the Wolverines and Spartans meet?
For the third consecutive game going back to February of last season, the famed archrivals have met on the ice and departed tied, with those pesky Spartans coming from behind in each contest to force OT.
Feb. 4, 2004: Michigan's up 2-0 through two on first-period goals by Charlie Henderson and Jeff Tambellini, but Drew Miller spoils the Wolverines' collective fun by scoring at 17:34 and 19:58 in the third. The game ends 2-2.
Feb. 5, 2004: Eric Nystrom scores at 5:18 in the second to give the Wolverines a 1-0 lead, but Jim McKenzie knots it up at 16:42 in the third to send it into overtime. The game ends 1-1.
Oct. 22, 2005: Andrew Cogliano breaks a 2-2 tie and puts the Wolverines up by a goal at 7:14 in the second, but with less than a minute to go in middle stanza, Tim Crowder scores for MSU, tying the game. The game ends 3-3.
At least this time around the teams managed to create a little suspense, eh?
"It was a hard-fought game," said Michigan head coach Red Berenson. "We knew it would be."
Well, Coach, at the risk of sounding disrespectful — duh.
The young Wolverines were outshot by the slightly-more-experienced Spartans by a nearly two-to-one margin, 38-23, giving Michigan freshman goaltender, Billy Sauer, a real workout.
How did Sauer respond to 38 shots in front of 6,784 rabid Yost Arena fans? By not tossing his cookies from the get-go.
"I thought I was going to be sick the first few minutes of the period. You just look up there and see 6,900 people screaming, but it was a good experience."
Hmmm. Makes you wonder how well the kid travels.
Games of the Week
Last week, several people — okay, several Wolverine fans — wrote to chastise me for not featuring the MSU-Michigan single game in the column, as I opted instead for the Miami-UNO series.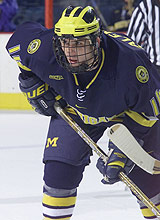 And last week, CCHA fans, which one was less predictable? That's what I thought.
No. 1 Michigan (4-0-1, 0-0-1 CCHA) at No. 20 Alaska-Fairbanks (2-1-1, 0-0-0 CCHA)
Fri. and Sat. 7:05 AT, Carlson Center, Fairbanks, Alaska
While it's true that nearly every team attempts the proverbial rise to the occasion when the Wolverines come to town, the Nanooks probably have more reason than most.
As UAF sophomore winger Kyle Greentree told the Fairbanks News-Miner this week, "If facing the No. 1 team in the nation doesn't get you fired up for Friday and Saturday, then you shouldn't be playing this sport."
It helps, too, if you're facing the team that has absolutely owned you since you joined the CCHA.
The Nanooks have just four wins total in 33 games against Michigan in this all-time series, the last being a 5-3 victory in Fairbanks, Feb. 7, 2004. Last season, the Wolverines beat the Nanooks three times, twice during the regular season in Ann Arbor, and finally at the CCHA Super Six in Detroit in March.
Only three current Nanooks have registered goals against the Wolverines: senior Kelly Czuy and sophomore Ryan McLeod with two apiece, and junior Curtis Fraser with one.
In contrast, and even though nearly half the Wolverine team is brand-spanking-new this season, seven current Michigan players have scored on the Nanooks: senior Brandon Kaleniecki leads the way with three goals; junior T.J. Hensick has two; and Andrew Ebbett, Chad Kolarik, Matt Hunwick, David Rohlfs, Kevin Porter, and Jason Dest each have one marker against UAF.
Nanook netminder Wylie Rogers has an .888 save percentage in three games against Michigan. Michigan's Billy Sauer may be an unknown quantity against UAF in net, but with a .922 save percentage in four games, there's a chance he may be up to the task.
The Wolverines — of course — tied Michigan State last weekend, with Ebbett, Kaleniecki, and Cogliano scoring and Sauer stopping 35 shots.
At the other end of the earth, the Nanooks were busy splitting with Alaska-Anchorage in Anchorage, winning 2-1 Friday and losing by the same score Saturday. Aaron Lee and Nathan Fornataro scored in the win, Fraser in the loss. The Nanooks registered just 18 shots on goal in the first game but responded with 36 the following night.
"We were the faster, quicker and better team for two periods," UAF head coach Tavis MacMillan told the News-Miner after Saturday's loss. "We had opportunities on power plays that we earned by being the better team, and we didn't convert."
Special teams are an issue for the Nanooks in the early going of this season. UAF converts power plays at 17.9 percent rate to Michigan's 28.6 percent; UAF kills penalties at a rate of 77.8 percent, compared to 90.9 percent. While the season is young, given the adrenaline, the rules enforcement, the mileage, the series history and all other factors, the weekend may come down to special teams.
Picks: The Nanooks certainly have a chance to take points from the Wolverines this weekend. They must feel confident after their 3-1-0 start, especially with the success in Minnesota, and they have just the right number of rookies — 10 — who have never lost to the mighty Wolverines, bringing an enthusiasm to the series that can provide a certain kind of advantage. But Michigan, in spite of its large freshman class, is the more experienced team, and sometimes that first big road trip is just what a redesigned squad needs to cement the chemistry. Michigan 4-2, 4-2
It's Too Early for the Blues
For some, it's too early in the season for the Maize-and-Blues, but with a coach like Red Berenson, sometimes you can't help but have the team in the league.
Of course, it also helps to have four points, and the only team in the CCHA to have earned four league points is Miami. The RedHawks went to Omaha last weekend and swept the good-looking Mavericks, a team that had beaten ranked New Hampshire a week before to capture its second annual Maverick Stampede title.
"Our team really showed a lot this weekend," said Miami head coach Enrico Blasi after the successful trip west. "To travel 13 hours in a bus and then sweep a team like UNO in their own building takes a lot of determination, grit, and character."
Did you catch that? Thirteen hours in a bus. That is not entirely uncommon in this league — I hear fans from the Boston area gagging on food right about now — but not every team hoofs it when faced when such distances. In fact, even though it's a shorter ride than that from East Lansing to Marquette, the Spartans routinely fly north when they face the Wildcats, and I doubt very much that MSU is busing it to Ithaca this weekend.
But I digress.
The weekend marked the first-ever road sweep of UNO for Miami, bringing the RedHawks' record to 4-4-0 in Omaha.
Senior Andy Greene — whose mother, you may recall, baked Christmas cookies last season from my mother's recipe — led the way for Miami, with two goals and two assists in the 6-3 win.
(Of course, as nice as Mrs. Greene is, she doesn't write me poetry, as does the father of another Miami player who shall remain nameless, not for fear of embarrassing the dad but out of respect for the son. I like poetry.)
Of course, I could have predicted that Miami would sweep just by reading my own column; I picked a split, and I'm always wrong about Miami. Yes, Coach Blasi, I'm picking you to lose for the rest of the season.
And Coach Kemp is praying that I never call him again, I'm sure.
Four Goals, Two Losses, but a Step Up
So, Notre Dame is 0-2-0. It's not such a bad way to start a season, given that the Irish traveled to Colorado to take on Colorado College and Denver to kick off the new campaign.
And there were other pluses for the Irish in their trip west. Sophomore center Victor Oreskovich told the South Bend Tribune that the Notre Dame squad could sense the difference from last season.
"I think we were right in the game [Saturday], whereas last year, I felt a lot of time we were just getting dominated."
Definitely a step in the right direction.
Make a Note of It
By virtue of their two ties, Ferris State and Lake Superior State are ahead of Michigan and Michigan State — with only one tie to their credit — in the CCHA standings.
In fact, LSSU is undefeated — 1-0-3 overall.
Things That Don't Show Up in Game Stories
BGSU sophomore Jonathan Matsumoto is a monster — and I mean that in a good way. He's a one-man wrecking crew, able to change momentum with his physical game. He can circle the offensive zone, reminiscent of former Wolverine Jeff Tambellini, read and assess the entire scene, then create an offensive opportunity where none existed before. He's fast, skilled, smart and this year's early frontrunner for the Mike Comrie Most-Likely-to-Leave-Early Memorial Award.
I only saw Bowling Green's 2-2 tie with OSU last Friday night, but he was a pleasure to watch, from start to finish.
Matsumoto's counterpart on the Buckeye squad is sophomore Tom Fritsche, who's listed at 5-11, 185 — and he may be, for all I know — but seems like a smaller, speedier player (perhaps it's the distance from the press box to the ice?) who outworks nearly everyone else, nearly every shift.
In the 2-2 tie, Fritsche appeared to be channeling the spirit of last year's OSU captain, JB Bittner, sacrificing his body repeatedly to block shots. The kid — they're all kids to me — is a force of nature.
And after watching Jon Horrell's performance in the tie game, I'd say the Falcons have their starting goaltender. One night after the Falcons lost 7-2 to the Buckeyes in BG, Horrell was patient and poised on the road. While the Bucks didn't make the most of their offensive opportunities, Horrell looked good.
The BGSU defense, collectively, played well, giving Horrell the opportunity to see nearly whatever OSU threw at him.
I Hate When Nate Guenin Is Right
Don't you?
Last week, I wrote that OSU's season-opening win over Colorado College was the Buckeyes' first significant nonconference win since 2000.
Last weekend, the OSU captain reminded me that the Buckeyes had gone on the road during his sophomore season and beaten Colgate and Cornell. That Nov. 22, 2003, 4-3 victory against Cornell in Lynah certainly counts as a significant nonconference win.
Guenin even had an assist in the contest. The only other current Buckeye to pick up a point in that game was Rod Pelley.
Okay, Nate, you won one before this season. I'm sorry. I think the bigger apology for my oversight, however, goes to Cornell for my inadvertent implication that they are or were not significant.
Blueliner of the Week
No nominees. Well, that's not true, strictly speaking. A loyal NMU fan wrote to nominate Nathan Oystrick "for the rest of the season," and while I appreciate the sentiment, that just doesn't work.
I saw nothing in last Friday's 2-2 tie between the Falcons and the Buckeyes to warrant a prize.
Once again, I'd like to honor the stay-at-home defenders whose outstanding performances in specific games go unnoticed or ignored because such performances don't necessarily translate into easily identifiable statistics.
Email me to nominate a great defenseman you see this weekend, and give me at least something of his performance in a specific game to merit attention.
Trivial
Sports or war? You decide.
"Each warrior wants to leave the mark of his will, his signature, on important acts he touches."
"We are not interested in the possibilities of defeat. They do not exist."
"I will not permit thirty men to travel four hundred miles to agitate a bag of wind."
"I really thought we'd win that."
"I consider myself a patriot. We're the United States. We should be the best."
"Losing is the great American sin."
"Violence is the last refuge of the incompetent."
Email me your answers — don't cheat! — and the first person to correctly identify the nature of each quote wins dinner at my esteemed colleague Dave Hendrickson's house.
You may have to cook, and everyone may need permission from his real boss, Brenda Hendrickson.