Last weekend the action in the ECACHL was defined by strong play on home ice by a number of teams as Brown, Rensselaer and Union all swept weekend series in front of their fans. The other results of note were splits with ranked foes, as both Harvard and Dartmouth split their home series with then-No. 3 Cornell and No. 17 Colgate.
Those two factors — the home-ice defense of Brown, RPI and Union and the surprising upsets of Cornell (a real shocker, if only because I know few people who thought the Big Red would ever lose by as many as five goals this season) and Colgate — combined to muddle the early-season standings.
With every ECACHL team having played at least four league games (and Harvard and Dartmouth each having five), there are four teams currently tied for first place with six points, two teams a close second with five, and three more teams coming in with four. Only Princeton and Dartmouth (two points) and Yale (no points) have fallen off the pace.
A Pleasant Surprise
More surprising, perhaps, than the split that Harvard and Dartmouth forced on Cornell and Colgate was the Crimson's 5-3 upset of Boston College on Tuesday night. A Crimson victory over the Eagles, while not common, is also not completely unusual; last season, for instance, the Crimson solidly defeated the then-No. 1 Eagles in front of a sellout crowd at Bright Hockey Center.
What is uncommon — no, make that downright rare — is the location where the win occurred: Harvard's 5-3 win over Boston College came on the ice of Conte Forum at the Heights, a venue where Harvard had been held winless since January 9, 1979.
"We're excited about the win," said Harvard coach Ted Donato. "It's a tough place to play, against a very good team."
"Any time you come into Boston College and get a win, that's something to be proud of," Donato added.
His counterpart across the ice agreed.
"Harvard's power play was on fire tonight, it was the difference in the game without a question," said Boston College coach Jerry York. "They got the 4-1 lead after two periods, and their power play got them there."
"I thought they were sharp, their puck movement was very good," York continued. "They deserve our credit; they came into our building and walked out of here with a win."
ECACHL Honor Roll
Rensselaer forward Jonathan Ornelas is a newcomer to the ECACHL Honor Roll, but his three-goal effort helped propel his team to a weekend sweep and he was named the league's Player of the Week. Harvard sophomore Paul Dufault is also appearing on the Honor Roll for the first time as my Honorable Mention for POTW.
Unlike their counterparts along the forward lines, both Union goaltender Kris Mayotte, who was named the league's Goaltender of the Week two weeks ago, and RPI netminder Mathias Lange, this week's Rookie of the Week, are back in familiar spots on this list.
Player of the Week
Ornelas, a sophomore forward for Rensselaer, was named the ECACHL's Player of the Week on account of his three-goal weekend. He scored the game's fourth goal in RPI's 4-2 win over Quinnipiac, and then tallied the game-winning goal and an unassisted breakaway goal in the third period of a 4-1 win over Princeton.
The team's leading goal-scorer with eight and its third-leading point scorer, Ornelas has made quite an improvement during his sophomore campaign. Through 11 games this season he has scored eight goals and added three assists; last season he had a total of five goals and four assists over a span that was three times as long.
Honorable Mention: The Crimson's Paul Dufault draws my Honorable Mention for POTW, and he may have won the title outright if Tuesday night's win over Boston College had been factored into the decision.
Dufault scored the game's first goal during Harvard's 4-3 loss to Cornell on Friday, and came back the next night to add two power-play goals and an assist with the man-advantage. On Tuesday against Boston College, he assisted on two first-period power-play goals.
Like Ornelas, Dufault's sophomore season represents quite a leap for the forward from Shrewsbury, Mass. Through six games this season, Dufault has collected seven points on three goals and four assists whereas last season, he played sparingly and only saw time in five games, collecting one goal.
Goaltender of the Week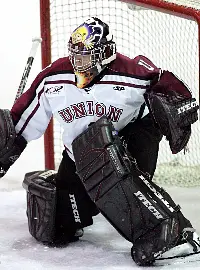 Mayotte was named the ECACHL's Goaltender of the Week for the second time this season after helping Union sweep Quinnipiac and Princeton. On Friday against Princeton, he allowed two goals on 30 shots, backstopping Union to a 6-2 win, and the next night he pitched a shutout against Quinnipiac, stopping all 28 shots sent his way.
"He's a good goaltender, and he's seeing the puck well," said Union coach Nate Leaman.
"Our defense is helping him by keeping their heels to the net and trying to limit second-chance opportunities," he added.
The senior netminder had experienced limited success through his first three seasons as a Dutchman. Mayotte had never had a record above .500, and his highest career save percentage was a not-quite-impressive .905.
This season, too, he has at times struggled during games against aggressive, up-tempo teams that place a premium on puck movement. Against Colorado College and St. Lawrence, for example, he allowed six goals apiece. But Mayotte has also shined this season, no occasion more apparent than the shutout of Quinnipiac on Saturday night, when he held the league's then-highest-scoring offense without a point.
"I'm happy to see Kris's success because he's worked so hard, especially this summer," Leaman said.
Honorable Mention: Mathias Lange, the freshman netminder for Rensselaer, was named the ECACHL's Rookie of the Week and gets my nomination to the Honor Roll for Goaltender of the Week.
Lange was named both ROTW and GOTW on October 24 after standing tall in net when the Engineers pulled off an upset over BU at Agganis Arena, and then pitching a shutout against Army two days later. And last weekend he stopped 59 of 62 shots against Princeton and Quinnipiac; Lange's performance improved his record to 5-2-1 on the season with a 2.74 goals against average and a .908 save percentage.
"Mathias has played very, very well for us," said Engineer coach Dan Fridgen. "He's made some big saves; he's starting to come into his own."
Cancer Research Benefits From RPI's Black Friday
On Friday November 11th, Rensselaer played host to Quinnipiac in its ECACHL home opener, a day which has come to be known to the folks in Troy, N.Y., as Black Friday.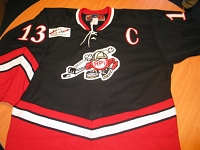 This year's contest against Quinnipiac was the third annual Black Friday, a day on which Engineers fans are encouraged to dress completely in black and the team dons one-time, one-use-only black jerseys. Fans of the team can enter an auction or purchase raffle tickets to win one of the game jerseys, which are given to the winning fans at center ice.
Partly fundraiser and partly an event to spark fan interest and enthusiasm, Black Friday is a growing tradition at Rensselaer that seems certain to continue, no doubt helped by the fact that the Engineers are 3-0-0 with wins over Vermont, Clarkson and Quinnipiac on Black Fridays.
This year's auction had added significance and a charitable bent as two jerseys were set aside to be auctioned off on eBay, with the proceeds of the sale going to support cancer research. The two jerseys available on eBay are No. 6 and No. 13: the latter is the jersey of Engineer captain Kirk MacDonald.
MacDonald, who was the team's leading scorer a year ago, announced in April that he had been diagnosed with testicular cancer. Though he had hoped to recover in time to play part of his senior season at RPI, MacDonald announced last month that he would apply for a medical redshirt this season as he continues to recover.
"This is an opportunity to raise awareness," said Kevin Beattie, Director of Sports Information at Rensselaer. "Given the ordeal that Kirk MacDonald has gone through, it's the least we could do."
ECACHL Games On Television In The Week Ahead
Two upcoming ECACHL games will air on television in the coming week, with both telecasts originating from the Bright Hockey Center. On Sunday, ESPNU (DirecTV 609 and Dish 148) will broadcast the 3 p.m. matinee clash between Harvard and Brown in the recurrence of college hockey's oldest active rivalry.
Two days later, local cable network CN8 will air the pre-Thanksgiving tilt between crosstown rivals Boston University and Harvard. That game will start at 7 p.m.
The Picks
Friday, November 18
Union at Cornell: The Dutchmen are coming off of a very successful weekend at the Achilles Center where they swept Princeton and Quinnipiac. This weekend their competition is much stiffer — nationally-ranked Cornell and Colgate — and they are facing hostile crowds on the road. I also expect the Big Red to be more motivated than usual, a result of the 6-1 drubbing taken in Hanover last weekend. All those things suggest that Union has a long night in store for it. Prediction — Cornell 4, Union 1.
Yale at Harvard: The Game between Harvard and Yale may be occurring Saturday afternoon on the gridiron at the Yale Bowl, but these ancient adversaries also have quite a history attached to their ice hockey rivalry. That rivalry has been lopsided of late, with the Crimson having won six in a row against the Yalies. That streak, plus Yale's four-game winless streak to start this season, will both be on the line come faceoff on Friday night and I suspect both will be intact after the final whistle. Prediction — Harvard 5, Yale 3.
Brown at Dartmouth: After beginning the season by being swept at home by Cornell and Colgate, Brown rebounded last weekend with home wins against Clarkson and St. Lawrence. Now the Bears go on the road for the first time this season, while Dartmouth is on its home ice and coming off its strongest game of the season. I bet Bob Gaudet's squad enjoyed the post-game feeling following its 6-1 win over Cornell as opposed to the post-mortems that followed losses to Harvard, Princeton, Quinnipiac, and Colgate. I doubt his team is ready to relinquish that feeling. Prediction — Dartmouth 2, Brown 1.
Rensselaer at Colgate: The Engineers are coming off a strong weekend performance against Princeton and Quinnipiac, while the Raiders are coming off a frustrating loss at Harvard that wasn't nearly as close as the 6-4 score implies. Expect a tightly-contested competition with solid performances by both Dekanich and Lange in net, but I think Colgate has a better offense than Rensselaer and that ends up being the difference. Prediction — Colgate 4, Rensselaer 3.
Princeton at Clarkson: The Golden Knights stumbled last Friday at Brown but picked themselves up nicely the next night at Yale. The Tigers, if they are to keep pace with teams like Clarkson, needed consistently strong play in net from freshman B.J. Slapsky or senior Eric Leroux. Prediction — Clarkson 4, Princeton 2.
Quinnipiac at St. Lawrence: The Saints have shown the ability to score goals, but last Saturday they fell to Brown 3-1 despite outshooting the Bears 35-23. The Saints' penalty-kill units have been strong this season, but they need to bring their power play up to a comparable level. That won't be easy against a Quinnipiac team that has the league's third-best penalty kill and its second-best overall team defense. Still, for some reason I think this is going to be a high-scoring game, with the Saints getting the game-winner late off the stick of Kevin DeVirgilio. Prediction — St. Lawrence 6, Quinnipiac 5.
Saturday, November 19
Princeton at St. Lawrence: The Tigers, under coach Guy Gadowsky, are playing an open and up-tempo style of hockey. Joe Marsh's Saints have always been a high-energy, open offensive style of team. That would seem to suggest a high-scoring affair, but I expect goaltenders Justin Pesony and Slapsky to stand tall and stop 30 to 40 shots each. Prediction — St. Lawrence 2, Princeton 1.
Yale at Dartmouth: The Yalies will enter this game winless, and even against a Big Green team that has struggled out of the gate, you have to believe it will be difficult to get the first win of the season on the road in Hanover. I'm expecting a close one until the final few minutes, when I think Dartmouth will get the go-ahead goal from captain Mike Ouellette. Prediction — Dartmouth 5, Yale 4.
Rensselaer at Cornell: Because of their aggressive and physical brand of hockey, I expect the Engineers will challenge the Big Red more than Union did the night before. In the end, though, most ECACHL teams need to be at the peak of their game and catch Cornell on an off-night in order to post a win over the Big Red. Cornell was off its game against Dartmouth, but I don't expect a similar type of upset will happen again in the near future. Prediction — Cornell 4, Rensselaer 2.
Union at Colgate: If RPI has the size and toughness to almost match Cornell's physical play along the boards, I think Union has talented forwards that can almost match Colgate's explosive front lines. That said, I think Colgate's Mark Dekanich provides a more solid presence in net than does Union's Kris Mayotte. Prediction — Colgate 3, Union 2.
Quinnipiac at Clarkson: This is the first trip up to the North Country for the Bobcats, and unfortunately for them, I don't think they'll have too many happy memories of the experience to look back upon. Prediction — Clarkson 4, Quinnipiac 3.
Sunday, November 20
Brown at Harvard: The oldest active rivalry in college hockey once again commences, although not at the start to the season, as it had been for years before the league switched travel partners this season. The Bears have played Harvard well, particularly in their first meeting of the season where Brown has gone 3-1-1 since 2000. The matinee start — in place because of Saturday's Harvard football game at Yale — should guarantee a good crowd at the Bright Hockey Center. Prediction — Harvard 4, Brown 2.
Tuesday, November 22
Boston University at Harvard: The Crimson has won the last two crosstown encounters with the Terriers, taking a 2-1 win last November in Walter Brown Arena and soundly defeating BU 5-2 in Bright Hockey Center the year before. During the 2002-03 season, though, BU defeated Harvard three times: once during the regular season, once in the Beanpot, and a final time in the NCAA tournament. It's often close when these teams play, and it's almost always entertaining. Prediction — Harvard 3, Boston University 2.
Quinnipiac at Princeton: These travel partners square off in a pre-Thanksgiving game at Hobey Baker Rink, and will (if my predictions hold) be bringing (respectively) four- and five-game losing streaks into the contest. One or both of those streaks will end; I'm predicting both. Prediction — Quinnipiac 3, Princeton 3.
Mercyhurst at Yale: The Yalies can be thankful they have the Lakers from Mercyhurst on their schedule before Thanksgiving, because their post-holiday encounter is with Minnesota-Duluth, it will be a difficult pair of games in a tough road environment. I'm calling a big Yale win before the holidays. Prediction — Yale 5, Mercyhurst 2.
And Coming Next Week…
With the upcoming Thanksgiving holiday and travel plans having an impact on everyone's schedule, look for an earlier and possibly shorter version of "This Week in the ECACHL" next Wednesday.