Whether it was juniors, summer camps, or the zenith of competitive heights at the Division I level, their names have been associated with goaltending virtuosity.
The Sophomore Six of Kevin Regan, Peter Vetri, Cory Schneider, Joe Fallon, Matt Lundin and Tyler Sims represent a changing of the guard between the Hockey East pipes — with four of those six [Lundin, Schneider, Fallon and Sims] among the top 15 for goals against in the nation.
Cast a search net from the far reaches of Orono, Maine, to the southernmost points of Schneider Arena in Providence, and there are young and talented goaltenders everywhere you turn. Massachusetts netminder Gabe Winer and New Hampshire's Jeff Pietrasiak represent the only seniors that have warranted any kind of serious playing time in Hockey East cages, and seem to be on the outside looking in toward an unbelievable crop of second-year standouts and freshman sensations — including Maine's Ben Bishop and UMass backstop Jon Quick.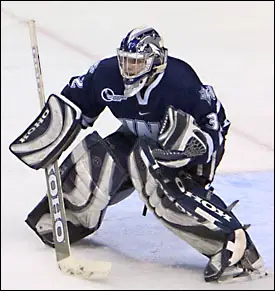 "Most of us grew up playing against each other in camps and we're kind of like our own little community," said Regan of his fellow goalies.
Regan and his fellow second-year stoppers are showing exactly how talented and blessed their community is, with standout seasons pretty uniformly all across the board.
"It's great competition to have such a good group of young goalies, and I think there were three goalies on the All-Rookie team [Vetri, Schneider and Regan] last season which is kind of unusual," said Sims, who actually lost out on a spot as the USHL Waterloo goalie to Regan. "There's always been this sort of unspoken competition between me, Vetri, Schneider, and Regan going back to juniors, and I always look forward to playing against them. It's exciting to raise my game to their level, and I feel like I'm doing that this season."
Year in and year out, Hockey East boasts some of the most painstakingly polished amateur goaltending in the nation, but this season is a little different from the norm. Instead of Jimmy Howard lording over his fellow goalies as the de facto number-one netminder, racking up awards and Three-Stars points as any good senior should, youth is being served in a major way.
"It tells you something about the strength of goaltending in our league when Jimmy Howard couldn't crack the first or second team Hockey East All-Stars last season," said Maine coach Tim Whitehead. "It's amazing to me, really, when you look around at the sheer volume of elite young goaltenders in our league, and I think it's a real positive for Hockey East."
The South Boston-bred Regan has split playing time with Pietrasiak right down the middle this season for the Wildcats, but seized a grasp on the starting role during last season's run to the NCAAs — showing the rangy athleticism coaches hope for in a goaltender and the 6-1, 190-pound size that is impossible to teach. While Regan's 2-5-2 record isn't cause for celebration, his solid 2.52 goals against average and .916 save percentage are both credible and the second-year netminder has been the victim of a pair of 1-0 shutouts this season at the hands of Merrimack and Harvard.
Dwelling on the subject of hard luck, one only has to look at the snakebitten fortunes of Vetri and the Massachusetts-Lowell River Hawks to ascertain the proper definition of misfortune — an increasingly star-crossed season that started with the defection of Ben Walter to professional hockey in what was to have been Lowell's year to shine.
Armed with a roster top-heavy with experienced upperclassmen, the River Hawks have been all but plucked this season and stand near the bottom of the Hockey East standings despite weekly Herculean efforts from the smallest member of the sophomore six: Vetri.
One only needs to look at Vetri's performance in a recent 4-1 loss to UNH, during which the 5-foot-10, 176-pounder made a league-high 53 saves, and eked out every bit of his butterfly style to keep the River Hawks on life support. It's been a nightly duty for Vetri, who has started all 14 games for Lowell and is facing an average of 35 shots per game between the pipes — a cold, hard statistic that makes the 3.76 goals against average and .892 save percentage a bit more palatable.
Despite the drop in numbers and production, last season's Hockey East Rookie of the Year still has his share of goaltending admirers.
"He's a smaller goalie and he really impresses me how he stays up on pucks that he needs to stay up on, and is also really quick to get down low on rebounds," said Sims. "The other two [Regan and Schneider] are big guys that butterfly a lot, and always seem to be in good position too. Any time you get to watch good goaltending … it's always fun to watch."
Maine's Lundin started the season in the shadows of the 6-foot-7 Bishop after serving last year as Jimmy Howard's little-used understudy, but has used his competitive zeal to bully his way into the goaltending picture for the Black Bears. After a red-hot start by Bishop, the gargantuan freshman has cooled and the sophomore from Apple Valley, Minn., has stepped into the sizable void.
The 6-foot, 190-pound Lundin has been nothing short of dominant for the Black Bears during his seven starts — boasting a stingy 0.96 goals against average, a .954 save percentage and an all-important 5-1 record. He hasn't surrendered a power-play goal in 2005 after playing a skimpy 150 minutes all of last season. Lundin currently leads the country in both save percentage and goals against by a chasm-like margin.
While the Minnesota native, who plays alongside older brother Mike for the Black Bears, possesses the natural skills and dexterity required to play the position, it may be his attitude that allows him the biggest edge.
"I think my biggest strength is really my competitiveness and that I'll do absolutely anything to keep the puck out of the net," said Lundin, who has a pair of shutouts against UMass and Alabama-Huntsville on the season. "I just really hate giving up goals."
After a solid freshman season that saw him tossed directly into the Hockey East fire, Sims and his Providence brethren are reaping the benefits of experience this season under first-year head coach Tim Army. While Vetri, Schneider and Regan all cracked the All-Rookie team, Sims was left off the squad and seems intent on forcing his way into the mix for postseason accolades this season — as evidenced by his 9-5-1 record, 2.24 goals against average and .923 save percentage.
What's the key to the Friars' goalie success?
Sims credits the improved play of the team in front of his crease, but also worked incessantly over the summer to eliminate the inconsistent game-to-game performances that can plague any young player in Hockey East.
"I really worked on my consistency over the offseason," said Sims. "I knew I was going to get the bulk of the playing time, and last year I had some really good and some really weak games — that's something I've really able to stay away from this season.
"The confidence the coaching staff and the guys have shown in me this year helps a lot," added Sims, who earned his stripes as a freshman by making his debut against UNH in the Whittemore Center and facing hockey-crazed Terrier Nation at Boston University's Agganis Arena during the opening round of the Hockey East tournament.
Despite his status as a sophomore, Vermont goalie Fallon is a newcomer to Hockey East, as are all in the Catamounts in their inaugural season in the conference, and also a bit of a stranger to many of the other masked men that hail from New England. Both Fallon and Lundin represent the rarest of rare breeds: native Minnesota goaltenders that somehow managed to escape the Land of 10,000 Lakes to play college hockey in New England.
After a particularly strong first season during which Fallon used his considerable size and strength to wrest control of the Catamounts' pipes, the Bemidji native is again flexing his goaltending muscle behind a stifling UVM defense that allows a paltry 20 shots per game.
Many goaltenders can get distracted or have their razor-sharp senses dulled when the action is away from them too long, but Fallon boasts a sub-2.00 goals against average (1.83) and a .903 save percentage in his second season — including shutouts of Alaska-Anchorage and Merrimack for the 6-foot-3, 200-pounder.
"You want to get better every year and there's a lot of expectation this year," said Fallon, who played against Regan in the USHL when they played for Cedar Rapids and Waterloo, respectively. "I want to keep my numbers at least the same or lower than last season, but the biggest thing is getting wins. It's tough playing against a lot of these younger guys, and you know they're going to bring their best every night."
Fallon also found a few things he could borrow from watching Bishop guard the pipes for Maine.
"I'm not as big as him — I'm only 6-foot-3 — but I was really curious to see how far back Bishop would play and how aggressive he would be coming out to stop shots," said Fallon. "[Travis] Russell got to play that game, so I watched him pretty good."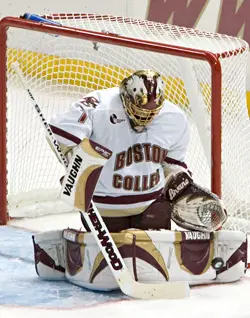 Last but certainly not least is the most heralded of the Sophomore Six: Vancouver Canucks first-round draft pick Schneider — who didn't lose a game during his freshman season at Boston College until the NCAA tournament and this season serves as the backbone and backstop for the birth-certificate-for-birth-certificate youngest team in Hockey East.
Schneider, like Fallon and Regan, utilizes his prototypical size and strength to great advantage, but also can call on years of one-on-one schooling with Bruins goaltending coach Bob Essensa to hone his technique and positioning.
After an incredibly long and successful first season with the Eagles, the 6-foot-2, 200-pound sophomore spent most of the summer off the ice and in the weight room working on strength, endurance and conditioning — correctly asserting that he was going to be carrying the load at the Heights this season.
The results speak for themselves as BC and Schneider are off to a 9-4-1 start despite a boatload of freshman skaters, and the second-year goalie has rung up a 2.28 goals against average and .911 save percentage.
Goalies are, to be kind, an eccentric bunch with Nomar Garciaparra-like superstitions and routines to go through between timeouts, before periods and immediately after surrendering goals or making big saves, but Schneider isn't among that group.
"I know a lot of goalies are a little crazy with the stuff they do, but I'm not really much of a superstitious guy," said Schneider. "I have some exercises and some visualization stuff that I go through at the beginning of the period, but that's about it. The rest is about trying to see the puck, and make the save."
On the other end of the spectrum is Sims, who has a pre-game ritual that is literally … well … like clockwork.
"I get nervous before every game and I go through a little routine where I throw a racquetball against the wall, get ready at a certain time and put my pads on a certain way," said Sims. "It's always right side before left with the pads, and I always put my upper pads on when there's 44 minutes left to go before the game.
"I don't know why I started doing it last season, but it seems like the perfect time to get ready," added Sims. "One of the team managers is one of my good friends and he always comes by and tells me when there's 44 minutes left to go if there's no clock in the locker room."
With or without superstitions or rituals, almost to a man each goalie admitted to checking up a bit on their counterparts via newspaper or computer and always attempting to do just a cat's whisker better — to make that glove save of the sizzling Brian Boyle slapper or kick away that last-gasp bid that preserves the victory.
"I think it pushes you a little when you look in the paper or get online and see what some of the other guys are doing," said Regan. "I grew up with a lot of these guys and there's definitely some good-nature competition."
"Look at a guy like Adam Geragosian, I've been working goalie camps with him since I was a kid and he's having a great season," added Regan.
Apparently even the venerable old fossils like Geragosian, John Curry and Jim Healey — all juniors — are getting some notice and a little bit of respect from the hotshot Hockey East Sophomore Six.