He lived the collegiate dream. Like many past, present, and future college hockey players, however, former Denver Pioneers winger Kevin Ulanski didn't ride into campus on a golden steed.
Nor did he commit to the school of his choice at the tender age of 15. Nothing against these highly-touted, remarkably-skilled athletes — they have ample words in cyberspace devoted to them.
Talented players like Ulanski — etched from the WCHA mold of Minnesota State's B.J. Abel, St. Cloud's Peter Szabo, and Andy Wheeler, Wisconsin's penalty-killer extraordinaire — earn their playing time, making everyone around them better for their consistent and constant effort. Invariably, because of this grit and determination, their team enjoys success.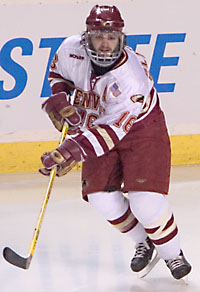 During Ulanski's tenure at DU, the results were historic. Along with teammates Jeff Drummond, Jon Foster, Luke Fulghum, Jussi Halme, Matt Laatsch, and Nick Larson, Ulanski — an alternate captain both his junior and senior years — anchored the most prolific class in the team's decorated history, finishing a dominant reign with a 112-43-14 record. This span included two MacNaughton Cup championships and WCHA Final Five titles in '02 and '05, and back-to-back national titles the last two years.
Reflecting back, Ulanski believes their success stemmed from the "the tightness of that group."
"We didn't have one standout or All-American or anything like that," he recalled. "Nobody thought they were better then anyone else. We just stuck together. You have to give a lot of the credit to the guys older then us as well. We won over 30 [32] games, I believe, our freshman year, so those guys set the bar high for us."
Atypical of most under-the-radar recruits, Ulanski could also put the puck in the back of the net. As a member of DU's prestigious century club — only the 88th to be so informally inducted — he tallied a class-leading 112 points (33 goals, 79 assists) in 151 games. He currently ranks 59th on Denver's all-time scoring list.
His most important contributions, though, came in other areas.
DU's head coach, George Gwozdecky, pinpoints Ulanski's legacy as one of "selflessness and commitment to his teammates."
Gwozdecky says that "the mature and responsible way he dealt with challenges — he was a full-time father who helped raise his daughter while getting his degree and helping his teammates win two national championships — his extraordinary leadership skills, his ability to play with pain and debilitating injuries, and his ability to give his best in the big games," encapsulate Ulanski's importance to Pioneer hockey.
Ulanski readily admits that his daughter Kailey — now six, starting to skate, and his biggest fan — forced him to "grow up quicker and become more responsible as a young adult."
Noticing that growth early on, Gwozdecky remembers it as a key component in his decision to bring Ulanski to the Mile High City.
"We recruited Kevin because we liked many things about his game which we thought would complement our team and the way we wanted to play," said Gwozdecky. "I also noticed a maturity that was beyond many others of his age."
In laying the foundation for what would become a burgeoning dynasty, Gwozdecky saw in Ulanski what many — including his hometown Badgers — did not.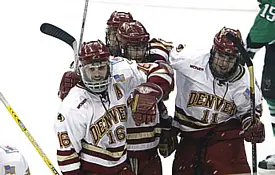 "We saw in Kevin an ability to be a great playmaker due to his on-ice vision," recalled Gwozdecky. "He had great physical and mental toughness that was rare for someone of his size. Due to his competitive nature and incredible balance on his skates he was able to physically win battles against others who were much larger than he was."
In addition, "he was an excellent skater which allowed him to play the game at any speed necessary in order to defend and neutralize an opponent or rapidly create scoring chances for his teammates."
The failure of the Wisconsin Badgers to recruit Ulanski did not adversely affect him, although it certainly made beating the Badgers (his class posted a startling 10-2-2 record against them in his four seasons) that much more special. His primary goal, he accomplished: to play Division I hockey in the WCHA.
What is noteworthy, though, is that Ulanski's maturation into a key contributor on a national powerhouse exemplified both the just reward for those whose success stems from consistently, night-in-and-night-out, outworking their peers while also proving a harbinger of the hockey prowess emanating — exponentially each passing year — from Madison, Wisconsin's capital city.
Since Ulanski enrolled at DU in the fall of 2001, Madison has produced a flurry of quality D-I players. Six current Badgers — defensemen Matt Olinger and Kyle Klubertanz (a nearby Sun Prairie native) and captain Adam Burish foremost among them — decided to stay closer to home, while defenseman Brady Greco took the nuanced path from the Madison suburbs to Michigan Tech before transferring to Colorado College and foregoing his senior year to sign with the defending Stanley Cup champion Tampa Bay Lightning.
Another Madison native, Jeremy Dehner, a defenseman for the Green Bay Gamblers of the Tier I United States Hockey League, has verbally committed to attend Massachusetts-Lowell in the fall.
As talented as these players are, though, their mystiques pale in comparison to the city's most storied triumvirate: Ryan Suter, Jack Skille, and Phil Kessel.
The first two were each drafted seventh in the first round of the NHL draft: Suter went to Nashville in '03 while Chicago chose Skille back in June. Speculation abounds that Kessel, currently a freshman Minnesota, will soon join this elite company, possibly as the number-one overall selection in next year's NHL draft.
Suter and Skille, as well as current NHL star Dany Heatley, saw their fathers don Badger sweaters before them, sowing the seeds — and in both Bob Suter and current head coach Mike Eaves' case, planting them — for their run of three national titles ('77,'81, '83) more than two decades ago. Bringing the hockey narrative full circle, Jack's father Lee coached Kevin Ulanski in high school at Madison West.
Jeff Ulanski, father of Kevin, saw similar seeds of success firmly rooted much earlier in his son's life.
"Kevin's talent is probably the result of having so much fun playing the game at every level," reminisced the elder Ulanski, fondly. "Practices and games were never boring for him. I guess that if you really enjoy an activity, you're going to put more time and effort into it, and ultimately improve your skills."
Massive quantities of both time and effort have helped define Ulanski's promising career. Beginning at age three, he played hockey throughout his youth, allowing him to compete at an All-State level in high school; finish second in the America West Hockey League in scoring with 69 points in 60 games for the Billings Bulls in 2000-01; graduate atop DU's most decorated class; and now skate for the Long Beach Ice Dogs of the East Coast Hockey League.
Over Ulanski's four-year tenure at DU, Gwozdecky particularly noticed an "increased level of confidence that Kevin developed in his game and his awareness of how good a leader he could be."
This analysis, then, begs the question: Can this lightly-recruited, hard-working, consummate team player and newly-minted two-time national champion play in the NHL side-by-side with the greatest collection of athletes in the world?
Although admitting it as his paramount aspiration, not surprisingly the pragmatic Ulanski is just taking it one shift at a time.
"I was given the opportunity to play junior hockey, and that is when I really started focusing on college. I just took it step-by-step, and thankfully everything worked out," he noted. Playing in the NHL "of course would be the ultimate goal, but now I'm just focusing on growing as much as I can as a player and hopefully getting a shot in the American [Hockey] League."
Asked to look back and pick the best thing about college hockey, Ulanski — keeping to his on-ice persona — simply reacts, making the smart, veteran play:
"The friendships you make with your teammates. You go through a lot with the same guys and the friendships we've made will last forever. The rivalries with other teams you develop, and just the life of a college hockey player. College is something you can't take for granted. After being away from it for this first year, I already wish I was a freshman again."