The remarkable turnaround started with a simple philosophy. First-year Providence hockey coach Tim Army remembered the moments he loved so much as a player for East Providence High School, then Providence College, and then professionally for the Maine Mariners (AHL) and Peliitat of the Finnish League.
Army was an offensive player, to be sure, and his players have reaped the benefits of that offensive style — a plan that includes an all-out offensive attack powered by a deep lineup of skilled forwards, a group of experience and steady blueliners and a young goaltender coming into his own.
Pretty basic stuff, when you get down to it.

"I remember this from my time as a player — and this continues to be the case with players now: have some fun with the puck when you're out there skating with it," said Army. "In this game, we work so hard to get possession of the puck and to hold on to the puck once we do have possession of it. Have some fun with it when you do get it.
"I tell my forwards to be creative with the puck and just have fun with it."
It seems like an incredibly simple edict, but the importance of fun gets lost in the day-to-day hustle and bustle of a Hockey East schedule — a workload that includes balancing schoolwork, some semblance of a social life and playing a sport with all the demands of a full-time job while in college.
Army's Friars seem to have perfected the balance of fun and work during a miraculous first half in Hockey East — a half-season that leaves them tied with Boston College atop the conference, with identical records of 8-2-1. Providence was picked in the preseason coach's poll to finish no better than eighth in Hockey East, in front of just Northeastern and Merrimack.
The Friars have more than defied expectations.
The rebirth began during a July morning meeting when Army sat down with his new team and outlined what his skaters could expect — a group discussion between a man who had coached in the professional ranks for the last 12 years and a group of skaters who had gone quickly from knowing former coach Paul Pooley was returning, to searching for a new head coach, and then finally to meeting a new coach with a last name like Army.
It took all of five minutes for the Providence players, upon meeting their new mentor, to realize that the fun was just beginning.
"I said this to the kids in July when I first met them during one of my first days in the office," said Army. "I told them that I wanted coming down to the rink to be the best part of their day.
"I want them to have fun and I want them to enjoy playing," added Army. "I have two boys that are 12 and 14 [Derek and Travis] … if you're enjoying something that you're doing every day, then you'll progress and you'll get better at it. Because you're having so much fun, you're able to tap into resources that you might not have even thought you had. I feel our guys are having a lot of fun every day when they come down to the rink."
Army has installed a system that has invited offensive ferocity, aggressiveness and creativity back into the Friars attack. It has made all in the difference in Hockey East this season. Providence has been at the top of the standings all season long, and is now garnering national attention as the Friars continue to launch shots on net and, more importantly, enjoy the numbers piling up in the win column.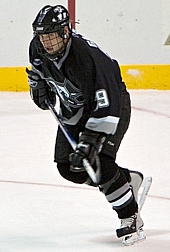 At the midpoint of the season, the Friars are enjoying career seasons from many of their players — including a positively eye-opening senior season from Torry Gajda.
"Being in first place in Hockey East through the holidays is certainly something that we're pleased with," said Army. "Our focus doesn't change, though … we're always getting ready for the next step."
Providence's remarkable turnaround starts at the top with an energetic staff of coaches, including Army, returning assistant coach David Berard, and Stan Moore, who left the Colgate staff to join his friend in bringing respectability back to the Friars. The close ties between Army and Berard, whom Army recruited to play at Providence, and Moore, with whom Army coached for four years at Providence, have allowed them to foster that environment of fun.
"[Berard] is a great person and [Stan] has a tremendous way about him, and part of the purpose of putting the three of us together as coaches is the personal dynamic that would be brought to the rink every day," said Army. "That's got to come from us, and we're enjoying what we're doing. It transfers to our players, our trainers, our equipment person — it should be enjoyable for everybody.
"That's how we go about practicing, that's how we go about games … it's in relation to how we respond to certain things that happen in games," added Army. "It's all part of the approach of establishing that environment."
Having a few laughs playing hockey is one thing, but winning is another altogether. The Friars actually dropped their first two games of the season [losses to Clarkson and St. Lawrence] and could improve on a 3-4 nonconference record at the end of December, but Army and his staff have proven adept at getting the most of their players on a day-to-day basis.
The Friars are locked in first place with an impressive 11-6-1 overall record and an 8-2-1 mark in Hockey East, and are second in both goals per game (3.22) and goals allowed per game (1.82) — all while averaging 32 shots per game. While Army favors those kinds of numbers, a heightened performance creates even loftier expectations around campus.
"My expectations are that we get better every day," said Army. "We're going to come in and change the identity of our program; we were going to change the way we played; the culture around the rink; the culture as to where our kids relate on campus — and within that framework we wanted to get better every day.
"We wanted to improve and incorporate what we wanted to do on the ice and really make that progression," added Army. "We've made that progression, and we really wanted to give ourselves the opportunity to be competitive night in and night out. With that competitiveness some wins have started to come our way, and we want to keep working toward getting better."
For many of the players, Army's system has been a life-size "Get Out Of Jail Free" card with nearly every skater approaching career-best offensive statistics.
Junior playmaker Chase Watson needs only two more goals to attain a career high in goals (four, last season), while already eclipsing career highs in assists (16) and points (19). Sophomore Jon Rheault is well on his way to bettering a promising 19-point freshman season with six goals and 11 assists. After scoring 10 points during his freshman and sophomore seasons, junior captain Tony Zancanaro has already scored 11 (six goals, five assists) and has the entire second half to rack up more points.
"It's been a lot different than it's been the last three seasons," said senior defenseman James Pemberton, a native of Cumberland, R.I., who grew up watching the Friars before deciding to become one. "A lot of our guys are having great years, and it's been a lot of fun.
"The biggest change has been the coaching," added Pemberton. "A lot of guys are allowed to do things they couldn't do before. Now we're told to 'never back up' and 'shoot the puck' as much as you can from anywhere, and that's by far the biggest difference on our team."
Junior winger Colin McDonald has likewise matched his 16-point freshman season during this season's first half (six goals, 10 assists), but the biggest leap forward in Army's system would have to be reserved for Gajda.
After scoring 44 points during his first three seasons for the Friars — including an 11-goal, 11-assist sophomore campaign — the 5-foot-9, 190-pound senior has exploded.
Gajda has 12 goals and 12 assists through the first 18 games, and could double his career output when all is said and done.
The compact winger always had the requisite skills, grit and work ethic, but the pieces just hadn't fallen into place for the Westfield, Mass., native until Army's arrival — a fact not lost on the talented senior, who is among the nation's leaders in scoring.
"We're coming to the rink with smiles on our faces, and everything thereafter is a lot easier," said Gajda. "I think it's the style of play. We went from a systems style and a more defense-minded style of play to an attacking, offensive style and it really suits me and my style of play a lot better.
"Being a senior and having played — I don't want to call it boring — hockey the last couple of seasons, it's been exciting for the fans, too," added Gajda, who has noticed more and more people crowding into Schneider Arena to watch the Friars' amazing turnaround. "This season has been great for them and for us too."
Besides the emergence of Gajda, the impressive play of sophomore netminder Tyler Sims has given the Providence 'D' that backbone it desperately needed. Sims got off to a solid start and racked up back-to-back shutouts against Massachusetts-Lowell in October, a stretch that boosted the Fort Worth, Tex., native's confidence and has allowed the Friars to control play in both ends of the rink.
"Tyler is a young man that really worked hard to improve this season, and is really a special young man with a lot of leadership skills — in addition to his obvious abilities on the ice. I think the world of him," said Army. "As a goalie, he really is a part of the mainstream of the team and I think that's such an integral part of his success. He's a very likeable presence in the locker room, and the guys really want to go out there and play well in front of him.
"When we had Olie Kolzig in Washington he was just one of the guys, and I think goalies with that personality integrate so much better with your hockey club," added Army. "When you go into the weight room, Simsie is the first guy jumping into the different weight stations, and guys just love that."
Sims showed promise during a freshman season in which he alternated starts with senior David Cacciola. He ranks in the top 20 in the country in both goals against average (tied for 11th with Maine freshman Ben Bishop) and save percentage (tied for ninth at .925), and has the confidence needed in a master puckstopper — a role that Sims has come to relish in goaltending-rich Hockey East.
"I kind of take it as a challenge; every team I go out there that I'm up against a Joe Fallon or a Cory Schneider in Hockey East, and I feel like I'm playing at a level with them right now," said Sims. "I put a lot of pressure on myself to be more consistent this season, and to really eliminate the off-games I might have had as a freshman.
"It's my job to keep my team in the game, and give them a chance to win night in and night out — that's the most important thing."
Despite a season that has seen nearly everything go right for the Friars, they still find themselves clamoring for respect at the national level. Army's skaters are tied with Boston College for first place in Hockey East with identical records through 11 league games and lead the heavyweight likes of New Hampshire, Maine, Vermont and Boston University — but still find themselves looking up at the Eagles, Wildcats, Catamounts and Black Bears in the USCHO.com/CSTV poll and have, amazingly, yet to crack the Top 15 in the USA Today coaches' poll.
Could the Friars be the Rodney Dangerfield of Division I college hockey?
"You've just got to keep working … those programs are established," said Army. "They play well consistently every year and deserve the recognition they get. They're tremendous programs with great coaching, and we're looking to establish ourselves along the same line.
"I'm proud that we're nationally-ranked, but it's more important to get better every day … it's not a cliché for us, it's a reality."
Rankings and turnarounds aside, Army and his players are turning the page on a tremendous first half and will now attempt to collar the first Hockey East crown in Providence history.
"We've already played those games … those games are in the past," said Army. "The second half of the season is always more difficult, and we have to just get ready to play games and compete again."
The one-game-at-a-time philosophy is Army's way at Providence, but a few of the seniors can't help but carry high hopes for a final season of glory with the Friars.
"In my three years here we've never played at the Garden," said Pemberton, speaking of the traditional site of the final two rounds of the Hockey East tournament. "I would love to get there."