It may have seemed like a humdrum empty-netter at the end of decisive win over Northeastern several weeks back, but the play perfectly typified Boston University captain David Van der Gulik, and what the Terriers were missing from their lineup while the BU forward battled lingering groin issues during the first half of his seemingly-lost senior season.
Up 3-0 at Matthews Arena with the Huskies' goaltender pulled during the last two minutes of the game, Van der Gulik gained control of the puck and could have simply flipped in the empty-netter — a personally meaningful score that what would have been his first lamplighter in ten months.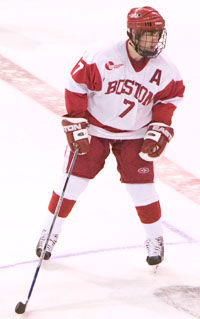 Instead, Van der Gulik notched his second assist on the season by sliding the vulcanized rubber over to fellow captain Brad Zancanaro, who rifled the puck into the vacant cage and polished off a decisive 4-0 win for the Terriers — the middle of an 8-1 tear that BU has enjoyed since its co-captain's return.
That little gesture was just one of several chances Van der Gulik has had to light the lamp since returning from his half-season in injury limbo — a 10-game stretch that included eight shots on net in his 2005-06 debut against Merrimack on Dec. 30.
The quick dish represents the selfless, thoughtful actions of a 22-year-old man who did a lot of soul-searching and endured entirely too many dark days before triumphantly returning to the ice.
So is the poised leadership what the Terriers missed most as they struggled out to a 6-7-2 record without their captain?
"Yeah, that and the 20 goals he scored for us," quipped fellow BU senior and close friend Dan Spang.
"He's the guy with a lot of charisma. He's the guy that a lot of times will talk to everybody before the games and keeps us all jacked up to play … That's why it was so strange to see him down when he got hurt," said Spang, who along Van der Gulik, John Laliberte and Brad Zancanaro have lived together for each of their four years at BU. "It hurt to watch him go through it as a friend, and it was just as hard to watch him go through it was a teammate. He means so much to the success of our team."
The British Columbia native was coming off a 31-point junior season (18 goals, 13 assists) that saw him lead the Terriers in scoring, but he began to develop soreness in his groin during tournament time that required pain-killing shots to finish out last season.
The rugged forward attempted to rest and heal during the spring and summer, but the soreness returned worse than ever as he readied for this season. Van der Gulik was diagnosed with osteitis pubis, an inflammation of the pubic bone and the connecting joint, a malady that required several rounds of painful shots to improve the condition. Coupled with that, Van der Gulik also suffered a sports hernia which he is currently playing through — a secondary injury that wasn't diagnosed until midway through his initial treatment.
In order to treat the osteitis pubis condition, doctors administered shots to the Terrier captain's groin that inflicted damage and prompted scar tissue to develop — a necessary but excruciating step in the process to treat the area and allow it to heal.
Let's just err on the side of understatement and say that Van der Gulik wasn't ready to run any marathons immediately after said treatments.
"It was one of those things were you were really making things worse before they would get better," said Van der Gulik. "I would be sore for a good week or two after the shots, and there was a lot of swelling and internal bleeding going on after the shots. It's such a sensitive area, and that made it pretty tough to deal with. Definitely not something you want to go through."
The injury caused him constant pain that made it difficult to skate, and — even worse — the doctors couldn't tell him when he'd be fit to play again.
"There were some tough days when I didn't really want to talk to anyone, and it was hard to boost up the guys," said Van der Gulik. "I was worried about my future … it was scary.
Van der Gulik's teammates knew he was down and perhaps feeling a little sorry for himself, and did what they could to keep his spirits up: it usually consisted of marathon Xbox sessions (video games are a passion of Van der Gulik's) and talking about anything and everything except hockey.
The Terrier coaching staff also arranged for Van der Gulik to head out to lunch with associate head coach Dave Quinn on one sunny autumn afternoon — a meal that, coupled with events transpiring in the temporarily-felled captain's own life, snapped things into a little more perspective.
If anybody knew about hockey hardship associated with illness and injury, it was "Quinny." He was an excellent player for BU and a first-round draft pick of the Minnesota North Stars, but he developed a blood disorder called Christmas disease that prematurely ended his hockey-playing career.
The message from Quinn at the lunch was simple: "Dave, keep your head up."
Last, but certainly not least, Van der Gulik credited his family — and in particular his sister Gina — with propping him up when might otherwise have fallen into self-pity and depression.
"My older sister Gina was diagnosed with a life-threatening blood disorder a couple of years ago, and the courage that she has shown in fighting it really always lifted me up and inspired me when I was feeling down," said Van der Gulik. "She's not out of the woods yet and seems to keep having problem after problem, but she was always there for me when it seemed like I should have been there for her. Her strength is just amazing to me."
The Calgary Flames draft pick started to kick around the idea of redshirting and making a second attempt at a senior season next year, but — just when things seemed to be at their worst — a minor miracle took place. The excruciating treatments ended and Van der Gulik began to feel healthy enough to skate — and skate hard.
"I never thought I'd say this, but I missed just skating laps in practice," said Van der Gulik. "It's such a unique atmosphere here with the all the Scarlet and White jerseys in the crowd at the home games. Now when I skate around during warmups, I take a minute to really appreciate what I've been given back."
He finally came back during the aforementioned game against Merrimack, notched an assist on the game-winning goal, fired eight shots on net and didn't shy away from the rough stuff in the corners.
"We were thinking he might be a little tentative out there, but when we saw him bundle like three or four guys we knew he was back and playing full force," said Spang.
The Terriers played uneven hockey for much of the first half without their co-captain, and it was evident to everyone, from the equipment manager to head coach Jack Parker, that Van der Gulik was the missing ingredient.
"He really is in many ways the spiritual leader on this team: a really mature kid who is a great leader, a very good player and a tremendous captain," said Parker. "Once Van der Gulik came back, it allowed everyone else to slide down a spot and we were able to put back together the Van der Gulik-Zancanaro-Laliberte line."
That is a line that accounted for 40 BU goals last season, and has helped spark the Terriers' recent offensive explosion — averaging 3.7 goals over their last nine games since their co-captain's return.
So, on a scale of 1-10, how happy is the BU captain to be skating pain-free and again leading his Terriers into Hockey East battle?
"It's absolutely a 10 to be back because I really didn't even know if I was coming back, and I have a whole half-year now to make up for lost time," said Van der Gulik. "It's definitely night and day now with the way I feel."
With his health back, Van der Gulik is hoping for a relatively pain-free second half of the season, a Beanpot championship, and a chance to right the Terriers' ship.
"It was extremely difficult to watch the team struggle in the first half when I knew I couldn't help," said Van der Gulik. "Hopefully I can help us get a few wins and turn things around in the second half."
While the Terriers have piled up eight wins since Van der Gulik's return, that fateful first goal still awaits. Should he have taken the empty netter when he had it?
"He said he doesn't want to score on any empty-netter, and that he wants to get one past a goalie," said Zancanaro of the goal to be scored later. "We know he's going to be scoring a lot for us [down the stretch]."