Part of the reason why the Miami RedHawks sit alone atop the CCHA this season is because of their potent defense. And a big reason for that success has been the unstoppable goaltender duo of Charlie Effinger and Jeff Zatkoff.
This year, head coach Enrico Blasi has platooned the two young goaltenders every weekend, and it appears to be working as the RedHawks remain in the top five in the national polls.
"Obviously, we wanted to make sure we had both of them going early," said Blasi. "Once they started to get into the groove and get the job done, we decided to just continue with it."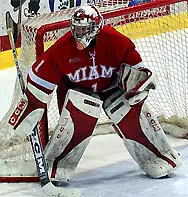 The duo has been nearly impenetrable between the pipes, as the Ferris State Bulldogs found out this weekend when Effinger stopped 37 shots, letting up just one goal. Zatkoff, in turn, stopped all 37 shots he saw to post a shutout the next night.
Effinger commented on how the strategy has worked for him and Zatkoff this season.
"I like it and it's worked so far. It gives us a chance to focus on one game on a weekend and not having to worry about two games — just worrying about going in and getting two points," Zatkoff said.
That's been obvious in the results. Currently, they have the No. 1 and No. 3 goals-against averages in the CCHA with a 1.47 and a 1.80, respectively.
"We've just been controlling our rebounds and making the saves we have to make to get the wins," Zatkoff said.
A typical goaltender splitting time might be intimidated his partner's top performances. However, with Effinger and Zatkoff, splitting time has only made their friendship stronger and has motivated each of them to do better each weekend.
"They're good friends, which is unusual, but yet are very competitive," said Blasi. "It's been a real good relationship from the beginning and very supportive, yet very competitive and very challenging, which makes them both appreciate each day and work hard each day."
Zatkoff and Effinger owe a lot to their coaching staff in practice. Goalie coaches Jeff Blashill and Nick Petraglia have helped both goalies use practices as actual game situations so they can be sharp when the real games roll around.
"Coach Blashill, who was a goalie at Ferris State, understands the importance of really making sure you are sharper in practice and he continually is riding us to play every practice like it's a game, and that's been crucial," said Effinger.
Effinger also added that in games, the defense has been a major help to his and Zatkoff's play, there to help clear out any loose pucks that would otherwise turn into cheap goals for opposing teams.
"The way they've played down low has made our jobs so much easier," Effinger said. "Clearing out pucks, blocking shots, clearing out the slot, they've done a great job allowing us to see the puck and do something with the rebounds — and they take over from there, and that's been big."
Another thing helping the RedHawks on their run to a CCHA championship has been team chemistry. Blasi added that the chemistry that Effinger and Zatkoff provide to the team has made them more of a cohesive unit on the ice.
"You want to play well for the guys that you know are with you all the way. That's the feeling I think our team has when Jeff or Charlie [is] in the net," Blasi said. "The confidence that they have in front of both of them is really special, because usually that doesn't happen."
Along with their accomplishments on the rink, Effinger and Zatkoff have been successful in the classroom and in the Miami University community. Both goalies take time out of their days to help the Oxford, Ohio, youth hockey program.
"I could say in all aspects of their persona, they're getting the job done as student-athletes," Blasi said.
Before coming to Miami, Effinger and Zatkoff were standouts in high school and juniors. Last year, Zatkoff played for the Sioux City Musketeers of the USHL, where he posted a 13-6-3 record and a 2.55 goals-against average.
He says his owes his success to the support of his parents.
"My mom dedicated a lot to drive me to the rink after work and just making the sacrifice to allow me to play," said Zatkoff.
As for Effinger, he played 10 games last year for the RedHawks, posting a 4-2-0 record. Before college, he also played in the USHL, where he starred for the St. Louis Heartland Eagles. He posted a .924 save percentage and 3.06 goals-against average there.
However, his road to the goalie position is a little different from Zatkoff's.
"I played a year of forward and I was a great goal-scorer, and because of my great goal-scoring ability I decided it would be beneficial for me to play goalie so that I could see that aspect of the game," said Effinger.
Effinger credits his achievements as a hockey player to his hard work ethic that made him better as he was cut from teams before reaching high school.
"I think just hard work has paid dividends as I got older," Effinger said. "I've tried to keep the same work ethic while trying to find some success."
As for the rest of this season, Blasi will continue to use the tandem as they show success on the ice. However, the team is not looking past the games it has left in Goggin Ice Arena, and is working hard to send off the rink in victorious fashion.
"We have four regular-season games left in this building and shame on us if we don't make them count," Effinger said. "There's a long tradition here. We really have something special going and it's up to us to capitalize on it."
The future looks bright for both goalies. Zatkoff is ranked No. 2 on the NHL Central Scouting Service list of draft-eligible goaltenders and Effinger could be drafted this year, as well. Blasi added that wherever either ends up in the future, his team will be the beneficiary.
"I just think the sky's the limit for them, especially knowing their work ethic and the way they approach each day. And if they can maintain that throughout their next few years, I think they can make whoever very happy after Miami," Blasi said.