Ted Cook had a choice this time last year — Quinnipiac or Niagara?
Needless to say, the New York native picked his home-state Purple Eagles.
Cook's hometown of Hogansburg, N.Y., is 5 1/2 hours from the Niagara campus and even further from Nebraska, where he played in juniors a season ago with the Omaha Lancers.
When asked about the adjustment from the USHL to college, the answer the 21-year-old Cook gave was a tad high on the "Really?" scale.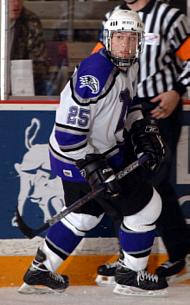 "At times, I think the USHL is harder than college, I really do," said Cook, who posted 22 goals last year with the Lancers. "I don't know if it's because of the different rules or the different players or what. The USHL is more defensive-minded and in college it's not so much geared to the defensive side of the game."
Just a freshman, Cook has stepped right into the Purple Eagles' lineup. He is currently tied for the team lead in scoring with 15 goals, 13 assists and 28 points and also leads the CHA in conference and overall scoring.
"He scored 58 goals with Bancroft in the (Ontario) Provincial (Junior Hockey) League over two seasons and that's impressive," NU head coach Dave Burkholder said. "Then last year when he went to the USHL, which is a step up from the Provincial League, we wanted to watch him and I give credit to (associate head coach) Jerry (Forton) and (assistant coach) Albie (O'Connell) for getting the first visit and the first offer.
"I think it says something for the league and for Omaha when a fourth-line center is on a full-ride D-I scholarship. It's just incredible."
Cook started the year on a line with senior Marc Norrington and freshman Vince Rocco, but now plays with classmate Les Reaney and junior Sean Bentivoglio. Cook said that there is no pressure on him knowing he is one of NU's go-to guys just 26 games into his college career.
"Playing with those guys (Reaney and Bentivoglio), anyone would put points on the board," he said.
"I've always been able to score and I've been lucky to do that," a humble Cook added. "There's no pressure; it's just my job. Everyone on this team has a job whether it's a defenseman making the first pass or a fourth-liner doing what they do. It's all about doing whatever it takes to help this team win.
"It has been a bit of a surprise scoring this much. When I first came here, I just wanted to get into the lineup and now I'm in the top six and first-line power play."
Burkholder compared Cook to former Purple Eagles' forwards Peter DeSantis and Jay Kasparek.
"Peter DeSantis, from the hash marks in, if he got the puck, it was a goal," said Burkholder. "Kasparek is one of Niagara's all-time leading scorers and he got his points on hard work and determination. He wasn't the greatest skater, but he got the job done and that's the situation Ted is in with us."
Entrenched in third place behind Bemidji State and Alabama-Huntsville, Niagara still has a chance at the top spot in the conference. Cook said that NU never quits and the camaraderie among the players is top-notch. In fact, that's one of the reasons he chose Niagara in the first place.
"When I came for my visit, I knew a couple of the guys, like Matt Caruana who I played against for two years in the O.P. (OPJHL)," explained Cook. "But I realized very quickly that there is a tight group of guys here and a good squad of guys to be around."
And it didn't hurt that he had followed the NU hockey program for many years.
"Back when we had the Empire Sports Network, they used to cover Niagara," Cook said. "I remember watching stuff on the team every day, like when (former Niagara goaltender) Greg Gardner had his nice little run there and I remember seeing Burkie (NU head coach Dave Burkholder) on there, too. So I knew quite a bit about the school."
It was actually somewhat of a relief for Cook to come home and play college hockey. The Niagara and Quinnipiac interest were the only options he had after exhausting his junior eligibility last season.
"I've never been a good skater," admitted Cook. "I probably never will be. But I don't see it as much of a crutch. I just go out there, make plays, finish checks and see what unfolds."
"Don't let him kid you," Burkholder said. "He can move around the ice and he can skate. It might be ugly to watch, but I think because of that, that's how he slipped through the cracks and we were able to get him.
"If he keeps up his pace, I think some Niagara scoring records may be in jeopardy."
He'll take "Goal Scoring" for $500, Alex.
RMU-Air Force Forging A Rivalry
Robert Morris head coach Derek Schooley was an assistant coach and associate head coach for Air Force under current coach Frank Serratore. But while this weekend's games in suburban Pittsburgh maybe don't have some of the luster of a Michigan-Ohio State football rivalry or a Serratore vs. Serratore matchup, Schooley played down the notion of a friendly rivalry with Bemidji State.
"My players know I used to coach there and they know these games are important to me," said Schooley. "But when the game starts, it's not about rivalries. It's about the players and the team."
Both coaches are looking for some more wins, but Serratore doesn't think this year's record is necessarily a direct reflection of the Falcons' abilities. He is certain the team can add a lot of wins in the remaining games if their goaltending improves.
"This team is the best team I've had here," said Serratore. "Our shots-against are down by three this season. The power play is good. Our penalty kill is good, but the goaltending is bad. The goalie is any team's best penalty killer and right now, our goaltending needs to improve."
Schooley, whose first coaching job was as an assistant with Cornell in 1997-1998, is happy with his young squad's performance in their second season.
"We have 13 sophomores and four freshmen in our starting lineup," Schooley noted. "We're still a young team. We need to know how to play with leads. We need maturity. We'll continue to build on what we have and we'll be successful."
Serratore said that even against the Colonials, the strategies stay the same with the result designed to be a victory.
"We have a style of play that is our game plan," Serratore explained. "Our plan is to dictate the game. We want to do what we do well, which is play a fast and physical brand of hockey."
"To be successful, we need to play our game," said Schooley. "We defend well, we have excellent goaltending and we have good team speed."
Win or lose, the two coaches have the utmost respect for each other on and off the ice. They remain close friends and Schooley even gives props to Serratore for his accomplishments as a player and coach.
"I actually played a year of junior hockey for Serratore (with the USHL's Omaha Lancers in 1989-90) before I coached with him," said Schooley. "I wouldn't be (in this position) if it wasn't for Frank Serratore. He's a great coach and a great man."
Bemidji's Recruits Chugging Along
Defenseman John Vadnais, an incoming Bemidji State freshman this fall, is currently fifth in defenseman scoring in the USHL with seven goals among 23 points in 27 games as well as a +12 rating. He also leads his Des Moines Buccaneers in D-man scoring.
Chris Peluso sits tenth among defensemen with 19 points. He's tied with Sioux Falls Stampede teammates Chris Berenguer and Jake Bauer. And yes, Berenguer's dad is the Juan Berenguer, of 1984 Detroit Tigers and 1987 Minnesota Twins World Series championship fame.
Green Bay Gamblers' captain Tyler Lehrke has put up 22 points this season, good for sixth on the Gamblers.
Over in the NAHL, forward Chris McKelvie is second on the Bozeman Ice Dogs with 41 points in 32 games. Ryan Cramer, another forward, has tallied 37 points for the Fargo-Moorhead Jets and is the team's fourth-leading point getter.
Pop Quiz
The CHA has had just two U.S. National Team Development Program members over the years. Name them.
Mulherin Back To Normal Self For UAH
Alabama-Huntsville senior Bruce Mulherin wears No. 13, and the first half of the season that number was anything but lucky.
But over his last half-dozen games, Mulherin has notched seven goals and 13 points, including two goals and an assist in UAH's 6-2 win at Wayne State last Saturday night.
"You can't expect that every weekend, though," said Mulherin.
Keep the No. 13, Bruce. Keep No. 13.
Warriors' Seniors Few And Far Between
This year, Wayne State will lose just four seniors. It's a far cry from 2003 when the four seniors, then freshmen, saw the Warriors graduate 12 players in forwards Jason Durbin, Dusty Kingston, Brent Renfrew, Jon Brink, Maxim Starchenko, Steve Nichols, Nick Shrader and Jack Redwood, defensemen Keith Stanich, Marc St. Jean and Tyler Kindle and goalie David Guerrera. That dozen made up WSU's first-ever graduating class.
This year, just defensemen Greg Poupard and Steve Kovalchik, goalie Matt Kelly and forward John May will participate in commencement ceremonies at Cobo Hall.
The four-member class is the biggest since 2004, when six players — goalie Marc Carlson, defensemen Nick Stodgell and Aaron Hundt and forwards Travis Rycroft, Matt Milanowski and Chris Vail — graduated. Carlson and Stodgell were to finish school in 2003 as they were part of the inaugural 1999-2000 team, but each missed a year with medical redshirts. Carlson took off a year battling, and beating, testicular cancer, and Stodgell missed a season with an eye injury suffered while working construction.
Just one player, forward John Grubb, graduated last year. He then got married over the summer and is no longer playing competitive hockey.
Trivia Answer
Wayne State forward Nick Shrader (1999-2003) and Niagara goalie Rob Bonk (2000-04).