Much was said about the youth factor in the early game, as both Northeastern and BC dressed eight freshmen. But the real difference was in the leadership of the seniors. Each squad dressed three seniors, but Northeastern's did not contribute a point, while BC's combined for four goals and three assists.
"When you have eight to 10 freshmen in the lineup, you need some veteran leadership going over the boards," said Northeastern first-year coach Greg Cronin. "And we didn't have that."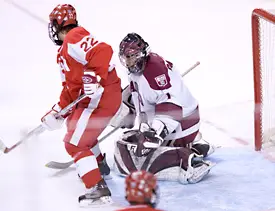 "We've got a senior class that is second to none," said Jerry York, BC coach. "Not in quantity, but in quality."
Senior Chris Collins scored his nation-leading fifth shorthanded goal to give the Eagles a nigh-insurmountable 5-2 lead in the third period.
"He's been a staple on the penalty kill since his freshman year," said York. "But this year, the offense is there, too. That's been the biggest surprise for us."
Collins stressed the importance of the freshmen to his success. "I think it's important for the seniors to set the tone, but the most important thing is that the freshmen came in willing to learn. They made it easy for us seniors."
Also chipping in a goal and a pair of assists was senior defenseman Peter Harrold. But his biggest contributions may go unnoticed on the scoresheet, according to goalie Cory Schneider.
"Our four freshman defensemen are really following in his footsteps and are starting to emulate his style of play," raved Schneider. "He's one of the best defensemen in the country."
In the late game, Boston University got a goal from senior captain Brad Zancanaro, but the freshmen came through in a big way. A tremendous individual effort by rookie Chris Higgins resulted in BU's second goal, and a goal and two assists came off the stick of first-year player Jason Lawrence.
"I'm always worried how first-year players will react in their first Beanpot game," said BU coach Jack Parker. "I was flabbergasted with how well Higgins played. And [freshman Matt] Gilroy. And Jason Lawrence. And Brandon Yip."
Hall Of Fame
This year's inductees to the Beanpot Hall of Fame included Northeastern's Dave Poile, BC's Bill Daley, and tournament founder Walter Brown.
Poile never won a Beanpot title, despite ranking 10th on the all-time Beanpot scoring list with 13 points in three varsity seasons. He is currently the Executive Vice President of Hockey Operations and General Manager of the NHL's Nashville Predators.
One of the tournament's most dramatic all-time goals was scored by Daley in 1961, the year of the first sellout for the Beanpot. Daley cemented a title over Harvard by scoring a goal with just 2:30 remaining. He had a Beanpot total of 15 points in three years, which is fifth all-time for that era.
President of the Boston Garden Arena Corporation Walter Brown, it is said, noticed that any game involving a Boston-area team drew high attendance in the city limits, so he proposed a tournament with all four of them. The first tournament was held in late December in 1952, and moved to the trademark first two Mondays in February in 1958, where it has been ever since.
Gearing Up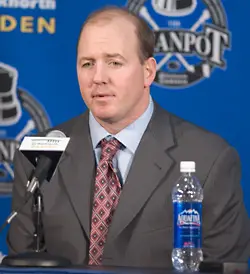 Prior to Beanpot action, each of the four teams sees plenty of its opponents. Harvard has had one game each with BC and BU, with a win and a tie against the two back in November. Boston College has already finished its Hockey East three-game season series with both the Huskies (2-0-1) and the Terriers (1-2). Boston University took a 4-0 decision against Northeastern in January.
"I think it's helpful, because you get to know their personnel," said Harvard coach Ted Donato.
Parker concurred. "We've always played Harvard on the Tuesday before Thanksgiving," he said. About this year's 2-2 tie, he added, "It was a good game for us not to get a loss in, and learn how good Harvard is."
Quick Hits
• Boston College has won six straight first-round matchups against the Huskies. The last time Northeastern won a semifinal game against the Eagles was in 1988 — the last time Northeastern won a Beanpot championship.
• In the last three non-Beanpot meetings, Harvard has a 2-0-1 record against Boston University. In the last four times the teams have met in the Beanpot, Harvard is 0-4.
• This year, a portion of the voting for the Beanpot MVP will be compiled online. People watching at home will be able to vote for the best player in next week's championship game by going to BeanpotHockey.com.
• Boston University has won more Beanpots than any other school. If the second-nearest school, Boston College, were to win the title each year going forward, the Eagles would not catch BU until 2018.
• All four teams enjoyed significant time five-on-three in the two semifinals. Boston University and Boston College, each advancing to next Monday's 8 p.m. championship game, scored on their opportunities. Harvard and Northeastern, which will meet in the consolation game at 5 p.m., did not. "I think [BU's five-on-three goal] was goaltender interference," said Donato. The goal stood up under review, and gave the Terriers a 4-1 advantage.
"The bottom line is we had a five-on-three ourselves and couldn't score," said Donato.
• The red and blue lines at the NHL venue TD Banknorth Garden are located in different places from those in typical college hockey arenas. But BU's last game prior to Monday, a 5-1 win at Massachusetts-Lowell on Friday, took place at Tsongas Arena, which also has the pro line placements.
"We were communicating well with puck movement on Friday at Lowell," said BU goalie John Curry. "And that carried over to today."
Quotable
"In the first seven minutes of the first period, they outshot us 15-3. I called a timeout, and said to my kids, 'Harvard's pretty good, huh?'" — Parker, on the Terriers' first meeting with Harvard, a 2-2 tie on November 22.
"Getting down 3-0 in the first period is not a good way to start." — Cronin, on his team's early struggles.
"It's weird when you play an early game, before the people file in. You could be playing in any city rink, really. I think it's good for the kids — they can just go out and play." — Cronin.
"I think everyone can see from our record that we are the favorites." — a tongue-in-cheek comment from Northeastern captain Chuck Tomes, on his team's 1-18-6 start.
"I'd be remiss if I didn't explain to Billy Cleary what 'high definition' is." — Parker, with a playful jab at the former Harvard coach and athletic director, when it was announced all the Beanpot games would be carried on NESN in high definition.
"When I was in the NHL, you could rope a guy and put a saddle on him and not get a penalty." — Cronin, on his pro hockey days.