The two previous Beanpots have had at least one overtime game. Last year's tournament featured two, each involving Northeastern. When BC's Stephen Gionta scored to tie the game at two goals apiece at 6:24 of the third period, it looked like this year's tournament might have an overtime game after all.
However, Tournament MVP Peter MacArthur stunned the Boston College faithful by scoring a power-play goal less than a minute later.
"It is impossible to overestimate how important it was for Pete MacArthur to score that goal in the third period," said Jack Parker, BU coach. "It took them out of their game, that we were able to score a power play goal against a team that has been killing penalties pretty well."
"It's a good way to interrupt momentum, that's for sure," said Jerry York, BC coach.
Going From Bad To Worse
Northeastern players knew they had a tall order in front of them. Coming into this year's Beanpot with just one win all season, they had to face two of three teams that were each ranked in the top 20.
Even after doubling the squad's win total with a win Friday night at Lowell, the Huskies just couldn't keep up with Harvard's speedy forwards in the early consolation game and fell, 5-0, before a mostly-empty TD Banknorth Garden.
"There are three ways to generate energy in a crowdless game: finish checks, win puck battles, and have the goalie make some big saves," said NU coach Greg Cronin following the game. "I thought [NU goalie] Adam Geragosian did his part, but the rest of us were non-existant in the others.
"It's too bad, becuase this was a chance for our team to turn an ugly season into a bit of a cinderella story."
To add insult to injury, in the second intermission of the championship game as the zamboni was resurfacing the ice, the Northeastern logo started to bleed into the ice. Attempts by the officials to contain the stain only made it spread further, leaving a big black stain around the "N" throughout the third period.
Best Team (Almost) Always Wins
BC skipper Jerry York downplayed any notion that Boston University has any sort of magical hold on the Beanpot tournament, despite losing to the Terriers tonight.
"BU played better than us tonight," he explained. "It's usually the case that the team that plays better will win. Sometimes you can run into a hot goaltender that can change that, but it is usually the case."
York had praise for the Terriers, who own a 3-1 record against BC during the 2005-2006 season, accounting for almost half of his team's seven losses. "This is the best Terrier team that I have seen for the last four or five years. They are quicker and more creative than they have been in the last few years. And John Curry has emerged as a real dominant goaltender, and that's had a big impact on their club."
With that said, he recognized the problem his team faced in the game. "The second period was really our undoing. We were careless with the puck, we lost several one on one battles. We had trouble getting out of our zone, and trouble getting the puck into their zone.
"There was a five-foot area prior to the blue line, and we kept turning it over, and we had trouble setting things up, which kept us from generating offense."
Who Says The Game Is only 60 Minutes?
The second intermisson of the championship game was very busy. Besides the aforementioned staining of the ice from the Northeastern logo, there were two other notable occurrances.
First, as the two school mascots, Baldwin the Eagle and Rhett the Terrier, took the ice, a fan clad in a BU t-shirt rushed onto the ice and wrestled Baldwin to the ground. He had to be forcibly removed by arena security.
The two mascots then carried a table onto the ice covered at each end by ten cups arranged in a triangle. They proceeded to play a game, attempting to toss coins into the other's cups. Rhett won, 2-1, on a bank shot.
Small Consolation
The 5-0 consolation game win by Harvard was the Crimson's first Beanpot win since 2003, which was also a win over the Huskies in a consolation game. Harvard's win prior to that was also over NU in a consolation game, back in 2000. The last Harvard win not over NU was a 5-4 win over BC in the semifinal round in the 1998 tournament. Finally, the last Harvard win by five goals or more was a 1986 7-1 win over — can you guess? — Northeastern in the consolation game.
Getting the win in goal for Harvard was backup goaltender Justin Tobe, from Northville, Mich., who downplayed the Beanpot's importance. "It's big for the local guys, but for the rest of us it's just another game," he said, when asked about finally getting the win in a Beanpot game. "It's not bigger than a big league game or any other big game."
Harvard coach Ted Donato, who finally picked up his first Beanpot coaching win in four tries, had a different take.
"In these days of the Internet, you know just how big every game is for tournament eligiblity," he said. "If we had lost the game it would have been devastating for us in the PairWise.
"But even more important than that is for pride. We haven't won a game in the Beanpot in awhile."
Despite losing to BU in the semifinal, there were some positives to take out of the game, such as continuing the streak of having more than 40 shots on net (currently four games) and holding opponents under 30 (currently 10).
"We had a good third period [last Monday] against BU, and that carried over to Princeton on Friday night [in a 5-4 overtime win]," said Donato. "We built upon that tonight."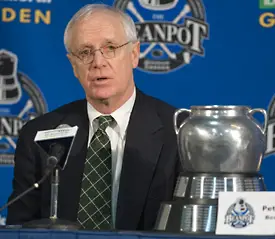 Quick Hits:
BU has now won 11 games in a row, the fifth longest winning streak in program history. Almost half the wins in the streak have been against ranked opponents: two wins over BC, two wins over Maine, and a win over Harvard. The longest streak in Terrier history is 22 games, which overlapped two seasons, 1976-77 and 1977-78. To top that streak, this year's squad would have to win every game from now until the Frozen Four in April.
Coming into this game, Harvard was 8-0-1 after a loss but just 4-7-1 after a win.
With this year's Beanpot title, Boston University has won exactly half, 27, of the 54 Beanpots that have been held.
BU's top line of Brad Zancanaro centering David Van der Gulik and John Laliberte has been together only a handful of times this season, as Van der Gulik and Laliberte have traded time on the injured list. The line was reunited for this game as Laliberte made a surprise return from an injury that kept him out the last six games, only to see Van der Gulik go down with a knee injury in the third period. Van der Gulik returned for some shifts later in the period, which BU fans hope bodes well for his health. The Terriers are 12-1 following his return December 30th.
Since winning the Beanpot title last in 1993, Harvard is just 5-21 (0.24) in the intervening years. Northeastern is only a little better at 10-26 (0.38) since their last win in 1988.
BC goalie Cory Schneider won the Eberly Trophy given to the goalie in the tournament with the highest save percentage (0.924). The MVP went to Peter MacArthur of BU, with the game winning goal as well as an assist on the first goal. Of his game-winner, which was batted out of the air much like a baseball off a bat, MacArthur said, "I don't remember much about it. I was in front of the net, which I'm not usually, which is not good," as he looked sheepishly toward coach Parker.
Two of BC defenseman Peter Harrold's six goals this season have come in the Beanpot. He also scored a goal in a 4-3 loss to BU in January.
This is Ted Donato's first Beanpot win as Harvard coach. In his two years at the helm, he is 3-0-1 against Boston schools while not playing in the Beanpot, and 1-3 against those same teams in this tournament. Greg Cronin, rookie coach for Northeastern, is still waiting for his first Beanpot win.
Northeastern has allowed 14 goals in its last three games.

Quotables:

"I don't have much to say; we lost the game 5-0." — Greg Cronin

"You don't prepare to play the type of game that I had to play." – BU goalie John Curry, who faced just 11 shots in the game's final 40 minutes.

"My tie has hearts on it. Most people think that's because tomorrow is Valentines Day, but it's really because I love the Beanpot." – Ed Carpenter, former BU Sports Information Director, who is known for his loud ties. Carpenter announced that this will be his last Beanpot with BU, a stretch which dates back 29 years. He saw Beanpot games at the old Boston Garden, the Fleetcenter, and the TD Banknorth Garden, including 17 tournament titles.