In the Beanpot semifinals, Boston University's Chris Higgins scored a highlight reel goal that became ESPN's number two entry in the Top 10 Plays of the Day.
A week later, it became Pete MacArthur's turn for Beanpot flash, this time in the championship game. His highlights came in two installments with part one and its sequel leading to the Terriers' 27th title.
Four minutes into the second period, trailing 1-0, BU called on MacArthur's A-for-creativity contribution. Skating down the right wing, he used a between-the-legs move to freeze his defender and create space for himself to drive in toward the Boston College goal. MacArthur didn't score, but linemate Bryan Ewing did.
"I tried to make a move that Coach [Jack Parker] doesn't really like at the blue line," MacArthur said. "[Then] I thought, what do I do now? I asked myself, 'What would Higgins do?' He's just so creative and makes goalies look silly. So I thought, how would Chris put it in the net?"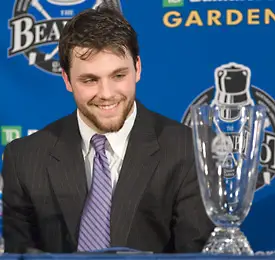 MacArthur grinned wryly recalling the result.
"He certainly wouldn't have put it in the goalie's chest like I did," MacArthur said. "Thankfully, Boomer was there to put the puck past him."
Contrary to MacArthur's expectations, Parker actually endorsed the fancy move. He said, "I tell my players, 'I know I can't make you creative, but I can take away your creativity. I don't want you to play like a robot.' And I'm glad Pete made that move."
MacArthur's next slick play was actually one to pick up a teammate. In the third period, BC tied the game, 2-2, but soon after BU went on the power play. MacArthur skated to goaltender John Curry and said, "We're gonna score here."
When Curry recounted the words in the post-game press conference, Parker wryly asked, "He didn't point to center field, did he?"
Pete "Babe" MacArthur may not have gone that far, but he did prove true to his word. Just 31 seconds into the power play, he swatted a rebound out of mid-air for the game-winner. It wasn't quite on par with his earlier effort in terms of flash, but it still was an eye-catching goal and the substance was undeniable. BU had once again won the Beanpot.
"I was just trying to get a piece of it," MacArthur said. "I played tennis growing up so I have good hand-to-eye coordination."
And with the goal came his trademark leap into the boards.
"I was pumped," he said. "I saw some BU fans, so I figured I wasn't going to look stupid."
And as for the prediction coming true?
"I just say what comes into my mind," he said.
Which is okay with Terrier fans, especially as long as he keeps backing it up.
"He's got confidence," Parker said. "He really enjoys playing. And the bigger the stage, the more he likes it. He had a heckuva night for us."
It was a night that ended not only in BU's 27th Beanpot title, but also in MacArthur being named the tournament's Most Valuable Player.
He smiled. "It's pretty easy being happy right now."