In the rite of passage intrinsic to becoming a true college hockey fan, the Beanpot falls below only the Frozen Four on the totem of this holy crusade. The 2002 national championship in St. Paul, though controversial and heartbreaking, proved my baptism; with my move to Boston last summer, the Hub's fabled tournament would be my christening.
Due to its importance on so many levels, such a week would alone be one of excitement and exhilaration. Given the four intra-city participants, I also looked forward to the (fanatical) extremism that would creep into the fabled Garden on these first two Mondays of February.
As fate would have it — perhaps the hockey gods were simply rewarding me for my failed, though not ignoble, bid to succeed Jeff Sauer behind Wisconsin's bench — on the Saturday between the two Mondays my beloved Badgers were playing outside on Lambeau Field's hallowed ground.
Not one to demur when a trip to the frozen tundra is proposed, I leapt at the chance to witness first-hand the merging of two storied franchises — the blending, in three 20-minute periods, of two disparate cultures into a vibrant mosaic of Wisconsin life.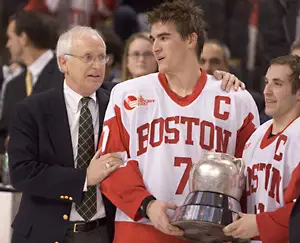 So it was set, the itinerary finalized: in a period not to surpass seven days and seven hours — unless, by fortuitous happenstance, the Beanpot's championship game went into overtime — I would behold a rare trifecta of college hockey history. Thrilled with a notable dash of wonderment best captured my mood as Monday, February 6, 2006 dawned in brilliant sunshine.
As a college hockey fan growing up in the Midwest, the Beanpot meant many things to me. Yet I had never seen a game of this historic tournament live, or — to my recollection — even a single highlight. In fact, the only tangible electronic evidence of its existence came via ESPN's BottomLine, sadly still the only constant collegiate hockey reference during the regular season.
Despite this inherent unfamiliarity with the particulars and peculiarities of the Beanpot, the mere mention of this solemn word instantly evoked images of dedication, passion, and history. I couldn't wait for the puck to drop.
Somehow able to secure a single club-level seat, I left work early, arriving at the Garden a comfortable 20 minutes before the opening faceoff. Undercard though it was, I felt nonetheless a bit underwhelmed by the sparse crowd as the game began.
Uninspired, too, were the performances, as a clearly talented Boston College squad built a 3-0 lead via an unspectacular, methodical, and conventional attack. As the first period drew to a close, a bit of uneasiness — disappointment — crept into my psyche.
Redemption followed the one-win Northeastern Huskies to the ice in the second period.
In striking fashion, the Huskies responded to their moribund initial frame by badly outplaying the Eagles in nearly every facet en route to scoring the only goal of the period. That effort — the response of an overmatched and beaten-down opponent to adversity — was exactly what I expected from this tournament.
Midway through the game, the crowd — those who dutifully worked their entire shift — in numbers, eventually a 17,565 person sellout, and intensity, had now equaled the on-ice effort.
In the end, BC held off the pesky Huskies for a 5-2 win. Although no fan of the Eagles, their gritty, if expected, victory kept alive my hopes for an all-Commonwealth Ave final.
As the second period drew to a close with BU dominating action in the other semi, that matchup seemed like a near-certainty. Winners of eight in a row, sixth-ranked Boston University had No. 17 Harvard frustrated, trailing 4-1, and laboring to break the puck consistently out of their own end.
Like Northeastern before them — the Tolkien-esque lure of the Beanpot coaxing them on — the Crimson refused to quit. With most of the crowd now headed home, Harvard utilized unrelenting pressure (it outshot BU 25-6 in the climactic period) to claw their way back, pulling within a goal of the skittish and now-reeling pack of Terriers with 2:21 remaining in regulation.
Despite winning only winning a handful of faceoffs the entire period, BU somehow held on to advance to its 12th straight Beanpot final, but not before a final offensive flurry was stymied by Terrier netminder John Curry.
Including two bumpy plane rides — Boston to Detroit to Madison — I needed the entire four days to recover from that thrilling finish that I and 23 friends — seeds sprinkled haphazardly throughout the Garden — stuck around to witness.
Three hours after finishing my rigorous after-hours training in Madison for the big game ahead, I rolled out of bed and hopped in the car destined for Green Bay.
To fully understand the magnitude of this event (the day cast a massive shadow over the actual game), a bit of a refresher course on the fine art of eating freshly cooked brats while drinking the "champagne of beers" was in order.
Grilling out is a summertime thing, tailgating an activity usually reserved for football in the fall. Springtime sees little of either — at least before Memorial Day — and winter, well, even in Wisconsin it is not a sight often seen. Until Saturday.
Pulling into the Stadium Bar parking lot, just a block away from venerable Lambeau, to see all sightlines tinged cardinal and white warmed my heart. A sight to behold, too, were the kids eschewing football for street hockey, Brett Favre jerseys for Chris Chelios sweaters.
Despite my intense workout the previous evening, my keenly-tuned appetite — for food and drink — arrived at the ready, primed to compete.
Then suddenly, before I or any of my bundled-up cohorts realized the time, my first outdoor faceoff not including peewees or mites, that omnipresent guy who never passes the puck, or a just-begun-skating-forty-something-clad-in-breezers-and-bulky-shin-pads was just a few minutes away.
As I packed up the game-day essentials, taking extra care to properly pack the cowbell — to both avoid it being confiscated and muffle its invariable, itinerant ringing — a feeling of nostalgia and pure glee struck me. I was about to walk into Lambeau Field to watch the Badger hockey team play in a regular-season game.
Wow.
The game didn't disappoint. Losers of five of six without All-American candidate Brian Elliott, Wisconsin rebounded with a yeoman's effort and a 4-2 victory. This win, a loud rejoinder to both conference foes and potential national opponents alike, bore all their trademarks of hard work, timely scoring, a suffocating defense, and solid goaltending.
Coupled with the winter tailgating, the most vivid memory from that day had to be the apt infusion of another medium — Badger football — in the pre-third period rendition, by 40,890 fans, of House of Pain's "Jump Around." Transported from Camp Randall to Lambeau, the boisterous performance looked remarkably at home. It looked — it felt — right.
Only a massive snowstorm that dropped 17.5 inches on Boston could stop me from successfully concluding my crusade. And it almost did.
Of all six flights scheduled to fly from Detroit to Boston that Sunday, only one took off: mine. Thankfully, it landed too, though sans my bag (and cowbell), putting me back on track for the culmination of my multi-state adventure.
Although pleased with my club-level seat of a week ago, the one I purchased from Craigslist was far superior. For 10 fewer dollars, I sat in the corner, ten rows from the ice, with perfect sightlines, and a great — and rare — feel for the crowd's gravitas.
In the consolation game, the Crimson rode a three-goal second period and two power-play tallies to victory. Despite failing to record their first winning streak of the season — and falling to 30-78 overall in Beanpot competition — the outplayed Huskies once again acquitted themselves well.
The game between Harvard and Northeastern was not only an opening act for the BU-BC drama, but as it turned out, a warmup for their legions of fans.
Just moments into the consolation's third period, hordes of Terrier faithful were already launching into their anti-Eagle cheers. This proved a harbinger as throughout the championship tilt, dominated by fifth-ranked BU, these same fans drowned out their counterparts, often in a mocking, rhythmic-clapping serenade of "We can't hear you!"
In fact, just judging on the amount of noise in the Garden that night, I surmised that the crowd was fervently, both in numbers and decibels, pro-BU. When fourth-ranked BC scored with under 14 minutes left in regulation to tie the game at two, there was a shocking cannonade of noise, an avalanche of amps embossing me with retribution.
Where had they been all along? And then it hit me, a notion so strikingly at odds with the historical legacy of this program, that I thought for sure it couldn't be so. Yet nearly two years ago a remarkably similar scenario played itself out in this very building.
For BC it was a dream scenario. The Frozen Four, in Boston, playing rival Maine, in the national semis, in their own backyard. And yet — the grand reputation of Maine fans notwithstanding — during BC's 2-1 loss, despite their voluminous presence, nary a peep was heard out of them the entire game.
Talk about déjà vu! To Bostonians, the stakes were no less high now, yet this preponderance of fans were consistently drowned out with chants of "Where's your Beanpot?"; their only shield — a big red-and-white banner that cleverly read "SAFETY SCHOOL" — a poor defense to the onslaught of anti-Eagle and pro-Terrier rhetoric echoing of the I-beams of the Garden façade.
A Pete MacArthur power-play goal — a nifty-batting-the-puck-out-of-mid-air-effort — just 54 seconds after the eruption of BC's faithful precipitously put the Eagles fans' hands back under their seats, never again to emerge. That MacArthur predicted his heroics but moments before striking seemed appropriate to not only both the game and tournament, but also to my own personal enjoyment.
By virtue of Boston University's win, the Terriers claimed their second Beanpot in a row, 15 of 21, and 27th — exactly half — in the 54-year history of the event. It was my first — and as fresh and exhilarating as that first Frozen Four.
The atmosphere and intensity made me think back to other games — back-to-back sold-out overtime victories by top-ranked Wisconsin over No. 2 North Dakota in 2000 — that have been forever ingrained in my college hockey lexicon. Coupled with the semis and the outdoor game at Lambeau, it had been quite a week.
Who else, I wondered, accomplished the same feat? Some columnist from Boston sent to investigate the cold climes of the Fox River Valley? Some ambitious Wisconsin writer eager to elevate his or her national profile?
Or, perhaps, somebody like myself: an avid hockey fan who took advantage of favorable scheduling and below-market airfare?
76,020 people attended these three events. Duly accounting for the many who took in both nights of Beanpot action lessens that number considerably. Yet it is hard to imagine another soul who participated in all three within that truncated eight-day period.
Could it be that I was the only one? If so, I wasn't one in a million — but I was close.
If it indeed had been just me, I am honored. Honored to have this experience (with all games ending in my desired result) but also to one day recollect this college hockey odyssey as a benchmark in both my aspiring career as a writer and — more importantly — as a fan of this great sport.
Long-term and grandiloquent analysis aside, this pilgrimage, a trek that traversed 2,118 miles, allowed me to carve another notch in that totem and climb one rung higher on the ladder toward college hockey heaven.