The ECACHL women's quarterfinals have come a long way in the four years since they first went to a best-of-three campus site format.

The first-ever No. 8 vs. No. 1 quarterfinal featured an 11-18-2 Colgate team getting blown out by a 24-6-2 Dartmouth team by 11-1 and 6-0 margins, and No. 2 seed Brown did not face a much tougher challenge (5-0 and 7-0 wins over Yale).
The field has improved each season, and the level of parity has never been better. For the first time, all eight contenders are teams under consideration for NCAA selection (defined as having an RPI greater than .500). The latest No. 8 seed is a Yale program a year removed from the league semifinals with the league's third-best second-half record (6-3-1).
In the first four years of the present tournament format, lower-seeded teams are just 2-24 against the top three seeds and 4-5 against the fourth seed. This year's No. 1 seed St. Lawrence has suffered all four home team losses over the last three years (a 2-1 series defeat against No. 5 Brown in 2003, a 1-0 loss to No. 7 Colgate in 2004, and 3-0 loss to No. 6 Brown in 2005), and this year's No. 2 seed Princeton has suffered the other two (a sweep by Harvard in 2002). Given the league's current level of parity, this year's series may well set a new standard for upsets.
No. 8 Yale (11-13-5, 8-8-4) at No. 1 St. Lawrence (28-3-2, 16-2-2)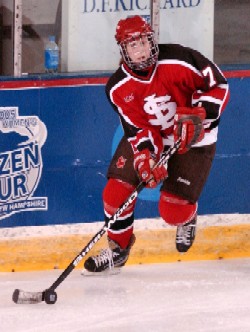 Game Times: Fri. 3:30, Sat.-Sun. 2:00
Broadcast Info: Live audio from St. Lawrence.
Previous Meetings:
Jan. 13: St. Lawrence 4-2 (Box)
Feb. 18: St. Lawrence 7-1 (Box) (Broadcast)
Top Scorers
SLU: Sabrina Harbec, 15-21-36 (1st)
Yale: Deena Caplette, 6-11-17 (16th)
Top Goalies
SLU: Jess Moffat, 9-1-0 (1st), 0.97 (1st), .949 (1st)
Yale: Sarah Love, 7-8-3 (9th), 2.18 (8th), .926 (7th)
Offense: SLU 4.15 (1st), Yale 2.55 (4th)
Defense: SLU 1.10 (1st), Yale 2.25 (7th)
Power Play: SLU 24.3 (1st), Yale 19.0 (4th)
Penalty Kill: SLU 90.3 (1st), Yale 82.1 (9th)
Penalty Minutes: SLU 14.3 (2nd), Yale 11.2 (9th)
Outlook:
Yale is 0-24-1 all-time against St. Lawrence, and no No. 8 seed has ever beaten a No. 1 seed in a three-game ECACHL playoff series… The Bulldogs held a 2-1 second intermission lead in the team's first meeting but could not hold on… The Saints have been exposing Yale's penalty kill, the worst among playoff teams. All four Saints goals in the first meeting and the first two in the second meeting came on the power play. The Yale penalty kill has not shown signs of getting better lately — the unit even gave up a power play goal to Union in February… The Saints have taken little advantage of home ice in their last three playoff series, going just 5-4, but this St. Lawrence team has been much more consistent than the teams of the last three years… St. Lawrence has not been any better at home relative to the road this season. Two of the Saints' losses were at home, and the third was a few miles down the road at Clarkson… A perfect 10, Saints forward Sabrina Harbec has scored in 10 straight games during the Saints' 10-game win streak and compiled a total of 10 goals and 10 assists. Only the 3-1 win over Princeton was decided by fewer than three goals during that stretch… The Saints will host the ECACHL semifinals and final if they advance, otherwise the event goes to the next-highest seed.
No. 7 Colgate (12-13-7, 9-8-3) at No. 2 Princeton (19-6-4, 15-3-2)
Game Times: Fri. 7:00, Sat.-Sun. 4:00
Broadcast Info: Live stats through Gametracker.
Previous Meetings:
Dec. 3: 6-2 Princeton (Recap)
Jan. 13: 2-1 Princeton (Box)
Top Scorers
Princeton: Annie Greenwood, 20-6-26 (3rd)
Colgate: Sam Hunt, 11-8-19 (12th)
Top Goalies
Princeton: Roxanne Gaudiel, 13-2-2 (3rd), 1.40 (4th), .928 (6th)
Colgate: Brook Wheeler, 7-6-2 (8th), 2.11 (7th), .931 (5th)
Offense: Princeton 3.65 (2nd), Colgate 2.50 (6th)
Defense: Princeton 1.50 (3rd), Colgate 1.95 (5th)
Power Play: Princeton 22.0 (2nd), Colgate 16.7 (6th)
Penalty Kill: Princeton 88.2 (4th), Colgate 85.8 (6th)
Penalty Minutes: Colgate 12.1 (7th), Princeton 10.6 (10th)
Outlook: This is Colgate's fourth straight season as the No. 7 seed in the ECACHL tournament… Princeton has won 10 of its 11 ECACHL games, with the only loss coming against SLU. Princeton limited its opponents to one goal or less over the first two periods in all 10 of those wins… Princeton's Mary Kate Oakley has a six-game goal-scoring streak, and she has put up 7-3-10 numbers during that stretch… Colgate top scorer Sam Hunt is the highest scoring Colgate freshman since the program went D-I… Colgate went 3-8-2 in league play after a 4-0-1 start, before sweeping Union like everyone else to close out the regular season… The second-place ECACHL finish is Princeton's highest ever. Princeton has not advanced to the ECACHL semifinals since 2003.
No. 6 Dartmouth (12-11-4, 9-8-3) at No. 3 Brown (12-12-5, 10-6-4)
Game Times: Fri. 7:00, Sat.-Sun. 4:00
Broadcast Info: Live audio from Brown.
Previous Meetings:
Nov. 18: Brown 2-0 (Box)
Feb. 4: Tie 3-3 (Recap)
Top Scorers
Brown: Hayley Moore, 14-12-26 (3rd)
Dartmouth: Maggie Kennedy, 6-14-20 (11th)
Top Goalies
Brown: O'Hara Shipe, 6-5-3 (7th), 1.89 (6th), .924 (8th)
Dartmouth: Carli Clemis, 5-0-2 (2nd), 1.89 (6th), .920 (9th)
Offense: Dartmouth 2.55 (4th), Brown 2.30 (8th)
Defense: Brown 1.85 (4th), Dartmouth 2.25 (7th)
Power Play: Dartmouth 17.0 (5th), Brown 15.1 (7th)
Penalty Kill: Brown 88.9 (3rd), Dartmouth 84.1 (7th)
Penalty Minutes: Brown 13.5 (4th), Dartmouth 12.0 (8th)
Outlook: Dartmouth outshot Brown 27-12 in the team's first meeting and 33-26 in the second meeting (a game the Big Green led 3-0 after a period) but only ended up with a point to show for it… Brown has not scored more than three goals against anyone except Union in its last 15 games, and Brown's 20 goals allowed in its last six games make up its worst defensive stretch since the first six games of the season… Dartmouth went 7-3-3 to close out league play — only Princeton and St. Lawrence had better marks during that stretch. Brown went 1-3-3 in its last seven league games… Freshman Carli Clemis has not lost a league game this season, although the Brown tie (after blowing a 3-0 lead) and the Quinnipiac tie were disappointing. Kate Lane earned the recent starts against St. Lawrence and Princeton and gave up 12 goals total… Brown has taken 30 more penalties than opponents this season, and that trend has not gotten much better lately… Brown and Dartmouth have a rich playoff history. In the 2002 league final, Brown beat Dartmouth 4-3 in overtime. Future U.S. Olympian Kim Insalaco scored the game-winner and another future Olympian Pam Dreyer stopped 42 shots in the win. In a 2001 league semifinal, Dartmouth beat Brown in double overtime, as Dreyer made 56 saves.
No. 5 Clarkson (21-12-1, 12-8-0) at No. 4 Harvard (14-11-4, 10-6-4)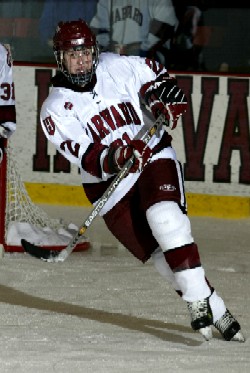 Game Times: Fri. 7:00, Sat.-Sun. 4:00
Broadcast Info: Live audio from WHRB, use low-bandwidth stream.
Previous Meetings:
Nov. 12: Clarkson 4-3 (Recap)
Feb. 25: Harvard 3-2 (OT) (Recap)
Top Scorers
Harvard: Jennifer Raimondi, 10-21-31 (3rd)
Clarkson: Ashley Shaidle, 10-8-18 (15th)
Top Goalies
Clarkson: Kira Hurley, 12-7-0 (5th), 1.25 (2nd), .936 (2nd)
Harvard: Ali Boe, 7-4-2 (6th), 1.82 (5th), .932 (4th)
Offense: Harvard 2.90 (3rd), Clarkson 2.45 (7th)
Defense: Clarkson 1.35 (2nd), Harvard 1.95 (5th)
Power Play: Harvard 20.4 (3rd), Clarkson 13.0 (8th)
Penalty Kill: Clarkson 91.5 (1st), Harvard 87.6 (5th)
Penalty Minutes: Harvard 12.9 (6th), Clarkson 6.3 (11th)
Outlook: Clarkson was one second away from hosting a playoff series itself before Jennifer Raimondi's overtime goal spoiled the Golden Knights' hopes last Saturday. The loss to Harvard was Clarkson's first in 19 games when leading after the second period… Clarkson outscored Harvard 3-1 in the first period of their first meeting and 2-0 in the first period of their second meeting. Clarkson outshot Harvard in both games. Princeton and SLU are the only other teams to outshoot Harvard twice this season… Both teams have faded a bit down the stretch after strong first halfs. Clarkson has lost five of seven and has not scored more than two goals in that stretch. Harvard is 4-6-2 in its last 12 and has not scored more than three goals in that stretch… Clarkson poses a tough matchup for Harvard because the Crimson relies heavily on its power play, and Clarkson has the toughest penalty kill and takes the fewest penalties in the league. Harvard has had success creating its own man advantages though — the Crimson has scored an extra attacker goal in each game against Clarkson this season… Harvard has set a new standard for being a third-period team. The Crimson is second in the ECACHL with 28 third-period goals in league play. The Crimson has scored just 29 goals total in the first two periods. Clarkson, meanwhile, has scored just 13 third period goals, while scoring 18 in each of the first two periods. Last Saturday's game between these teams certainly fit that pattern… Harvard is 2-0-4 in overtime this season… This series is a rematch of last year's quarterfinal, which Harvard swept by 5-0 and 3-1 scores.