Colgate, Dartmouth and Harvard all answered the challenge last weekend, recording four points apiece and securing first-round byes for the ECACHL playoffs. Cornell's stumble on Friday night in a 2-0 loss to Rensselaer enabled Colgate and Dartmouth to capture a share of the Cleary Cup as the co-champions of the ECACHL regular season.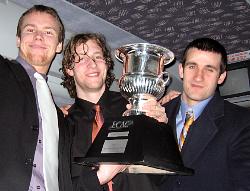 "I'm very proud of our team," said Colgate coach Don Vaughan, whose Raiders won their second Cleary Cup in the last three seasons. "This league is not easy and we went into the last weekend knowing that we needed to get two points to ensure a bye.
"We won two games on the road, and that's tough to do," he continued. "It's pretty special for this young group; I'm thrilled with the effort we put forth."
In Hanover, Dartmouth coach Bob Gaudet was proud of his team for the way it overcame a tough start to the season. Laying much of the credit for the turnaround on the leadership of team captain Mike Ouellette, Gaudet said he didn't even realize, at first, that his team had won a share of the league title.
"To do this for the guys is pretty special," he said. "It was fun to see the guys get to share in the trophy and then skate around the rink with it."
"The timing of it was nice, with the win coming at home," Gaudet added. "And obviously it was a long time coming."
---
All of the coaches with byes emphasized the importance of getting rest for their teams, and most gave the players the first few days of this week off to heal up and to rest their legs before re-taking the ice in preparation for next weekend's series.
"With the bye, we're able to rest some guys," Vaughan said. "The biggest part of being prepared is resting, getting our guys healthy."
"The bye is what you've been working for all year," agreed Cornell coach Mike Schafer. "You need that week off to get your guys fully health and allow them to get their legs back."
"We've basically been using this time to get healthy, to get as many of our guys well rested as possible," he continued.
---
ECACHL Tournament: First-Round Series
While Dartmouth, Colgate, Cornell and Harvard recuperate and recover, the rest of the ECACHL field will be on the ice this weekend. All of the games will take place in upstate New York, with the North Country pair hosting two series and the Capital Region duo also hosting two playoff sets. Here's a brief look at the matchups:
Who:
No. 5 Seed St. Lawrence
18-14-2 Overall
12-9-1 ECACHL
12-2-1 Record on Home Ice
vs.
No. 12 Seed Brown
4-18-7 Overall
3-14-5 ECACHL
0-12-3 Record on the Road
Where:
Appleton Arena in Canton, N.Y.
When:
Friday at 7:30 p.m.
Saturday at 7:00 p.m.
Sunday at TBA (if necessary)
Previous Encounters:
Brown 3, St. Lawrence 1 Saturday November 12th in Providence
St. Lawrence 4, Brown 1 Friday February 17th in Canton
In Brief:
In any No. 5 vs. No. 12 series, the top seed going to be the odds-on favorite to prevail. In a year where the Saints narrowly missed a bye and Brown struggled to win at all, the prediction of a St. Lawrence win might seem even easier.
But despite its struggles this season, Brown split the season series with St. Lawrence and its players have improved despite the team's struggles in the won-loss column.
"St. Lawrence is a very solid team," said Brown coach Roger Grillo. "Joe Marsh is a phenomenal coach; they're skilled and tenacious, and they can forecheck you to death."
That forechecking and the Saints' tenacious transition game were some of the reasons why the Bears appeared overwhelmed in their 4-1 loss at Appleton.
"I think we've learned some things from that game against St. Lawrence [in Canton]," said Grillo. "Some of our guys have improved quite a bit this year. I think the guys are approaching this game with some confidence."
"Our league is getting tougher and tougher — there's more and more parity," he continued. "It's going to be exciting in the playoffs."
---
Who:
No. 6 Seed Union
16-14-6 Overall
9-9-4 ECACHL
10-3-4 Record on Home Ice
vs.
No. 11 Seed Yale
8-18-3 Overall
6-14-2 ECACHL
3-10-2 Record on the Road
Where:
Achilles Center in Schenectady, N.Y.
When:
Friday at 7:00 p.m.
Saturday at 7:00 p.m.
Sunday at TBA (if necessary)
Previous Encounters:
Yale 5, Union 4 Friday January 20th in New Haven
Union 5, Yale 1 Saturday February 11th in Schenectady
In Brief:
Yale and Union saw each other twice in about three weeks at the end of January and beginning of February, splitting the two games with each team winning on its home ice. Now hosting a playoff series for the fourth year in a row, Union hopes to capitalize on home-ice advantage.
"This team has done some things that very few Union teams have done," said coach Nate Leaman said. "Now we want to take the next step that no Union team has taken and win that playoff series."
Union has been frustrated in the past, working hard during the regular season to claim home ice only to wind up hosting a very talented team that struggled during the regular season but coalesced in the playoffs.
The role of that late-breaking team has been played the last two seasons by Clarkson; twice the Golden Knights have bounced the Dutchmen from the tournament, including last year two games to one in a series where all three contests went into overtime.
"I've been really, really impressed with our team this year," Leaman said. "The way that they keep bouncing back speaks volumes."
Leaman is counting on that resiliency this weekend as his team hopes to make Union history with a playoff series win.
"The matchup against Yale is a [difficult] one — there's no doubt in my mind that they are going to be close games," he said.
---
Who: No. 7 Seed Rensselaer
14-15-6 Overall
8-8-6 ECACHL
11-6-1 Record on Home Ice
vs.
No. 10 Seed Quinnipiac
17-16-1 Overall
8-13-1 ECACHL
7-11-0 Record on the Road
Where:
Houston Fieldhouse in Troy, N.Y.
When:
Friday at 7:00 p.m.
Saturday at 7:00 p.m.
Sunday at TBA (if necessary)
Previous Encounters:
Rensselaer 4, Quinnipiac 2 Friday November 11th in Troy
Quinnipiac 4, Rensselaer 4 (OT) Saturday February 18th in New Haven
In Brief:
In the only first-round series that features two teams who didn't split their regular-season contests, this weekend's playoff match presents a challenge for Rand Pecknold and his Quinnipiac squad.
"We're certainly very excited to move into our first year in the ECACHL playoffs," he said. "But we didn't fare too well this season against Rensselaer, losing to them up there and then getting a tie down here."
"In fact I don't think we've ever beaten Rensselaer as a program," he added.
Pecknold does know what to expect from the Engineers, and his mind the foremost challenge they present is team balance and solid goaltending.
"Rensselaer has a good team and a good goaltender in [Mathias] Lange," he said.
Pecknold thinks his team has the offensive capability to challenge Rensselaer and put some points on the board against Lange. Defensively, though, he has concerns.
"This year we've played better than I expected in some areas, and worse in others," he said. "I'm very happy with our offense; we've scored more goals than I imagined.
"But I'm not happy with our defensive play," he continued. "Both in five-on-five situations and on the penalty kill, we need to improve."
---
Who: No. 8 Seed Clarkson
16-15-3 Overall
9-11-2 ECACHL
12-2-2 Record on Home Ice
vs.
No. 9 Seed Princeton
10-16-3 Overall
7-12-3 ECACHL
4-10-1 Record on the Road
Where:
Cheel Arena in Potsdam, N.Y.
When:
Friday at 7:00 p.m.
Saturday at 7:00 p.m.
Sunday at TBA (if necessary)
Previous Encounters:
Clarkson 4, Princeton 3 (OT) Friday November 18th in Potsdam
Princeton 4, Clarkson 2 Saturday February 11th in Princeton
In Brief:
The closely-matched 8-9 series will take place in Potsdam this weekend; aside from its higher seed, the fact the Clarkson has posted a 12-2-2 record on the ice at Cheel Arena is a big factor in the team's favor.
"We haven't been good on the road all year, and luckily though our first round is at home," said Clarkson coach George Roll following his team's final regular-season game.
Princeton, while not as successful on the road, has recorded some impressive road wins this season, most notably a season-opening win at Notre Dame and a holiday tournament victory in Denver.
For Princeton, the opportunity to enter the weekend as the underdog could play to its advantage. The Tigers will need to take advantage of the one position — goaltender — where they have clearly superior play versus the Golden Knights. Senior netminder Eric Leroux, if he's on top of his game, allows Princeton to compete against any team in the ECACHL.
For Clarkson, the team's primary objective in the week leading up to the games against Princeton was to get healthy. The next step: play with greater consistency.
"Our team has played some pretty good hockey during stretches this year," said Roll. "And even though we lost two this weekend, against two quality opponents, I thought our guys competed at a pretty high level.
"And that's what we're going to need the rest of the way."
---
Wednesday the NCAA announced its Academic Progress Rate (APR), which is a calculation based on the academic eligibility of players and their retention at schools. The APR was designed to serve as a more comprehensive information source than the graduation rate over six years.
As a whole, men's ice hockey had the fourth-highest APR amongst all men's sports. Within college hockey, the ECACHL stood out as the conference with the highest average APR. That might not be unexpected considering the ECACHL includes six Ivy League institutions, but there was a (perhaps) unexpected name at the top of the list of ECACHL academic performance.
Rensselaer tied with Harvard and Yale with a perfect APR score of 1000. Nationally there were only seven schools with perfect APRs: the three from the ECACHL, one from the CCHA (Notre Dame), and three from Atlantic Hockey (American International, Holy Cross, and Sacred Heart).
"This doesn't come as a surprise to me," said ECACHL assistant commissioner Laura Stange. "We're proud of all our teams. The players work really hard as athletes, but they also put up very impressive numbers in the classroom."
---
After a couple of weeks of great television exposure for the ECACHL and its teams, there will be a two-week interlude before the next broadcast. Currently no games from the first or second round of the ECACHL tournament are scheduled to be broadcast, but three of the four games from Albany will be televised live on CSTV.
On Friday, March 17th, CSTV will air the two semifinals at 4:30 p.m. and 8:00 p.m. The next night the ECACHL championship game will air live starting at 8:00 p.m.
---
ECACHL Honor Roll
Fittingly enough, both the Player of the Week and the Goaltender of the Week were selected from the ECACHL regular-season co-champions. Both played prominent roles in helping their teams to weekend sweeps to ensure the tie for a first-place finish and a share of the Cleary Cup.
Dartmouth forward David Jones was named POTW for the first time this season, while Colgate netminder Mark Dekanich was selected as the GOTW for the third time. The two were joined by another familiar face, Rensselaer goaltender Mathias Lange, who was honored as the Rookie of the Week for the fourth time.
Player of the Week
A sophomore for the Big Green, forward David Jones scored four points in his team's weekend sweep of St. Lawrence and Clarkson. Jones collected a hat trick on Friday night against the Golden Knights, the first of his career. The next night he tallied an assist in Dartmouth's 3-0 shutout of St. Lawrence.
Jones's three goals and one assist brought him to an even total of 16 goals and 16 assists for the season. Over the weekend he passed senior captain Mike Ouellette as the team's leading scorer. He has more than doubled his production from his freshman season, when he had nine goals and five assists.
Goaltender of the Week
For the third time this year, Colgate's Mark Dekanich was named the league's GOTW; he joins St. Lawrence's Justin Pesony and Union's Kris Mayotte in that category.
Dekanich was recognized for his role in helping Colgate to a share of the ECACHL regular-season title. He stopped 29 shots on Friday, pitching his third shutout of the season and his second against Union this year. The next night against Rensselaer, Dekanich surrendered one goal amidst 36 shots on net.
Through 31 games, Dekanich has posted a 16-8-6 record alongside a 2.33 goals against average and a .922 save percentage.
Rookie of the Week
Rensselaer's Mathias Lange may still qualify as a rookie, but the netminder from Klagenfurt, Austria, is anything but a novice when it comes to the ECACHL Honor Roll. Lange has now been named ROTW four times this season, and was also tabbed as the GOTW back on October 24.
In helping his team to a weekend split with Cornell and Colgate, Lange recorded his second shutout of the season in Friday night's 2-0 win over Cornell. He stopped 34 shots in the win, and helped kill four Big Red power plays.
The following night against Colgate, Lange was still strong but allowed two goals on 18 shots in his team's 2-1 loss. To date, Lange has logged an impressive load of 33 games and compiled strong numbers as well — he has posted a 13-13-6 record, with a pair of shutouts, a 2.68 goals against average, and a .904 save percentage.
---
Also Honored
The All-Ivy Teams and Awards were announced this week, and the results may be a hint of things to come when the ECACHL's awards are announced at the league banquet on March 16 in Albany.
The big winner amongst all the players honored was Dartmouth senior captain Mike Ouellette, who was named the Ivy League Player of the Year and was the only unanimous selection for First Team All-Ivy Honors.
Ouellette was joined by David Jones, who has enjoyed a very strong sophomore season for the Big Green. The top forwards on the other two best Ivy League teams — Cornell and Harvard — were also included as Kevin Du and Matt Moulson were named to the First Team.
The defense on the First Team include one player from each of the top three schools-Grant Lewis from Dartmouth, Ryan O'Bryne from Cornell, and Dylan Reese from Harvard. The biggest surprise on the first team, in my opinion, was the selection of Princeton netminder Eric Leroux. While Leroux has undoubtedly had a strong season, I'm not 100% sure I would have ranked him above McKee, Devine or Daigneau. Of those three, McKee was included on the Second Team and both Daigneau and Devine were named as Honorable Mentions.
First Team
F Kevin Du, Harvard
F David Jones, Dartmouth
F Matt Moulson, Cornell
F Mike Ouellette, Dartmouth *(unanimous selection)
D Grant Lewis, Dartmouth
D Ryan O'Bryne, Cornell
D Dylan Reese, Harvard
G Eric Leroux, Princeton
Second Team
F Grant Goeckner-Zeller, Princeton
F Jeff Hristovski, Yale
D Bill LeClerc, Yale
G David McKee, Cornell
Honorable Mention
F Byron Bitz, Cornell
F Nick Johnson, Dartmouth
F Jeff Prough, Brown
F Joe Zappala, Yale
D Brian Carthas, Princeton
G Mike Devine, Dartmouth
G John Daigneau, Harvard
Player of the Year
F Mike Ouellette, Dartmouth
Rookie of the Year
F Mike Karwoski, Yale
---
In last week's column, I expressed my intent to write short features on some of the league's most talented players, presenting a compelling case for why they should or should not be considered for one of the league's awards. The awards, which are listed below, are voted on by the ECACHL coaches following the conclusion of the regular season and are presented at the league banquet on March 16th in Albany.
In considering my idea further, though, it seems clear that it would be more efficient to write a feature on each of the awards, dedicating a couple hundred words to each of the top candidates rather than write individual features on all the best candidates for each award.
I will still highlight a few of the league's top players in an individual feature — notably Quinnipiac's Reid Cashman next week — but I think that the idea of short features on the awards as opposed to the players is more logical. I hope to present three features each week leading up to the banquet on March 16, and starting with the Goaltender of the Year category early next week.
After considering my own opinions and discussing with some of the coaches from around the league, I have put together a preliminary list of the players that merit serious consideration. This list was informed by a fair number of reader emails that I received over the past week, including a few from members of the players' families and/or significant others.
This list isn't 100% complete — I'm not convinced that the Best Defensive Forward and Best Defensive Defenseman Categories have enough nominees — so I'm still very open to suggestions and I'd love to hear some passionate arguments for or against certain players by the fans who have the opportunity to watch them week in and week out.
If you think you have a compelling reason why one player is more deserving of the award than another, please send me an email.
The categories for the ECACHL awards are:
• Player of the Year
• Ken Dryden Award (Goaltender of the Year)
• Rookie of the Year
• Best Defensive Forward
• Best Defensive Defenseman
• Coach of the Year
And my list of preliminary players (sorted alphabetically by school) that warrant consideration in each category is:
Player of the Year
Nick Dodge, F Clarkson
Tyler Burton, F Colgate
Kyle Wilson (A), F Colgate
Matt Moulson (C), F Cornell
David Jones, F Dartmouth
Mike Ouellette (C), F Dartmouth
Kevin Du, F Harvard
Grant Goeckner-Zeller, F Princeton
Reid Cashman (A), D Quinnipiac
Kevin Croxton (C), F/D Rensselaer
T.J. Trevelyan, F St. Lawrence
Ken Dryden Award (Goaltender of the Year)
Mark Dekanich, Colgate
David McKee, Cornell
Mike Devine, Dartmouth
John Daigneau, Harvard
Eric Leroux, Princeton
Mathias Lange, Rensselaer
Kris Mayotte, Union
Alec Richards, Yale
Rookie of the Year
Chris D'Alvise, F Clarkson
Shea Guthrie, F Clarkson
Bud Fisher, G Quinnipiac
Brian Leitch, F Quinnipiac
David Marshall, F Quinnipiac
Mathias Lange, G Rensselaer
Alec Richards, G Yale
Coach of the Year
Don Vaughan, Colgate
Bob Gaudet, Dartmouth
Guy Gadowsky, Princeton
Nate Leaman, Union
Best Defensive Forward
Nick Dodge, Clarkson
Jon Smyth (C), Colgate
Matt Moulson (C), Cornell
Mike Ouellette (C), Dartmouth
Kevin Du, Harvard
Tyler Magura, Harvard
T.J. Trevelyan, St. Lawrence
Jake Schwan, Union
Best Defensive Defenseman
Sean Hurley, Brown
Ryan O'Bryne, Cornell
Peter Hafner (C), Harvard
Brad Farynuk (C), Rensselaer
Mike Madill (C), St. Lawrence
Bill LeClerc, Yale
---
USCHO.com/CSTV Division I Men's Poll (Feb. 27)
No. 8 Cornell — For the second straight week, Cornell dropped one spot in the poll after splitting its games. The Big Red was shut out Friday night by Rensselaer, and responded the next night with a tight 2-1 win over Union which gave the team a 2-2 record over the last two weekends of the regular season. Though its loss to Rensselaer prevented Cornell from taking the Cleary Cup, the Big Red did lock up a first-round bye and the opportunity to rest and recuperate.
Cornell swapped spots with Maine in this week's poll, following the surging Black Bears' fifth win in their last six games. Neither No. 9 Boston College, which split with UMass-Lowell, nor former No. 10 Nebraska-Omaha, which took only one point of four from Western Michigan, impressed voters enough to merit elevation over the Big Red.
No. 13 Harvard — Harvard moved up two spots from last week's poll following a strong homestand against St. Lawrence and Clarkson. The Crimson's two wins — by 3-2 and 2-1 scores, respectively — were convincing, but not overwhelming in the eyes of voters. Ted Donato's team benefited from the struggles of Michigan, which took only one point from Ferris State, and New Hampshire's three-point weekend against Providence, in the ascent to its highest ranking of the season.
No. 16 Colgate — Colgate moved up four spots from last week by sweeping its road trip at Union and Rensselaer. The Raiders recorded a 3-1-0 record over the last two weeks of the season and finished in a tie with Dartmouth for first place in the ECACHL, marking the second time in three seasons that Colgate has won at least a share of the Cleary Cup.
I was a little bit surprised that Colgate jumped up four spots; I think the team benefited from the struggles of teams around them in the polls — St. Cloud to an extent, St. Lawrence, and Vermont — and also got a bit of a bump by finishing the season tied for first place in the league. The fact that the Raiders took four points from RPI and Union where the Big Red only managed two points didn't hurt either.
No. 17 Dartmouth — The Big Green tied for No. 17 in this week's poll with former travel partner Vermont. The ranking represented a big step up for the Big Green, which was unranked in last week's poll.
In part that bump can be explained as voters' reactions to Dartmouth rebounding for a disappointing start to the season and coming all the way back to clinch a share of the regular-season title. Also contributing to the jump was Dartmouth's strong play over the last four games, during which the team has gone 3-1-0 against four current (or in the case of Clarkson, former) Teams Under Consideration.
Dropped
St. Lawrence, which was ranked No. 18 in the Feb. 20 poll, fell out of the Top 20 this week after a pair of losses at Harvard and at Dartmouth.