The upcoming WCHA quarterfinals could be historic for two reasons — the debut of a playoff system that should stay for years to come, and some fresh blood in the WCHA semifinals.

This is the first year that the WCHA will play best-of-three quarterfinal series on campus sites — just like the top men's conferences and the women's ECACHL. As a result, Wisconsin and St. Cloud will be hosting postseason hockey on their campuses for the first time.
After playing a five-team tournament from 2002-2004, last year's championship was the first since 2001 to qualify all the teams, although the quarterfinals were single games played at Ridder Arena over the two days prior to the semifinals. The new format infused new life into the tournament's six through eight seeds, as all scored first against their heavily favored opponents, although none could pull off an upset.
Through the seven years of the WCHA tournament's history, the list of semifinalists has yet to change — Minnesota, Minnesota-Duluth, Wisconsin and Ohio State. But there is reason to believe this year might be different. While last season's WCHA finalists Minnesota and Wisconsin are still the class of the league, St. Cloud State and Bemidji State have been the third and fourth hottest teams down the stretch, not UMD and OSU. The Huskies have already secured one advantage over the Buckeyes by winning home ice. Minnesota State and North Dakota have both taken their quarterfinal opponents to overtime this season, despite failing to pull out any wins.
The quarterfinal winners will earn a trip to Ridder Arena, the WCHA tournament host site for the third straight season. All the action at Ridder can be seen online, as the WCHA and USCHO will be providing video webcasts of the league semifinals and final. Any broadcast information for the quarterfinals is provided below.
All times below are CT p.m., and all games are played Friday, Saturday and (if necessary) Sunday. All player and team rankings refer to WCHA conference play.
No. 8 North Dakota (7-25-2, 3-23-2) at No. 1 Wisconsin (29-4-1, 24-3-1)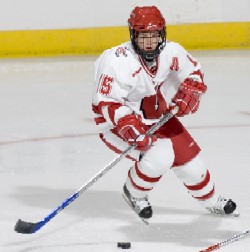 Game Times: All days, 2:07
Broadcast Info: Live stats at uwbadgers.com
Previous Meetings:
Oct. 28: Wisconsin 3-2 (Box)
Oct. 29: Wisconsin 8-0 (Box)
Jan. 13: Wisconsin 2-1 OT (Recap)
Jan. 14: Wisconsin 4-0 (Recap)
Top Scorers
Wisconsin: Sara Bauer, 16-22-38 (2nd)
North Dakota: Cara Wooster, 9-7-16 (25th)
Top Goalies
Wisconsin: Meghan Horras, 11-1-1 (1st), 1.56 (2nd), .929 (3rd)
North Dakota: Margaret Ann-Hinkley, 2-7-0 (10th), 3.05 (9th), .893 (10th)
Offense: Wisconsin 3.68 (1st), North Dakota 1.43 (8th)
Defense: Wisconsin 1.43 (1st), North Dakota 3.82 (8th)
Power Play: Wisconsin 19.0 (2nd), North Dakota 11.1 (7th)
Penalty Kill: Wisconsin 86.1 (2nd), North Dakota 80.0 (8th)
Penalty Minutes: North Dakota 14.4 (1st), Wisconsin 9.8 (8th)
Outlook:
For the most part this season, the Sioux have been a better first-day team, and the Badgers have been a better second-day team, and that pattern especially held true in their head-to-head series. The first game will clearly be the Sioux's best bet to pull an upset, but the Badgers' three-game shutout streak and the Sioux's three-game scoreless streak entering the weekend do not bode well for UND's chances… Wisconsin coach Mark Johnson would not commit to which of his three goalies would start this weekend, but it would be a shock not to see Meghan Horras, since she did not play at all last weekend… Nikki Burish has been Wisconsin's hottest scorer as of late with three goals and four assists in her last four games.
No. 7 Minnesota State (11-19-4, 8-17-3) at No. 2 Minnesota (24-9-1, 19-8-1)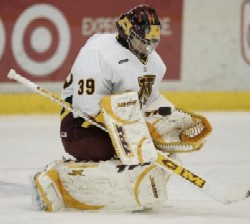 Game Times: Fri. 6:07, Sat.-Sun. 4:07
Broadcast Info: Live stats and audio at gophersports.com
Previous Meetings:
Dec. 9: Minnesota 1-0 (Recap)
Dec. 10: Tie 1-1 (Recap)
Feb. 3: Minnesota 2-1 OT (Recap)
Feb. 4: Minnesota 4-3 OT (Recap)
Top Scorers
Minnesota: Erica McKenzie, 18-22-40 (1st)
Minnesota State: Maggie Fisher, 14-6-20 (22nd)
Top Goalies
Minnesota: Kim Hanlon, 10-2-0 (2nd), 1.19 (1st), .940 (1st)
Minnesota State: Britni Kehler, 8-10-2 (6th), 2.38 (6th), .925 (4th)
Offense: Minnesota 2.93 (3rd), Minnesota State 1.86 (7th)
Defense: Minnesota 1.79 (3rd), Minnesota State 2.68 (5th)
Power Play: Minnesota 16.8 (4th), Minnesota State 8.8 (8th)
Penalty Kill: Minnesota State 85.6 (3rd), Minnesota 85.1 (4th)
Penalty Minutes: Minnesota State 13.5 (3rd), Minnesota 11.9 (6th)
Outlook:
Perhaps never before has a team won a season series 3-0-1 that was so closely contested, and there is little reason to expect the pattern of narrow Minnesota wins to change in the playoffs. Minnesota State, the most injured team in the nation, is just 2-15-3 since the end of November and 0-7-1 in February. The Mavericks have not led a game since they last played Minnesota. While Minnesota State is talented enough to compete, the team lacks the energy or bodies to succeed down the stretch. The Gophers have been a mirror image, going 7-1 in February with three come-from-behind wins, including their last game against MSU. A couple of one or two-goal wins for Minnesota appears to be in the cards… Erica McKeznie has been the hottest player in the league the last two weeks, going 6-7-13 in her last four games to edge out Wisconsin's Sara Bauer as the WCHA's top scorer. Since a stretch of midseason inconsistency in which she went scoreless in nine of 14 games, she has a nine-game point-scoring streak.
No. 6 Bemidji State (11-21-2, 10-18-0) at No. 3 Minnesota-Duluth (20-7-3, 18-7-3)
Game Times: All nights, 7:07
Broadcast Info: Enter WDSM into www.warpradio.com.
Previous Meetings:
Nov. 18: UMD 3-0 (Box)
Nov. 19: UMD 5-1 (Box)
Jan. 13: UMD 4-3 (Box)
Jan. 14: UMD 4-3 (Box)
Top Scorers:
UMD: Jessica Koizumi 13-21-34 (4th)
Bemidji: Nikki Eckebrecht 11-9-20 (22nd)
Top Goalies:
UMD: Riitta Schaublin, 16-7-3 (3rd), 1.66 (3rd), .938 (2nd)
Bemidji: Jill Luebke 6-8-0 (7th), 2.93 (8th), .903 (9th)
Offense: UMD 3.46 (2nd), Bemidji 2.14 (6th)
Defense: UMD 1.68 (2nd), Bemidji 3.39 (7th)
Power Play: UMD 17.6 (3rd), Bemidji 13.5 (6th)
Penalty Kill: UMD 89.1 (1st), Bemidji 84.3 (6th)
Penalty Minutes: UMD 13.5 (2nd), Bemidji 10.5 (7th)
Outlook:
A series upset will be a tall order for Bemidji, who has never beaten UMD, but the Beavers' prospects for a win have never looked better. They enter the weekend coming off a sweep of North Dakota, a sweep of Ohio State, and split against red-hot St. Cloud. UMD went 2-3-1 against the same set of teams in the second half… Bemidji led UMD 2-0 in their third meeting of the season, but UMD came back to win 4-3… Jill Luebke has earned all the starts for Bemidji over the last two weekends after splitting most of the season with Emily Brookshaw… Michaela Lanzl is expected to play for UMD for the first time since joining Team Germany for the Olympics. Mari Pehkonen, the top goal-scorer for Team Finland, gave UMD a big boost when she returned with a goal and an assist in a 5-1 win over Minnesota State… UMD coach Shannon Miller pinned the previous 3-3 tie with Mankato on All-American goalie Riitta Schaublin, who was benched for the regular season finale, even though more of the Bulldogs' second half struggles have been on the offensive end. Schaublin was named the team's new captain in February… Nikki Eckebrecht has been the go-to player for Bemidji with eight of her team-leading 20 WCHA points during the Beavers' five-game win streak.
No. 5 Ohio State (13-16-5, 10-15-3) at No. 4 St. Cloud State (16-17-1, 13-14-1)
Game Times: All days, 2:07
Broadcast Info: Live audio through www.kvsc.org
Previous Meetings:
Oct. 7: OSU 2-1 (Box)
Oct. 8: OSU 5-1 (Box)
Dec. 9: SCSU 4-3 (Recap)
Dec. 10: SCSU 4-3 (Recap)
Top Scorers
OSU: Jana Harrigan, 15-20-35 (3rd)
SCSU: Hailey Clarkson, 13-16-29 (7th)
Top Goalies
SCSU: Lauri St. Jacques, 9-10-1 (5th), 2.31 (5th), .923 (5th)
OSU: Erika Vanderveer, 7-10-3 (8th), 2.81 (7th), .910 (6th)
Offense: SCSU 2.50 (4th), OSU 2.43 (5th)
Defense: SCSU 2.46 (4th), OSU 3.18 (6th)
Power Play: SCSU 20.2 (1st), OSU 14.8 (5th)
Penalty Kill: OSU 84.3 (5th), SCSU 83.2 (7th)
Penalty Minutes: OSU 12.4 (4th), OSU 12.1 (5th)
Outlook:
St. Cloud and Ohio State have gone in opposite directions since the start of December — OSU is just 5-10-3, while St. Cloud is 13-7-0. Aside from a 5-1 dud against Bemidji State last weekend, the Huskies have been playing like a legitimate NCAA tournament contender, although they will have to win the WCHA tourney to advance any further… Improved special teams have been a big part of the Huskies' turnaround, and SCSU finished with the best power play in the league. OSU looks to match them with a penalty kill that gave up just three goals in eight February games… The Buckeyes look like the underdog on paper, but they have found ways to reach the WCHA semifinals when the odds were against them in the past. Meanwhile, SCSU has never won a postseason game.