If familiarity breeds contempt, as the saying goes, then Thursday's CHA semifinals at Michigan State Fairgrounds Coliseum will be full of contempt, as both games are rematches of two-game series played out this past weekend. There is no NCAA autobid at stake in this tournament, but there is plenty of pride with a league championship on the line. Regular season champion Mercyhurst seeks to win its fourth of four CHA titles to date, while the other three teams each seek the colossal upset.

Each challenger has shown varying potential to be dangerous. Robert Morris played Mercyhurst even for two periods last Friday. Up-and-down Niagara has tied Boston College, defeated Brown and swept Clarkson at the high points of its season. Tournament host Wayne State is the only CHA team to take points (two ties) from Mercyhurst this season. Warriors coach Jim Fetter is a former Mercyhurst coach, and assistant Mare MacDougall is a former Mercyhurst player, so they know the Lakers' system well. But first things first, the Warriors will have to top Niagara, who they failed to beat last weekend.
The semifinal winners will play for the CHA title Sunday, live on CSTV at 11 a.m. Mercyhurst games will be broadcast and webcast through WMCE.
All statistics below include results of all games, while rankings are relative to teams or players within the CHA.
No. 4 Robert Morris (5-23-2, 2-9-1) vs. No. 1 Mercyhurst (21-7-6, 10-0-2)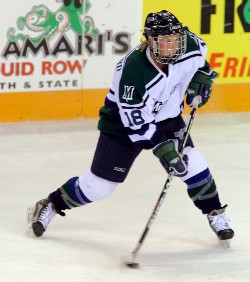 Game Time: Thu. 5 p.m.
Previous Meetings:
Dec. 9: 5-1 Mercyhurst
Dec. 10: 9-1 Mercyhurst
Mar. 3: 3-1 Mercyhurst
Mar. 4: 5-0 Mercyhurst
Top Scorers
Mercyhurst: Valerie Chouinard, 21-25-46 (2nd)
RMU: Morgan Beikirich, 6-11-17 (12th)
Top Goalies
Mercyhurst: Laura Hosier, 13-7-5 (1st), 1.87 (1st), .905 (4th)
RMU: Brianne McLaughlin, 5-22-2 (5th), 3.82 (5th), .907 (3rd)
Offense: Mercyhurst 3.26 (1st), RMU 1.37 (4th)
Defense: Mercyhurst 1.76 (1st), RMU 4.07 (4th)
Power Play: Mercyhurst 13.4 (2nd), RMU 7.5 (4th)
Penalty Kill: Mercyhurst 90.0 (1st), RMU 79.8 (4th)
Penalty Minutes: RMU 16.3 (2nd), Mercyhurst 12.1 (3rd)
Outlook: Mercyhurst is 44-1-3 all-time in CHA regular season and tournament games. Niagara's 3-1 win on March 6, 2004 is the Lakers' only conference blemish. The Lakers have outscored opponents 26-3 in their six CHA tournament wins… Mercyhurst outshot RMU 211-33 in their four-game head-to-head series. Thirteen of those RMU shots came in the last meeting, but Mercyhurst also had its series high of 62… In the Mar. 3 meeting, McLaughlin stopped all 19 shots she faced and Beikirich scored to give RMU a 1-0 first intermission lead… Mercyhurst is 14-1-5 in its last 20, with the only loss coming against No. 1 UNH on a last-minute goal… While Hosier is the only Laker goalie whose stats qualify for the national leaderboard, freshman Courtney Drennen is 8-0-1 for the season… Mercyhurst has not allowed more than two goals in a game since Dec. 4… The Lakers' weakest period has been the second, in which they have allowed 30 of 60 goals scored on them this season… Robert Morris is coached on an interim basis by Jody Katz (Niagara '02), who took over when the program's first coach Kevin McGonagle was fired.
No. 3 Niagara (10-20-4, 3-8-1) vs. No. 2 Wayne State (15-15-5, 6-4-2)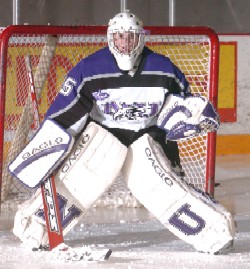 Game Time: Thu. 8 p.m.
Previous Meetings:
Feb. 17: 4-0 WSU
Feb. 18: 2-1 WSU
Mar. 3: 3-2 Niagara
Mar. 4: 2-1 Niagara (OT)
Top Scorers
WSU: Melissa Boal, 23-24-47 (1st)
Niagara: Amy Jack, 8-13-21 (10th)
Top Goalies
WSU: Tiffany Thompson, 4-4-3 (2nd), 2.04 (2nd), .930 (1st)
Niagara: Allison Rutledge, 10-16-3 (4th), 2.70 (4th), .926 (2nd)
Offense: WSU 2.53 (2nd), Niagara 1.85 (3rd)
Defense: WSU 2.32 (2nd), Niagara 3.12 (3rd)
Power Play: WSU 16.5 (1st), Niagara 8.8 (3rd)
Penalty Kill: WSU 90.0 (1st), Niagara 87.0 (3rd)
Penalty Minutes: Niagara 18.8 (1st), WSU 10.4 (4th)
Outlook: Wayne State is 0-3 all time in CHA tournament play but 2-0 at home this season against Niagara… Niagara and Wayne State have split their season series' 2-2 in each of the last three seasons … The Warriors have been at their best statistically in the first period, while the third period has been their worst… Niagara is just 3-11-3 on the road this season and 2-18-2 when the opponent scores first… Niagara's best period this season has been the second, and its worst has been first… Niagara seemed destined for last place in the league until Chelsea Donovan and Alison Rutledge carried the Purple Eagles to a sweep of WSU last weekend. Donovan scored two goals in the game's first 3:33 of Friday's 3-2 win and the overtime clincher in Saturday's 2-1 win, while Rutledge stopped 77 of 80 WSU shots for the weekend… Wayne State's Sam Poyton is tied for the national lead with 28 goals. She had an 11-game goal scoring streak prior to Saturday's defeat