It's tournament time in the Motor City!
This weekend, Wayne State will host the seventh annual CHA tournament at the Michigan State Fairgrounds Coliseum. As the venue is also hosting the women's portion of the tournament, it's the first time in college hockey history that the men's and women's tournament titles will be decided at the same site on the same weekend.
With Niagara claiming the CHA's regular-season title and the No. 1 seed this weekend, the Purple Eagles look to be the team to beat. Niagara has a season-best four-game winning streak and has won six of its last seven games.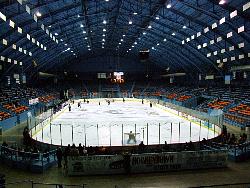 Niagara and No. 2 seed Bemidji State earned quarterfinal byes by virtue of their 1-2 finish in the standings. Alabama-Huntsville entered last weekend at the top of the CHA, but was outscored by Bemidji State, 8-1, in a sweep and dropped to the third seed.
Niagara awaits the winner of the Air Force-Robert Morris quarterfinal while BSU will play either Wayne State or Huntsville.
The tournament breakdown:
Air Force — Junior Peter Foster has emerged as the team's No. 1 goalie and picked up both wins in Air Force's surprising sweep of then-first place Alabama-Huntsville back on Feb. 17-18 and last weekend at Wayne State. Don't count Air Force out as head coach Frank Serratore is an intense player's coach and knows the game of hockey inside and out. This is also Air Force's CHA swan song, as the Falcons are jumping to Atlantic Hockey next season. But momentum is everything this time of year and after the WSU sweep, the Falcons are gunning for glory.
"We need three big wins," sophomore forward Josh Schaffer said. "I think we have momentum now and are on a high. We're looking forward to Robert Morris."
Alabama-Huntsville — UAH has been in the CHA title game four of the past six years and has come up empty each time. The Chargers play a physical game and have a solid netminder in senior Scott Munroe. Senior forward Bruce Mulherin started off very slow with just one goal in the first half after 24 snipes a year ago, but ended the season on a roll with eight points in his last four games. Senior defenseman and captain Jeremy Schreiber is steady as well and is the CHA's all-time leader among defensemen in points and assists.
"Every game in the tournament is going to be decided by one or two goals," Chargers head coach Doug Ross said to the Huntsville Times. "If (Munroe) has a great game, we're going to win. He's going to have to rise to the occasion. There's a lot of pressure on him. He knows that, too."
Bemidji State — Last season's CHA champs went on to the NCAA tournament and gave eventual champion Denver a scare by taking the Pioneers to overtime before losing a heartbreaker. Layne Sedevie and Matt Climie are both No. 1-caliber goalies and rotated time in net this year until last weekend when Sedevie played both. Early on this season, the Beavers were ranked in the national polls and stayed at or near the top of the CHA all season. Luke Erickson, Rob Sirianni and Ryan Miller are the "go-to guys" up front. Led by head coach Tom Serratore, the younger brother of Air Force's bench boss, BSU was a favorite early in the season, but is now a darkhorse.
Niagara — Niagara is a team that consistently finishes in the top third of the CHA. Head coach Dave Burkholder guided the Purps to the 2004 CHA crown and there's no reason to believe NU can't reclaim that glory. Freshman sensations Ted Cook and Les Reaney along with junior Sean Bentivoglio form the top line that accounted for more than a third of the team's overall scoring. Blueliners Andrew Lackner and Dan Sullivan are givens on the back end as is goalie Jeff Van Nynatten and tough forward and captain Jason Williamson.
Robert Morris — The second-year Colonials have arguably the league's top goaltender in sophomore Christian Boucher. By finishing fourth in the CHA, RMU surprised many observers and has confidence heading into Friday's game with Air Force, as the Colonials won all four games versus the Falcons this season.
Robert Morris definitely has the attention of the entire CHA.
"Robert Morris is a well-coached team and they are difficult to play against," Air Force head coach Frank Serratore said. "They don't give you any easy ice. I have never been in a situation where we out-shot a team by a 2-to-1 margin and lost all four games."
Wayne State — It's certainly been a hard-luck season for the host Warriors. Both Wayne State goalies, senior Matt Kelly and junior Will Hooper, have been inconsistent and nearly 50 man-games were lost due to various injuries up front. Sophomore Stavros Paskaris injured a shoulder in a preseason game and hasn't put up numbers such as the ones from his CHA Rookie of the Year season a year ago. Juniors Jason Bloomingburg and Nate Higgins were the only double-digit goalscorers for the Warriors this season. A bright spot was on the back end as defensemen Steve Kovalchik, Greg Poupard, Dan Iliakis and Taylor Donohoe stayed healthy all season. Kovalchik led the Warriors in scoring most of the year, too, before a late push from sophomore Adam Krug.
"A fan told me after (last Saturday's game) that the tournament means everyone is back to square one," WSU head coach Bill Wilkinson said. "We just have to tighten up defensively and not let one get away from us. It's been a frustrating season, but you never know in the tournament."
Predictions
You really can't rule out any one team in the tournament, but something inside says it's Niagara's year, though.
Just a hunch.
Quarterfinals
Robert Morris over Air Force
Alabama-Huntsville over Wayne State
Semifinals
Niagara over Robert Morris
Bemidji State over Alabama-Huntsville
Final
Niagara over Bemidji State, possibly in OT (but not five, a la Yale and Union!)
NU's Cross to Take Part in Skills Challenge
The NCAA has announced the participants for the inaugural NCAA Frozen Four Skills Challenge, which will be held April 7 at the Bradley Center in Milwaukee, and two CHA players will be involved.
Niagara senior Justin Cross was named to the East team while Robert Morris co-captain Kurt Wright was named an East alternate.
"Next to appearing in the NCAA tournament a couple years ago, that's pretty much the coolest thing to ever happen in my career," Cross said. "I might feel a little out of place, but hopefully I can hold my own and not embarrass myself."
To be eligible, all players must have exhausted their collegiate eligibility and be nominated by their head coach. The players were selected by representatives from the American College Hockey Coaches Association, the NCAA Division I Men's Ice Hockey Committee and the National Youth Sports Corporation. The competitions will include puck control relay, fastest skater, hardest shot, rapid-fire shooting and penalty shot.
"I think he would be best at the puck control relay," NU senior captain Jason Williamson explained. "He's a shifty player, has great hands and deceiving speed. He'll be able to go around those cones pretty quickly."