Sophomore forward Sabrina Harbec has been named the ECAC Hockey League's Player of the Year, it was announced earlier at Thursday's annual league banquet. Harbec and several other student-athletes were honored at the event, which marks the start of the women's championship weekend.

Joining Harbec as a first-team selection was defensive teammate Annie Guay, who, like Harbec, was a unanimous pick to this year's all-league squad. The two were also members of last year's All-Rookie team. Princeton's Kim Pearce and Harvard's Jennifer Raimondi were both first-team forward selections, while Princeton's Laura Watt was a defensive pick. Clarkson's Kira Hurley was the top team's goaltender selection.
Hurley was also named the league's Goaltender of the Year. The Rookie of the Year award was shared by St. Lawrence's Carson Duggan and Princeton's Annie Greenwood, while the Tigers' Jeff Kampersal was the Coach of the Year.
A new team award, the Turfer Athletic Trophy, was also presented with Princeton taking the inaugural honors. The award, sponsored by Turfer Athletic, the Official Outerwear Company of the ECACHL, goes to the team that best represent the ideas Turfer Athletic and the ECAC Hockey League: sportsmanship, commitment, tenacity and innovation.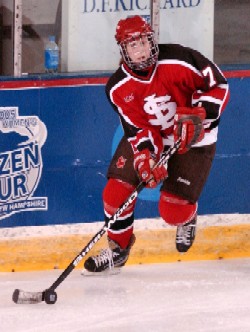 Harbec, who was a unanimous choice for this year's top league honor, led the Saints and the ECACHL in scoring with 36 points in league games this year. Averaging 1.80 points per game, she had 15 goals and 21 assists while helping to lead her Saints to the regular season title. Five of her goals were game winners, while eight came on the power play. She also had two short-handed tallies. Harbec, a Patty Kazmaier top 10 finalist, is the nation's top scorer with 60 points through 33 games this season, an average of 1.82 points per game. Her 36 assists on the year (an average of 1.06 per game) also leads the nation. Harbec is the first-ever player from St. Lawrence to be named the league's Player of the Year and is the school's seventh first-team all-league pick.
Hurley helped lead her Clarkson squad to an impressive run in the league this year, at one point battling for first place in the standings. Seeing action in all 20 league games this season, she posted a 1.25 goals against average and a .936 save percentage in those contests. Seven of Hurley's 12 league wins during the season were shutouts, as she blanked Union (twice), Dartmouth (1-0), St. Lawrence (2-0), Yale (twice) and Quinnipiac (3-0). She also shutout Vermont (2-0), Wayne State (2-0) and Boston College (1-0) in out-of-league play. Overall, in 35 of her team's 37 games, she recorded a 1.29 GAA and a .937 save percentage with a 21-12-1 record. Her 21 wins was the most of any league goalie this year.
This year's top rookie honor is being shared by Duggan and Greenwood. The two freshman forwards were also All-Rookie Team picks and were named to the league's second team. It is the second time there has been Co-Rookies of the Year in the league's history, with the other time coming in the 1986 season.
Greenwood helped lead her Princeton squad to its second-place finish in the standings with her 20 goals and six assists in league games. Her 20 goals led the ECACHL, while her 26 points tied for third-best. Her goals and points were also tops among all of the league's freshmen. Overall, through 31 games, Greenwood has 34 points with 25 goals and nine assists.
Duggan also posted impressive numbers with 16 goals and eight assists in league games, while picking up 28 goals and 14 assists overall, through 33 games this season. Her 24 league points ranks sixth in the ECACHL, while her 16 goals was second behind Greenwood. With 42 points overall on the season, she is ranked among the top 20 scorers in the nation, with an average of 1.27 points per game.
Kampersal earned his second Coach of the Year honor after guiding his Tigers to their best-ever finish in the league standings, finishing second with a 15-3-2 record in ECACHL play. The 15 victories are also the most by a Princeton squad in league play. Previously, Princeton's best finish was third during the 1994-95 season.
Princeton's Pearce made her way onto the first-team after scoring 24 points on six goals and 18 assists in league games. An all-rookie pick two years ago, her 18 assists rank third in the ECACHL. A Patty Kazmaier Award top 10 finalist, she has 41 total points on the year through 31 games with 11 goals and 30 assists.
Like Pearce, Raimondi leads her squad in scoring this year with 34 points on 12 goals and 22 assists. Ten of those goals have come in league play along with 21 assists, which placed her second in league scoring with 31 points in ECACHL play. She led the league with her assists, averaging 1.05 per game, and was second in power-play points with 15 (four goals, 11 assists).
Guay is an important key to the Saints' defensive success this season, as the team held league opponents to a scant 1.10 goals per game. Overall, Guay and her teammates have allowed just 1.26 goals per game in 33 contests. The sophomore has also provided some offense for SLU this season, 21 points (seven goals, 14 assists) in league games, which led all ECACHL blue liners and was 10th among all point scorers. Overall, she has eight goals and 26 assists on the year, which also leads the league's defenders.
Watt helped her Princeton squad hold league foes to 1.50 goals per game this year and all opponents to 1.68 per game. She also provided a scoring touch with 15 points in league play from the blue line on six goals and nine assists. A threat on the power play, 12 of her points have come while skating with a man advantage. Through 31 games this season, she has 21 points with seven goals and 14 assists along with a +16 rating.
The league also recognized its top rookies with Greenwood and Duggan leading the way on the six-person list. Sam Hunt from Colgate rounded out the forward selections after leading the Raiders in scoring for the year with 32 overall points and 19 in league play. Clarkson's Sophie Doyon and Princeton's Katherine Dineen were the defensive picks, while Quinnipiac's Connie Craig was selected as the rookie goaltender after starting in all 20 league games during the year and posting a shutout.
Twelve other student-athletes were also recognized at the banquet with second- and third-team honors.
All-Academic Honors
Seventy-three student athletes representing the ECAC Hockey League's 11 women's programs were named to the 2006 ECAC Hockey League All-Academic team. Forty-four student-athletes were also named to the team last year, while 12 students – Myria Heinhuis (Brown), Keaton Zucker (Brown), Ashlee Drover (Brown), Andrea Skinner (Cornell), Tiffany Hagge (Dartmouth), Emily Nerland (Dartmouth), Carrie Schroyer (Harvard), Sarah Butsch (Princeton), Tarah Clark (Princeton), Chrissie Norwich (Princeton), Kate Michael (St. Lawrence), and Sarah Love (Yale) – are all three-time
honorees.
Of the 11 institutions, Princeton leads the way with 11 selections to this year's team, followed by St. Lawrence with 10 and Union with nine. In its first year as a member of the ECACHL, Quinnipiac had three student-athletes named to the team.
Players are eligible for the All-Academic team if they have completed at least one academic year, have a cumulative grade point average of at least a 3.00 on a 4.00 scale, and have competed in at least one-half of her team's games during the current season. Goaltenders must have played in at least 33 percent of the team's minutes.
BROWN (6)
Ashlee Drover*^ Sr. Human Bio
Myria Heinhuis*^ Sr. International Relations
Kathryn Moos^ Jr. Community Health
Margaret Ramsay^ Sr. Business Economics
O'Hara Shipe So. Undecided
Keaton Zucker*^ Sr. Psychology
CLARKSON (2)
Emma Madigan^ Jr. Psychology
Andrea Maluta^ Jr. Bio-Molecular Science
COLGATE (2)
Tara French^ Jr. Molecular Biology
Kara Leene So. Undeclared
CORNELL (7)
Miranda Callaghan So. Government
Molly McDonald So. Nutritional Sciences
Lindsay Pegler So. Food Science
Caroline Scott^ Jr. Biology and Society
Andrea Skinner*^ Sr. Human Development
Flora Vineberg^ Sr. Industrial and Labor Relations
Caitlin Warren Sr. Applied Economics and Management
DARTMOUTH (8)
Meredith Batcheller^ Jr. History
Caroline Ethier^ Jr. Biology and Psychology
Danielle Grundy Sr. Psychology
Tiffany Hagge*^ Sr. Philosophy
Kate Lane^ Sr. Environmental Studies
Emily Nerland*^ Sr. Psychology
Nicole Ruta So. Undeclared
Carrie Thompson So. Undeclared
HARVARD (8)
Katie Johnston^ Jr. Anthropology
Jessica MacKenzie So. Sociology
Brenna McLean So. Sociology
Jennifer Raimondi^ Sr. Psychology
Carrie Schroyer*^ Sr. Psychology
Jennifer Sifers^ Sr. Sociology
Liza Solley^ Jr. Sociology
Lindsay Weaver^ Jr. Psychology
PRINCETON (11)
Sarah Butsch*^ Sr. Psychology
Tarah Clark*^ Sr. Economics
Roxanne Gaudiel^ Sr. Sociology
Kate Hession^ Jr. Classics
Micol Martinelli So. Undeclared
Dina McCumber^ Jr. Psychology
Chrissie Norwich*^ Sr. Politics
Sonja Novak So. English
Kim Pearce^ Jr. Sociology
Alison Ralph^ Jr. Molecular Biology
Brittany Salmon So. Undeclared
QUINNIPIAC (3)
Ashley Jaffray Jr. Broadcast Journalism
Jackie Kendrick Jr. Math
Kelly Rider Sr. Athletic Training
ST. LAWRENCE (10)
Crystal Connors Jr. English
Annie Guay So. Psychology
Meaghan Guckian So. Undeclared
Sabrina Harbec So. Undeclared
Casey Hughes^ Jr. Economics
Kate Michael*^ Sr. Biology
Jessica Moffat^ Sr. Psychology
Tracy Muzerall^ Sr. Psychology
Elisabeth Pahler^ Jr. Math
Julia Palmateer^ Jr. Math/Psychology
UNION (9)
Courtney Chais So. Mathematics
Linnea Edwardson So. Political Science
Kate Gustafson Sr. Visual Arts
Kristin Hissong So. History/French
Maeve Kehoe So. French/German
Ashley Kilstein So. General Studies
Kelly Lannan^ Jr. History and Political Science
Carli McNeill^ Jr. Political Science and Economics
Megan O'Connor Jr. French/English
YALE (7)
Regan Gilbride^ Jr. Economics
Kelsey Johnson^ Jr. Economics
Sarah Love*^ Sr. History of Science & History of Medicine
Nina Resor^ Jr. History
Kristin Savard^ Jr. Political Science
Jenna Spring^ Jr. History of Science & History of Medicine
Sheila Zingler Jr. Psychology
*2003-04 honors
^2004-05 honors