Perhaps one of the most telling signs of Boston University's ascent into the national rankings this season is the fact that there are many stirring storylines for the club but no one obvious candidate for a feature story.
The three top forward lines for the Terriers have all been on center stage at some point this season. Team defense has been strong, headed by the very solid goaltending of John Curry. The sophomores and juniors feature many solid contributors. The seniors have risen to the occasion, and the freshman class has beaten expectations.
Yet when considering the Terriers' contention for a No. 1 seed and possible run for league, regional, and national championships, the top defensive tandem of senior Dan Spang and freshman Matt Gilroy seems to epitomize how this team has managed to exceed expectations this season.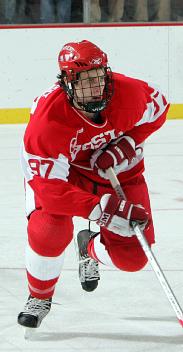 Coming into this season, BU featured many talented returnees across the roster. If there was one question dogging the Terriers, it was the mystery of who would step up and replace graduating senior Bryan Miller as the team's primary offensive defenseman. Miller scored 26 points and inevitably was the primary d-man that the Terriers looked to when a blueliner needed to step up and drive toward the net.
Spang was one of several contenders for that role. Highly touted as an incoming recruit for the Terriers, the Winchester, Mass., native was the 52nd overall pick in the NHL Draft despite suffering injuries in a car accident during his senior year of high school that dramatically limited his playing time in the months prior to that draft.
Despite dreams of playing in the NHL, Spang had set his sights on BU for quite some time. "I really wanted to come to BU from way back when I was younger because I grew up watching the national championship team and the great teams of the nineties because I grew up only 15 minutes outside of the city," Spang said.
"It was just natural for me to come here and when I got the opportunity to I jumped at it. I committed here relatively early. I talked to most of the Hockey East schools, some Ivies and Michigan but pretty much remained in the East Coast because I went to public school and didn't travel far."
Joining a roster that included Miller, current Philadelphia Flyer Freddy Meyer, current Pittsburgh Penguin Ryan Whitney, talented freshman Jekabs Redlihs, and seniors John Cronin and Mike Bussoli, Spang found himself struggling to crack the lineup. You might figure that this might have eased the transition to the college game after his lack of playing time in high school, but Spang didn't relish the situation.
"I was definitely itching to play a lot more than I did," Spang said. "It was probably harder on my confidence, jumping in and out of the lineup a little bit and not really knowing where I stood with my role in the team. It took a little adjusting freshman year because it was such a big step from high school hockey. So it was hard freshman year, and I think from my sophomore year on up I was really able to improve."
After scoring just nine points in 27 games as a freshman, Spang scored 14 points as a sophomore and 16 as a junior. In his final season for the Terriers, Spang has already blown away his career high with six goals and 20 assists in 36 games.
"I think I expected to play more this way than how I performed in the past," Spang said. "I think the hardest adjustment in college was the defensive end of the puck, not the offensive end. It was so hard to be safe defensively and still jump in offensively at the same time. By the end of last year I was able to gain a good sense of when I could do both, and that's really helped my game this year."
This has been especially true during BU's stunning stretch run. Spang has scored four goals and added 15 assists for 19 points in his last 21 games. During this stretch, the Terriers have not coincidentally amassed a 17-2-2 record. BU coach Jack Parker repeatedly has referred to Spang's play as "immense."
"He's just so important to us ice-time wise, and as you say he just seems to rise to the occasion in key moments," Parker said, referring to Spang's game-tying, extra-attacker goal with 27 seconds left against Vermont as well as two game-tying goals in one game against Northeastern two weekends ago — not to mention the only goal in a 1-0 win against Denver that has helped BU in the PairWise Rankings.
"He's gotten a bunch of timely goals for us that were important but in general he's picked up his play as the games have become more important to the point where he's a real dominating player out there. I'm sure other teams worry about him."
"He's an awesome to get to play with every night," said Gilroy, his defensive tandem partner. "Offensively, defensively, he's all over the rink. Sometimes it's fun to just sit back and watch him lead the rush and see what he's going to do next. He's a real exciting player, and he's going to be a big-time player at the next level, hopefully."
"I think he's the type of player that grows on you," Parker said, pondering Spang's future potential. "If you had him in an NHL camp, you might say 'Ah, he's not ready.' But if you have him around a while, whatever coach he has in the American Hockey League will be telling the NHL guys 'Hey, you've got to take harder look at this.' He's a little more subtle than you realize, and he's better than the sum of his parts. Does he shoot it a ton? No. Is he the fastest defenseman or the biggest guy out there or the most physical? But if you add it all up — if it's a two and a two and a two in those areas, how come it adds it up to a ten? And that's what you get with him."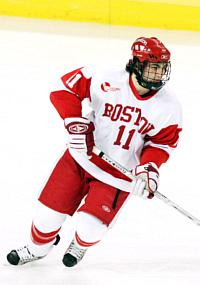 But if Spang's excellent play this season has been a pleasing turn of events, the emergence of his defensive partner has been downright astonishing for the Terriers. "Gilroy might be the biggest surprise in the league — not just on our team," Parker said.
Here's a multiple-choice question for you. Coming into this season, freshman Matt Gilroy was:
a. a guy who strictly played forward before college
b. a "semi-recruited" walk-on who was expected to play very little this season
c. No. 8 out of 8 on the Terrier defenseman depth chart
d. All of the above
You guessed it: The answer is D. Before one credits the BU coaching staff for their genius in envisioning in the North Bellmore, New York native as a top D-I defenseman, though, consider the whole story.
"He's a semi-recruited walk-on," Parker said. "He came to us and asked if he could try out for the team. We didn't think he was going to be a defenseman, to tell you the truth. We just told him if you want to come and be a defenseman in practice all year, we'll let you do that and maybe the end of the year or next year you'll move up front."
Gilroy did have some other options. "There were a few teams looking at me as a forward, but not a top team like BU," Gilroy said. "I was looking at Union, Bentley, and RPI for forward, and then Maine said they'd take a chance on me to play back on D, and BU also said they would, and so I chose between Maine and BU."
In the end, the lure of Boston proved to be one decisive factor for a boy who had grown up 20 minutes from New York City, but it was far from the only appeal.
"The connection to BU was the tradition here, the rink, Coach Parker, the coaching staff, being in the city," Gilroy said. "Everything about BU was just a perfect fit for me, and I always wanted to come here."
In converting him to defense, the biggest factor for the Terriers actually was the team's overabundance of right-shot forwards. "In fact I kind of told him, 'If you were a left-shot forward or defenseman, I would say okay, you can walk on with us; as a right-shot forward, we've got too many players.'" Parker said. "And he said, 'Well I can play defense.' I said, 'Fine, if you want to be our eighth defenseman, I can't guarantee you anything else. And if it doesn't work out, we'll move you up to forward in your second year and see what you can do.' So the first couple of weeks of practice he struggled with defensive-zone coverage and that type of stuff, but you could see some skill."
His defensive partner agrees. "Right when Matt got here, we didn't know what to expect because he was transitioning from forward to defense," Spang said. "As soon as we got into the shinny games in the preseason before the coaches got on the ice, we could tell that he really had a golden pair of skates on. He could move real well and was real offensive. Even when he wasn't in the lineup early in the year, you could tell he was going to be a regular by the end of the year."
Gilroy got his first chance in the exhibition game against the U.S. Under-18 Team and made the most of it. Parker benched him for one game after a jittery showing against Providence, but that was the last time he hasn't played. "He turned around and came back after that and has played great ever since, gotten better as the season's gone on."
Gilroy's emergence was a critical development for the Terriers, especially when Redlihs proved ineffective in the early going and ultimately proved to be suffering from a respiratory illness that kept him out of the lineup for months.
"I definitely exceeded a lot of my expectations," Gilroy admitted. "I just wanted to get in the lineup a few games, and now I get to play every night, and I get to start. It's a great feeling. Coming here, I was worried at first but once I got here the coaching staff and then upperclassmen like Danny Spang and Sully and Schaeff made it so much easier for my transition from forward to defense. Watching them every day and competing with Vandy and Brad Zancanaro and Libs made me a better defensemen really quick."
He has no aspirations of returning to the forward ranks. "I enjoy it a lot," Gilroy said of his blueline role. "I like it a lot more than forward, actually. I'm happy I made the adjustment back. I get to see the ice more; I get to start the rushes and jump in and out. I get to play a lot more too: There are only three lines of defense and four lines of forwards, so I see a lot of ice time."
For the casual observer, though, what most readily differentiates Gilroy from his teammates is his uniform number: 97.
"I first heard about it from my assistant coach, who said that this kid Matt Gilroy wants to wear 97," Parker said. "And I said, 'He's not wearing 97.' He said 'Why don't you find out why he wants to wear it first?'"
Gilroy wears the number in memory of his brother Timmy, who tragically died in 1993. "We started playing hockey together, me and my older brother and Tim," Gilroy recalled. "We got to the first day of practice, and they were giving out numbers. The only guy we knew back then was Wayne Gretzky, so the first number we both said was 99. Of course another kid had already chosen that, so I picked 98, and [Timmy] picked 97.
"Then tragically, he passed away in a bike accident. That day when he passed away, I was just sitting around with my mom, and I made a promise to my mom that I'd always wear his number if I ever got someplace. And I got to BU and asked Coach Parker if he'd let me wear his number. It means a lot to my mom and my family to see that number every night when I skate. It feels good."
Not a day goes by when Gilroy fails to think about his brother, as well as another brother who died when he was just six days old. "I never got to meet him, but he's still a big part of my life." Reminders of loved ones are right there in Gilroy's locker.
"I have [Timmy's] prayer card in my stall, and my other brother who passed away, I have his prayer card too, and my uncle," Gilroy said. "It just keeps my going if I'm having a bad day I just look next to me, [and it reminds me that] this is why I'm here."
Gilroy credits his large family — there are eight surviving siblings — with his success. "I'm successful in everything, and I don't know … My parents held it together so well; I guess that's where I get it all from," Gilroy said. "They're such strong people, my mom and my dad. We're a strong family, and I'm best friends with all of my brothers and sisters. We talk every day, all of us."
"There's a lot of players like that, to tell you the truth, that could play Division I but don't get the chance," Parker said. "It wasn't as if we didn't know anything about him. … I thought for sure he could play Division I as a forward — at least that's what my assistants thought. But we weren't in the market for a right-shot forward, so we just lucked out that he wanted to come to BU so bad and was willing to change positions."
"There are a lot of little things he does that help our team transition from the defensive zone to the offensive zone," Spang said of Gilroy. "Just playing with him is really easy because he sees the ice real similar to how I do, so I think we have a good combination together."
On top of being talented two-way defensemen with good on-ice chemistry, Spang and Gilroy appear to be easy-going and mature guys. With this tandem, the Terriers have come up with a dynamic duo who speak softly and carry big sticks.