Scott Parse of Nebraska-Omaha won the Player of the Year Award and Andy Greene of Miami took home double honors at the CCHA Awards banquet. Greene did the double as he won both the Best Offensive and Defensive Defenseman Awards.
Parse has 61 points on the season, setting a record for most points by a Nebraska-Omaha player. He was also named a Hobey Baker Finalist earlier in the day.
Greene was fourth amongst defensemen in scoring in the CCHA with 27 points (9-18–27). He also anchored the Miami defense, which gave up just 1.91 goals per game.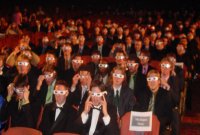 Michigan State goaltender Jeff Lerg was named the Roookie of the Year in the CCHA, as he ranked second in the league with a .926 save percentage and a 2.03 GAA.
Enrico Blasi was named the Coach of the Year after guiding his Miami team to the regular season CCHA Championship. The RedHawks ran away with the title and have consistently been one of the top teams in the nation this year.
Steve McJannet of Lake Superior won the Terry Flanagan Memorial Award in recognition of his perseverance, dedication and courage in his battle with Crohn's disease.
The Ilitch Humanitarian Award was presented to Drew Miller of Michigan State. Miller has contributed in many ways to his community and is also one of the finalists for the Hockey Humanitarian Award.
Nebraska-Omaha's Michael Eichman was honored with the Scholar-Athlete Award. The junior defenseman is a psychology major. This award was presented for the second time, as it was won by Cory McLean of Notre Dame in it's first awarding last year.