Elmira, N.Y. is a historic town, having been established in 1792. Driving through the quaint town in the Southern Tier region of New York a traveler notices building after building that are more than a hundred years old.
Nestled in between one such building and the flowing Chemung River is the five year old First Arena, home of this year's Division III Men's Final Four. On one side of the arena is the 150 year old Park Church, with a statue of Reverend Thomas K. Beecher — who officiated author Mark Twain's marriage — and another monument to Elmira's Spanish American War Veterans.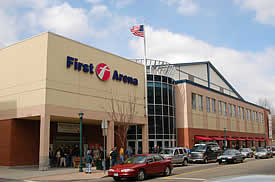 On the opposite side of First Arena flows the Chemung River, most infamous for housing a prison for Confederate Civil War prisoners on its flood plains and for overflowing its banks during Hurricane Agnus in 1972.
First Arena is an exceptional arena to serve as the first of three pre-determined sites for the Division III men's tournament. Normally the home of the UHL's Elmira Jackals, the arena seats four thousand in individual seats and has ample concessions and bathrooms to handle the crowd.
The host institution, Elmira College, and the arena staff cooperated to make sure everything was prepared for the tournament. The rink's maintenance staff covered the Jackals' on-ice logos with a coat of white paint and then painted on new lines and the NCAA logos. Once the paint dried, about three-quarters of an inch of new ice was built on top to create the playing surface for the game.
The extra thickness of the ice meant the refrigeration system had to work a little harder, but keeping the overall building temperature cooler and chilly outside temps helped to maintain a hard playing surface.
Patricia Thompson, Elmira's Vice President of Athletics and Health Services, brought in a crack cleaning crew from the college for two days of detailed preparation last week to ensure that everything was prepared to her exacting standards.
"We have had a lot of support staff help," said Thompson. "We have had an excited crowd [today] and I am hoping the fans are enjoying the four quality teams we have had in the tournament."
First Arena also has several features that allow it to accommodate special requests by each of the competing schools. For instance, the St. Norbert Alumni Association threw a pre-game reception in a room right off the lobby before the arena doors were even opened. Four good-sized locker rooms, a player hospitality area complete with video games, and an attached practice rink each added to the players' experience.
"It has been great," said Chris Schneider, NCAA Assistant Director of Championships. "Everything that we have asked the arena to do, they have done. First Arena and Elmira College have worked together on making sure this event works. They have done a great job on the ice. Their staff has made everything really good. Everything we have heard from the teams and the fans, they are really happy."
After a day filled with two exciting games of playoff hockey, it seems like First Arena has lived up to its billing as a first rate host.
"I think it has been awesome," said St. Norbert senior Connor Hughes. "It is just so well organized. We have been treated excellent. By far, from the three national championships I have been at, the others were good but this one is head and shoulders above the rest in terms of the way it is organized."