Boston College forward Chris Collins is the winner of the 54th Walter Brown Award, presented annually to the best American-born college hockey player in New England. The announcement was made by Gridiron Club of Greater Boston president George Crotty.
Collins, a senior from Fairport, N.Y., ranks third in the nation in scoring, with 58 points in 38 games. He is also third in goals with 30, including five shorthanded tallies, eight power play goals, and four game winners. In his three previous seasons at Boston College, Collins totaled 59 points. His surge in scoring production was a major reason that the Eagles, a youthful team that lost 11 players to graduation and professional signings, led Hockey East for most of the season and earned a berth in the NCAA Tournament for the eighth time in nine years.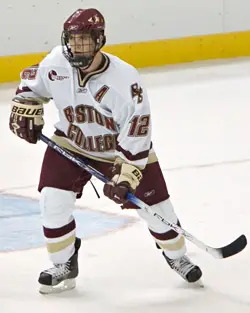 Earlier this month Collins was named to Hockey East's first all-star team and was selected the league's Player of the Year. He is also one of ten finalists for the 2006 Hobey Baker Award.
Collins is the 18th Boston College player to win the Walter Brown Award and the first since Brian Gionta in 2001.
Boston College coach Jerry York, who won the Walter Brown Award in 1967, said, "This is a well deserved honor for Chris. He has always been a tenacious defender, but he really learned a lot just watching our team's shooters like Ryan Shannon and Patrick Eaves over the last few years. This season he gained a great deal of poise and showed the offensive flair that made him an impact player at both ends of the ice."
Collins edged out Boston University junior goalie John Curry and Maine senior forward Greg Moore in the final balloting. A native of Shorewood, Minn., Curry backstopped Boston University to the 2006 Beanpot championship and Hockey East regular season and playoff titles. He was a Hockey East first team all-star pick and runner-up to Collins for Player of the Year honors. Moore, from Lisbon, Maine, was also a first-team Hockey East selection and ranks fifth in the nation in goals with 26, including 12 power play scores. Moore is also a Hobey Baker Award finalist.
"We feel that the field of fifteen candidates for this year's Walter Brown Award was one of the strongest we've seen," said Gridiron Club selection committee chairman Tim Costello. "But Collins, Curry, and Moore all distinguished themselves during the stretch run and the playoffs, and Collins was especially effective all season long. Boston College surprised a lot of people this year, and you can attribute much of their success directly to Chris Collins."
Collins will receive the 2006 Walter Brown Award at the New England Hockey Writers' Dinner on Thursday, April 13.
The Walter Brown Award was established in 1953 by the members of the 1933 Massachusetts Rangers, a team coached by Brown to America's first world championship in ice hockey.