Prior to the October commencement of the Hockey East season, a handful of head coaches around the league were answering more questions about players no longer on their rosters, addressing innocent queries about the skilled college players that took advantage of the new NHL collective bargaining — elite players who left school early to pursue their very personal dreams of professional hockey and carried off some of their luster with them.
"The league definitely lost its marquee names in [Jimmy] Howard, [Patrick] Eaves and [Ben] Walter, but I'm excited to see the next wave of talent step up and make themselves known," said Maine coach Tim Whitehead, at the Hockey East Media Day prior to the season's start. "It's going to be exciting to see who emerges … players that will take the opportunity and run with it. What elite players will emerge?"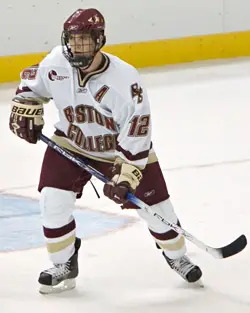 In some cases, players ascended to that elite level to fill the breach created by a teammate leaving early, while some schools simply never recovered from the exit of their star player. But there's no disputing which Hockey East skater took most advantage of the opportunity to seize the spotlight and make himself a college hockey star.
Boston College forward Chris Collins has nearly doubled his career scoring output — 59 points coming into this season over his first three years and 58 points this season — in a stunning senior year that has made the 21-year-old a household name at the Heights.
Collins learned Wednesday afternoon that he had won the 54th Walter Brown Award as the best United States-born college hockey player in New England. He is also among the elite ten players named as Hobey Baker Award finalists this season — a fitting honor for a skater that is among the Division I top ten in points (third with 58), goals (third with 30), and shorthanded goals (tied with Mercyhurst's Dave Borrelli for second with five), to name just a few categories.
After never scoring more than 23 points in a season, Collins surpassed 100 points in his career, followed Eaves (2005) in giving the Eagles back-to-back Hockey East Players of the Year and served as an unflinching leader for the youngest D-I team in the country.
It's been a wild ride for the 5-foot-8, 189-pounder — one that he has happily taken his mother Anne and his father Glenn on with him.
"This has been such an unbelievable season … I can't even begin to put into words," said Collins. "Things just started out really well for me this season and they haven't slowed down at all. I call my dad every night and just kind of say to him 'Can you believe the way things have gone?' It's been great."
Collins had shown glimpses of scoring potential in seasons past, and was actually second on the Eagles with 146 shots attempted last season despite only ending the season with just 17 points. Ask hockey observers to ascertain the differences between the freshman, sophomore and junior versions of Collins and this new, improved senior edition, and you'll get 1,000 answers.
Some would say that Collins finally matured, or that he was finally getting the bounces, or Collins finally had the opportunity for more scoring chances with former Eagle greats like Eaves and Ryan Shannon out of the nest. All of those might be partially true, but there's a simpler explanation for the Fairport, N.Y., native's offensive uprising.
"He told me that he feels more comfortable holding the puck for an extra second or two, and he can see everything happening on the ice that much better," said Boston College assistant coach Greg Brown. "That extra little bit of confidence makes all the difference for a guy that was always around the next to begin with."
Prior to the season's start, Collins wasn't the first name uttered by Boston College head coach Jerry York when quizzed about able-bodied scoring replacements for the 48 points Pat Eaves took to the Ottawa Senators with him. York mentioned juniors Joe Rooney and Brian Boyle as the most likely to shoulder more of the offensive load, but the active leader in Division I college hockey wins was only half correct.
The mammoth Boyle did his part in potting 49 points this season and Rooney had a solid 14-point year for the screaming Eagles, but even the dean of college hockey couldn't foresee the Collins explosion.
"He's fast on his skates, he's an aggressive forechecker that can really break up what the other team is trying to do and he's got that real tenacious, feisty side to him that Pat Eaves always had," said York. "He always had the skills to get the puck to the net, but he always had trouble finishing before. Now with his ability to generate offense and finish, he reminds me a little of Marty Reasoner with the puck.
"The biggest difference with Chris is that he's learned how to finish off plays much more effectively," added York. "He scored goals in the first few games and you could see his confidence just growing by leaps and bounds as he kept scoring. He's always been a hard-nosed defensive player, and now he has that offensive flair that makes him a very effective two-way player."
The speed, tireless effort and feistiness that set Collins apart also make the Taft School product an effective and lethal penalty-killer, a duty he inherited as a heralded freshman out of the USHL and has transformed into his calling card as a senior.
Collins finished second in the nation with five shorthanded goals, and routinely struck fear in the hearts of power-play units all the way from Bemidji to Orono with his ability to strip pucks and create instant breakaways.
"He has the fastest first three strides on skates that I've ever seen of anybody at any level of hockey … he's just unbelievably quick," said Boston College All-Hockey East defenseman Peter Harrold. "He fits in so well with the rest of our forwards. They're all so fast and dangerous with the puck that they put a great deal of pressure on the other team during the penalty kill. They always play responsibly in the defensive end, but they're also always a threat to make a rush into the offensive zone. They're kind of fun to watch out there."
The Eagles are tied for third in the country with Miami with 10 penalty-kill strikes on the season, and it's become somewhat of a secret weapon for the young Eagles this season.
"There are a lot of guys who don't like killing penalties, but I've always kind of enjoyed having all that extra space to operate on the ice," said Collins, who leads a BC penalty kill unit running at 84.9 percent efficiency. "It becomes such a momentum-shifter when you can do some damage on the penalty kill. You're scoring unexpected points and you're taking a scoring chance away from the other team — it's almost like scoring two goals."
With all the individual accolades, awards and results thrown at Collins this season and his college career slowly coming to an end, the undrafted free agent should be looking at a host of attractive offers from professional suitors — a notion seconded by a coach well-acquainted with the skills needed to make it in the AHL and NHL.
"I've coached at every level in the pros and Collins can play," said Northeastern coach Greg Cronin, who has a keen eye for pro prospects after developing players in the New York Islanders' organization prior to being named the Huskies' coach. "A smaller guy like Collins might have struggled a bit more in the old clutch-and-grab game of pro hockey, when you could practically put a saddle on a guy and ride him into the ice.
"With the renewed effort to create a speed and skill game, a guy with considerable offensive skill like Collins should have a bright career as a professional," added Cronin.
With only a handful of games remaining in his college career, Collins admits that playing pro hockey "would be a dream" but there are more pressing matters on tap for the most prolific of Eagles this season.
"We obviously have to take care of business against a very good team in Miami, but we all know who else is in our bracket," said the senior sniper, speaking of a possible sixth game against archrival Boston University. "They're our rivals and we feel like they've taken three trophies from us this season … so beating them would be pretty sweet."