You Again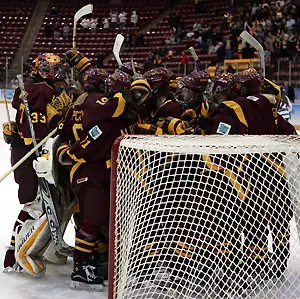 Sunday's national championship tilt between Wisconsin and Minnesota will be the sixth time the WCHA rivals have faced off this season. The Badgers hold a 4-1 advantage in the season series.
If familiarity breeds contempt, then the Minnesota-Wisconsin series is truly blossoming into the bitter rivalry that the schools have developed in most other sports. Prior to this season, the Gophers owned a rather one-sided advantage in the overall series, but Wisconsin shifted the balance by winning the WCHA regular season and postseason crowns.
Wisconsin now has an opportunity to make the Gophers play second-fiddle for the third time this season, but Minnesota feels ready to meet the challenge.
"We're very familiar with them," said Minnesota coach Laura Halldorson. "Our penalty kill is going to be important for the game on Sunday, and I feel like we've learned a lot since last time, and we'll be up for it."
Breaking Point
New Hampshire lost only its third game of the season, and its first of calendar year 2006, breaking a 17-game winning streak and a 29-game unbeaten streak, easily the longest streaks since the program started off with a dominant bang in the late-70s and early-80s.
Minnesota became the first team to hang five goals on the Wildcats since Maine did it during a 5-5 tie in January. The five-spot represented the same number of goals that UNH had given up in its prior 11 games combined. Coming into the game, the Wildcats had a 1-2-1 record in games where they had allowed more than two goals.
The Long and Winding Road
This hasn't always been the smoothest of seasons for the Gophers, but the road has ended for them in the same place it has for the past two years — one game for the national title.
The 10 losses overall on the year were the most in Minnesota history, surpassing the previous record of nine set during the 2000-01 campaign.
On no less than seven occasions, the Gophers have lost the second game of a weekend series after winning the first game, including both of their last two games against the Badgers.
The last loss to Wisconsin in the WCHA championship game, however, is the only blemish on the Minnesota record in the last ten games. While the middle of the season may have been a struggle for the Golden Gophers, the team may be peaking at the right time.