It is no secret that premier players thrive under pressure, but the most recent example came Saturday afternoon at the Resch Center when top-seeded Wisconsin knocked off Bemidji State 4-0.
UW junior goaltender Brian Elliott, one of 10 finalists for the Hobey Baker Memorial Award, only needed to make 15 saves, but came up with a handful of big stops when he needed to in gaining his second consecutive shutout.
But the Badgers got an even more impressive outing from winger Joe Pavelski. All the sophomore did was score three times, pelt Bemidji netminder Layne Sedevie with 10 shots, draw an important penalty and lay a variety of big hits.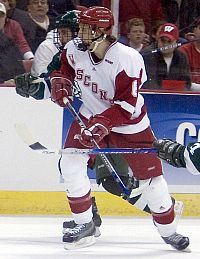 "Going into these games you know they're going to show up because they thrive on this kind of stuff," UW captain Adam Burish said. "They're special players."
"That's the difference between mid-major schools like ours and these type of institutions," BSU head coach Tom Serratore said. "You've got guys that are going to play in the National Hockey League. Their high end is very good … you win with your studs a lot."
On Friday, Serratore talked about how his team may not have a top line, but rather three second lines. While he thought those three lines would be enough, he clearly could have used a top line to take on the Badgers' top line Saturday.
"You've just got to shut them down," Beaver captain Jean-Guy Gervais said. "I'll go to battle with the guys behind me any day. I'm not worried about having the top players — we've got some pretty good players on our side. We just didn't get it going tonight."
Pavelski had scored two goals in a single game five times in his career heading into this weekend, including three times this year, but never had a hat trick. That all changed Saturday as he found the back of the net three times for Wisconsin's first hat trick in more than 14 months.
He already led the Badgers in points, coming into the game with 50 this season, and the three goals gave him 23 on the year, helping him pass linemate Robbie Earl for the team lead.
"It feels pretty good," Pavelski said. "I haven't had a hat trick in a while and to have it come here feels really good."
The plays that he made looked just as good as he felt. He showed why, that even more than a hockey player, he is an athlete.
For instance, Pavelski — who played golf at Stevens Point (Wis.) Area High School and went to the state tournament three times — might as well have been holding a pitching wedge for his first goal.
As Andrew Joudrey's shot was deflected up through the air, it fell right to the stick of a waiting Pavelski and he chipped it into the net.
"I'll have to check it out and see how much it looked [like a chip]," Pavelski said. "It's one of those things where it was coming down and you just try to time it. You screw around in practice, just play around trying to hit it out of the air."
His second goal showed why he not only leads the Badgers offensively, but also how he was named the 2003-04 USA Junior Hockey Player of the Year.
He won a faceoff in the right circle of the Badgers' offensive zone, then immediately took it straight to the net, faking a near-side shot before pulling it across the top of the crease and scoring an easy backhand.
"I don't know if I can give that one away," he said when asked what made him attempt such a move off the faceoff instead of drawing it back. "It's hard to say. A lot of things have to go right for it to happen."
He could not have drawn it up any better, although it was not the first time this season he has tried that move. It was just the first time that it worked.
"All good offensive players have the ability to take what's given," Wisconsin head coach Mike Eaves said. "They have to have the ability to make something out of nothing. Joe has that ability — he has the head for that, he has the skills for that."
He showed that ability in spades Saturday. And it was not like it was the first time that he had a big game in the Resch Center. He has had his share of success in Madison, but he probably would not mind playing here more often.
In 2003, he played in the USHL All-Star game here, where he scored two goals and was named his team's Most Valuable Player.
"We're in Wisconsin … so it feels good, your family can come to all these games and we also had a big game to get in the playoffs," he said. "I just like playing here."
He will get another crack at playing in what has turned out to be his home away from home Saturday, in the Regional final.