They grew up on opposite sides of North America, but have met in between with one goal in mind — winning an NCAA title.
Rookies Tim Crowder, a native of Victoria, British Columbia, and Tim Kennedy, from Buffalo, New York, ride shotgun to center Justin Abdelkader on an impressive freshman line that has accounted for 67 points to date and has its club one step closer to their ultimate goal.
"We came here to win a national championship," explained Crowder. "That's why we're at Michigan State. We just do what we can to help."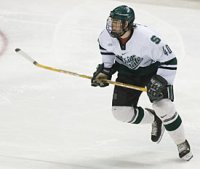 This afternoon that included Crowder's fifteenth goal of the season and the only marker in the opening contest of the NCAA East Regional. It was the Spartans' first goal in the NCAA Tournament since the 2001 regional finals against Wisconsin.
"I didn't know if it [the goal] would stand up," said Kennedy, who, along with sophomore Chris Mueller, had nearly 50 friends and family on hand from the Buffalo area.
"We knew we had to play solid around our zone. That's what we have to do."
Thanks to classmate Jeff Lerg's shutout – the first in the NCAA tourney in MSU history – that was enough.
But how does one explain the instant connection the two Tims have enjoyed with Abdelkader, who scored the game-winner in the CCHA championship game to get the Spartans to Albany?
"We're always together," said Crowder. "We came in not knowing what to expect. We were introduced to each other and became close."
Kennedy echoed his linemate's assessment of the instant karma.
"We have three or four classes together. It's easy when you are freshmen. You're just always around each other."
For a while this season, however, the two Tims were apart – at least on the ice. When Kennedy suffered a broken hand early in the season, it cost him 16 games and the Spartans struggled.
When Kennedy returned to the lineup on December 29, MSU was 7-7-5.
"It was tough with him being out," admitted Crowder. "It might have taken him a few games to get back into it, but soon everything was fine."
Michigan State is 18-4-3 since.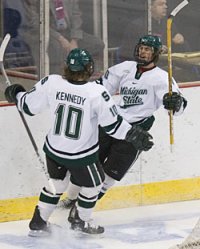 "It really didn't take me very long," said Kennedy about regaining his on-ice timing. "I was in pretty good shape while I was out. I was still skating and working out."
If 2005 was the worst of times, 2006 has certainly been the best of times.
"Everybody now is pushing themselves. We've really picked up our games," said Crowder, sounding more like a wily veteran of NCAA wars than a rookie.
Of course, life being what it is, some anxious moments are to be expected when you walk into the national tournament for the first time.
"I'm not usually nervous," said Kennedy, "but when I got up this morning I was queasy. But once I came to the rink and got in my routine, it was just like any other game."