Jonathan Toews, the most outstanding player of the NCAA West Regional, didn't waste any time proving his value to North Dakota.
In the opening game of UND's season on Oct. 8 against the Miami RedHawks, Toews scored the first Fighting Sioux goal of the season, which was also the game-winner in the 3-0 victory.
The Winnipeg, Man., native was 17 when he scored that goal and he'll be 17 when the season ends on April 8, making him the youngest player in college hockey. With 21 goals and 17 assists in 41 games, the 6-2, 195-pound center has figured prominently in UND's late-season success. Toews' (his name rhymes with "saves") date of birth is April 29, 1988.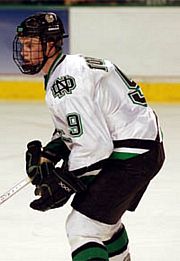 After watching Toews play in the West Regional, Holy Cross coach Paul Pearl said, "He's outstanding. He's one of the best players I've seen in quite some time. He works hard, too. He's not just a skill kid."
Toews is one of eight players on UND's roster who played for Shattuck-St. Mary's prep school in Faribault, Minn. He speaks fluent French and accelerated his education so he could graduate early and play this season at UND.
That he is playing for the Sioux at all is somewhat controversial. Toews shocked the Canadian junior hockey world when he decided to play for Shattuck and then UND rather than the Western Hockey League bantam team that drafted him No. 1. He was the first top draft pick ever to play elsewhere.
At Shattuck, where current NHL rookies Sidney Crosby (Pittsburgh Penguins) and Zach Parise (New Jersey Devils) played, Toews had 44 goals and 57 assists in 58 games, helping Shattuck-St. Mary's win a national midget championship.
The International Scouting Service lists Toews second on its list of top prospects, behind defenseman Eric Johnson of the U.S. National Development Team and ahead of Minnesota freshman forward Phil Kessel. The NHL Central Scouting Service ranks Johnson first, Kessel second and Toews third on its prospects list.
In late December, UND sent four players to the World Junior Championships in Vancouver, but Toews was the only one to return to Grand Forks with a gold medal. He was the youngest member of Team Canada, which defeated Finland for the championship. He also won a gold medal in international competition while serving as captain of Canada's under-18 team.
In the 24 games Toews has played since returning from the World Juniors, he has 14 goals and 12 assists. His scoring production blossomed when in the last third of the season, coach Dave Hakstol made him the center on a line with junior Drew Stafford on the right wing and freshman Ryan Duncan on the left.
The line quickly became UND's best. Duncan says that playing with Toews and Stafford has been good for all three players.
"I think you have to give credit to the coaches," said Duncan. "They juggled the lines throughout the year, trying different combinations. We can credit some of the chemistry to that. I think it helps that we all played together at Shattuck in the same system."
UND coach Dave Hakstol said he wasn't at all surprised that Toews received the most outstanding player honor after his two-goal, three assist performance at the West Regional tournament.
"The impact plays that Jonathan made, both tonight and last night, it was well-deserved," Hakstol said. "He's worked extremely hard throughout the year to continue to improve his game and become an impact player with this team. He's doing it, and he's doing it consistently. He's fully deserving of the award."