What a difference a year can make.
Just one season after Hockey East experienced the nightmare of not sending a team to the Frozen Four, its members this year proved that was an aberration, as 365 days later not one, but two teams, will head to the national semifinals still searching for college hockey's Holy Grail.
One night after Boston College shocked some with a rout of Boston University, Maine survived a valiant comeback bid against Michigan State, hanging on for a 5-4 victory and the school's 10th visit to the Frozen Four.
If anything, it restores a sense of pride for Hockey East which, prior to last season had placed a team in the national championship game for eight straight years.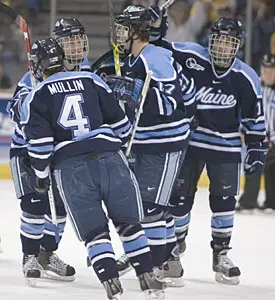 That's a fact that's not lost on Maine.
"It's nice to show how great Hockey East is and that it's not just the WCHA," said Maine's John Hopson, who transferred to Maine last season from Alaska-Anchorage, a WCHA member. On Sunday Hopson scored two goals in the regional final to earn the region's Most Outstanding Player Award.
"Hockey East is a really good league also, so to have two teams advance, it's just showing how strong out league is."
"There's a lot of pride in our league and how competitive it is," said Maine head coach Tim Whitehead, who is taking his Black Bears to the Frozen Four for the third time in five seasons behind the bench. "It was almost embarrassing last year because all anyone kept talking about was the WCHA. And they were such a strong league so it was justified. So it's great to see [two Hockey East teams] make it."
Sunday's win carried a handful of great storylines for the Black Bears.
First, there was Hopson, who came to Maine in September of 2004 as a transfer for two reasons: to play with his brother Keenan, then a freshman at Maine, and to get to a Frozen Four.
Not only have both of those dreams come true, but the elder Hopson was the team's hero this weekend, scoring once in Maine's 6-1 victory over Harvard in Saturday's semifinals, then serving as the tip man in Sunday's title game, redirecting two first-period shots past Spartan netminder Jeff Lerg to help spot Maine an early 3-0 lead on Sunday.
"It's been great seeing how John Hopson has emerged this year for us," said Whitehead. "He had to sit out last year [as a transfer] and it was tough on him.
"He took a big chance making this move but it really worked out for him. This has been an experience for him he'll never forget. For him to make it to the Frozen Four, I'm so happy for him."
In addition, a storyline that's played all season for the Black Bears may have hit its crescendo. As much as preseason talk surrounded the loss of Black Bears goaltender Jimmy Howard (who signed an NHL contract late last summer), rookie Ben Bishop proved that not only is he a sufficient stand-in, he's an outstanding one.
Finally, there are the seniors. This year's Maine team will graduate six players, all major contributors. Though you never say that teams can't rebuild, you almost have to feel that this, more than most others, is Maine's year.
"The seniors have been great. They're all significant contributors and that's rare," said Whitehead. "This is a group that we're really proud of.
"They lost probably the best of their group, Jimmy Howard. They had to be very strong to say, 'Hey, we're going to get there anyway.' So I've just been very impressed with them, starting with Greg [Moore], our captain. His determination and his ability to will the team through those moments. There were a lot of weekends when Greg Moore was able to just take the team there."
Now, all of these storylines, as enjoyable as they may be, move to the past. The focus for the Black Bears shifts from getting to the Frozen Four to winning. And should this team succeed in doing so, there would be a heck of a lot of pride — around the team and the league — to have a national champion.