While much of the postseason focus has been on the Frozen Four and several big-name underclassmen signing NHL contracts, a handful of CHA seniors have signed minor-league deals to further their hockey careers.
None of the deals have NHL implications, but even so, the CHA has pro teams taking notice. All but departing Air Force saw players turn to the proverbial next level.
CHA tournament runner-up Niagara had three players — forwards Randy Harris and Marc Norrington and goalie Jeff Van Nynatten — sign with ECHL clubs. Harris and Norrington (since waived in order to graduate) inked with the Toledo Storm and Van Nynatten went to the Fresno Falcons.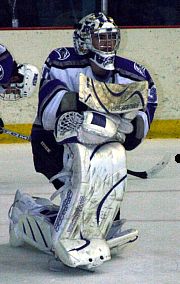 "As a program, you hope that you are developing kids for the next level," NU head coach Dave Burkholder said. "I think with the number of guys we having moving on, it proves we are excelling here at Niagara."
Van Nynatten was the CHA's co-Player of the Year along with Alabama-Huntsville goalie Scott Munroe.
"Jeff is definitely ready for the next step in his career," Burkholder said. "He had a great four years here at Niagara which will provide a good foundation in the professional ranks. His competitive spirit, game management and overall athleticism are going to allow him to have a rewarding career."
Norrington's signing was a bit of a shocker.
"Burkholder called me at 10 a.m. Friday (March 17) and said Toledo needed a forward," Norrington described. "After he talked to the Storm coach (Nick Vitucci), he called me back and said, 'They want you there and you are playing tonight.' So I called my dad, packed up and left around noon."
Norrington's hometown of Grand Blanc, Mich., is just over an hour's drive from Toledo, and allowed his family to come down and watch his first professional game.
"It's definitely nice being so close to home," Norrington said. "It's also kind of cool wearing a Red Wings-type jersey. It was everything I thought it would be."
Munroe joined teammate and outgoing UAH captain Jeremy Schreiber in going pro. While not officially announced, Munroe reportedly signed an AHL deal with the Philadelphia Phantoms. Schreiber went to the ECHL's Charlotte Checkers.
Kurt Wright, the lone senior on Robert Morris' roster this season, became the first Colonial to move on as he was picked up by the Wheeling Nailers of the ECHL.
"This is a great opportunity moving forward into the professional ranks," said Wright. "I'm just hoping to make the most of the opportunity I've been given. Wheeling is a good team with a winning record and is a great place to play."
"It's a great step forward for Kurt as well as our program," said Robert Morris head coach Derek Schooley. "He is the first player in our program's history to sign a professional contract and we wish him all the best. I also think that this shows the progress that Robert Morris hockey has made in just two seasons and is a reflection of the high-caliber players that we have brought in."
Wright, RMU's co-captain the past two years, was let go by the Nailers last week.
Two Wayne State Warriors, defense partners Greg Poupard and Steve Kovalchik, both went to the Florida Everblades and played in their first ECHL game as a unit on March 14. They have since been released so that they may finish up their respective degrees in Detroit.
"Kovo and I flew down and were both on like an hour sleep," said Poupard, a two-year captain for WSU. "We got down there, went through physicals and then we're sitting in the locker room and the coach looks at us and says, 'Greg, Steve, you guys are starting.' Our first pro game and we start. It was a great experience, but we both have a year left in our degrees, so that's coming first. But it's good to know teams are watching us."
Bemidji State defenseman Andrew Martens was the latest CHA alum to make the jump as he signed with the Greenville Grrrowl of the ECHL late last week.
CHA Notebook
Craig Roberts has resigned his position as the league's assistant commissioner for public relations. He was succeeded by WSU sports information director Jeff Weiss, who will also continue his duties with Wayne State.